White Privilege curriculum spurs community-wide conversation in Iowa
A small but committed United Church of Christ congregation in Decorah, Iowa, is initiating a community-wide project to combat racism, using the denomination's recently-released adult curriculum on white privilege to facilitate the conversation. 
The Rev. Laura Arnold, senior pastor of Decorah Congregational UCC, said to address the reality of racial division we face today in America, churches must lead the conversation against racism and privilege, as a spiritual issue, as followers of Jesus. Holy and sacred, SAFE conversations are necessary. She hopes the 'White Privilege: Let's Talk' curriculum allows the faith community in Decorah to build the space necessary to hold these meaningful conversations.
"We have a long history of ecumenical collaboration with other churches in town, and we were conscious that these conversations needed to be had by a larger number of people for there to be impact in our community," said Arnold. "We put out an email inviting all interested ministers and spiritual leaders to gather and help plan, and at the first gathering we had seven different congregations represented." 
The Rev. Amy Zalk Larson, pastor of Good Sheperd Lutheran Church is one of the ministers who responded immediately. "I am deeply troubled about the racism in our country and the white privilege within my congregation and me," Larson said. She believes the faith community needs to be involved in discussions around white privilege because "The church has perpetuated racism and segregation, and it is contrary to the Gospel."
The need for this type of collaboration in Decorah was driven home by a lecture by the Equal Justice Initiative at a local college, when, during the question and answer session, a black student asked what he was supposed to do when confronted by whites because of his race. 
Arnold said, "I remembered the words of a friend from seminary who once said, 'White people need to examine their own lives and their own race, and stop looking to me and people of color like we are supposed to give you the answers. Go talk among yourselves and educate yourselves on what it is to be white, first. Work through the things you need to. Then let's talk about race, racism, and what we can do together.' This curriculum is a step, a first and important step, in living into her advice." 
Decorah UCC downloaded the free resource in early September, and now the community's faith-based team is doing some "curriculum sculpting to get a plan for how to use it. In October and the first part of November, we're going to run the curriculum with a group comprised of those who will be our facilitators for the community project," said Arnold. "Having worked through the curriculum themselves, and with some additional training in mediation and facilitation, hopefully they'll feel equipped to lead their own groups. The community wide project will launch in February."
Arnold believes that the right facilitators are important to the success of the project. Her team has recruited eight and are looking for a few more people who have had experience leading groups, have done work around race and privilege or have been part of other sacred conversations on the issue, are passionate about it, and want to work together to build community. She hopes that the facilitators, who will eventually lead small groups around Decorah in teams of two, can meet and learn from each other during the course of the project and share opportunities and ideas going forward. 
UCC General Minister and President the Rev. John C. Dorhauer, one of the authors of the white privilege curriculum, said as racial tensions in our country are becoming more and more pronounced, he is grateful to the people of Decorah for their commitment to this "important, challenging and difficult conversation." He is hopeful that the project helps the participants to "begin to see what those who are not white experience every day, as part of a culture that privileges those who are white in 1,000 different ways…and to [being to work to] dismantle privilege that benefits those simply because of the color of their skin."
"I've reviewed the curriculum and am in the process of picking our adventure through it," said Arnold. "We're rounding up the facilitators now. They'll be a huge asset in making sure we have multiple small groups around the community, and in their diversity, have the ability to invite people outside of just the usual church circles into this conversation. For us, without the larger community-wide conversation, there's not much of a dent in consciousness, but together and in partnership with a lot of other folks, the scope and impact is exponential."
As Larson said, "I hope for examination, honesty, repentance and change in myself, my congregation and our community."
Free download of White Privilege: Let's Talk curriculum.
---
Related News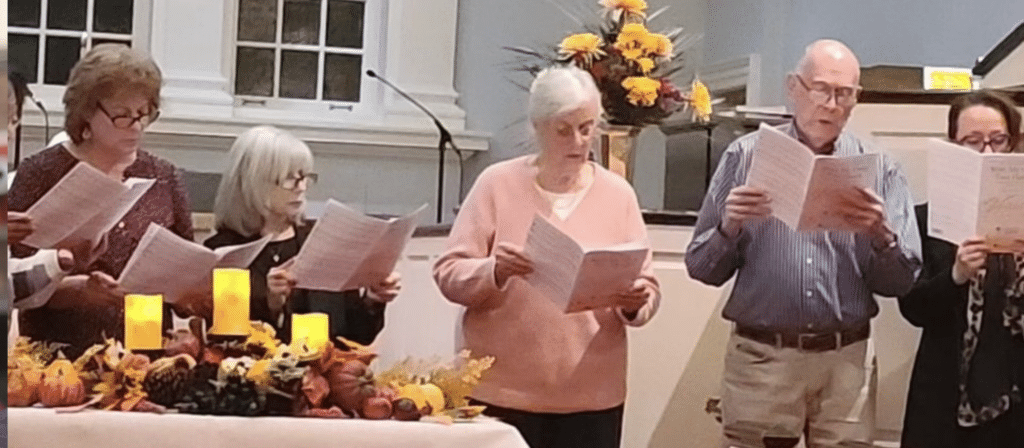 Many United Church of Christ congregations across the country participated in interfaith...
Read More