White Privilege curriculum sparks awareness, change in small Iowa community
Decorah White Privilege facilitators (left to right)
Perry O Sliwa, Karen Esterl, Hannah Breckbill, Liz Rog, Sara Hanssen, Jon Ailabouni, Laura Arnold Not pictured: Amy Larson & John Caldwell  
The United Church of Christ's adult curriculum on white privilege, released less than a year ago,is sparking change across an entire community in Iowa, bringing joy to the local UCC pastor who got the ball rolling. Love of neighbor prompted the Rev. Laura Arnold to be one of the first to download the White Privilege: Let's Talk resources. She used them to organize what became a city-wide conversation.
As the Senior Pastor of Decorah Congregational UCC, in Decorah, Iowa, Arnold was really interested to see what the curriculum could lead to. She said she accessed the material the first week it came out early last September, and she and her planning team spent weeks working through the curriculum and brainstorming ways to expand on it, intentionally preparing to facilitate a study group for maybe a couple dozen people.
"We were predicting maybe six participants and two facilitators per group, but when groups grew to 15, we wondered how this holy experiment might go," said Arnold. "When 57 people signed up to be a part of one of the small groups working through the curriculum, I was both overjoyed and overwhelmed. The sheer number of so many folks willingly entering into dialogue made me thankful that this small, rural, predominately-white community was open to examining their own whiteness and privilege. But our leaders also wondered if we, as facilitators spanning eight different denominations, meeting in four different locations, would really be able to facilitate the needed dialogue, hold space for tension, teach with grace, and create a community that could honor the stories of others."
The surprising interest in Decorah — the initial gathering drew more than 75 people and Arnold had to turn potential participants away after the group sessions got going — fueled the work in important ways.
"We began with one large group session, that laid the groundwork and some definitions and got people started thinking about what white privilege is and how it functions in our society," Arnold said. "For us, it was important to begin the conversations with a wake-up call and to hear and explore how white privilege was created, perpetuated, and how it affects social systems today. So often conversations about race ask people of color to be educators for white people who have not done their own inner and reflective work about their own background, perceptions, implicit bias, and the privileges afforded to them just by virtue of the color of their skin. This curriculum expected people to do that critical work, and for that our community has been and continues to be transformed."
"One of the most beautiful things was that we had four teams of facilitators, with four groups running concurrently. Though we were working from common curriculum, and each of the groups' facilitators had been trained similarly, each group had its own style and reflected the learning styles and the place people are on life's journey," Arnold continued. "Some of the folks in the group had never considered what it meant for them to be white. Some had never heard of red-lining or never thought about the implications of race on health care. Some were well-versed in this conversation and were now taking a deeper look at what race had meant in their lives and how their ideas of race came to be. Some struggled with guilt at having been privileged in a variety of ways because of their race. Others came to the group denying that race granted some people privilege and disadvantaged others but finished the time together able to articulate a much different awareness."
"My husband and I attended the workshops with a group of about 12 other adults," said Margaret Betteridge, a member of Decorah Congregational. "The curriculum is challenging, engaging and helps to initiate deep conversations. We appreciated that the writings were from several different authors (Caucasian, African-American, pastors and lay people). All of us spent time reading and reflecting through personal writing during the week between our group's discussions. It was rewarding to hear other's perspectives and think about the many ways that we have taken our white privilege for granted. It was at times difficult for us to know how to make a difference as we move forward."
"To me the most significant part of the experience was the community aspect," said Barb Dale, one of the local participants. "We came together as people concerned about the issue and willing to share with each other. Personally, I bonded with at least three people through the exchanges with whom I would not necessarily have had such strong connections. I can't help but think the learning and insights gained will ripple through the community as each of us shares with those in our own circles who did not participate."
"I believe discussing the historical and economic aspects of white privilege was helpful in understanding where we are today," said Julia Wall, another member of the Decorah UCC congregation. "Because of this experience, I am committed to be an ally and speak up when I see or hear a wrong. I would like to see more community members from county and city government as well as the community college and public schools participate in similar discussions."
"As a participant, I enjoyed being part of a community that engaged in vulnerable, self-reflective conversations about race," said Jon Ailabouni, a member of faculty at Luther College. "As a facilitator, I witnessed the most profound growth when we took the emphasis off hot-button issues and political perspectives and instead examined their personal histories with race."
"I will never forget the day we were talking about inherited wealth," Arnold said. "The activity was a modified game of monopoly. In the game one group plays with regular rules, and two groups have differently modified rules for a number of turns. For those two groups, there isn't much they can do on each turn, their money is limited, and they cannot buy property or cannot buy it outside of certain neighborhoods. About round four, one of the players in the latter groups pushed herself back from the group and said, 'What's the point? I'm not even competitive in this game. There's no way I can even tie.' From across the game board the revelation, 'Well, damn. That's the point isn't it?' You can't disadvantage people for years or generations, then eventually lift the rules that oppressed, and call it even, fixed, with problem done and over."
"With more than 9,200 downloads of the White Privilege: Let's Talk curriculum now circulating, it is fair to say that this iteration of the United Church of Christ's ongoing sacred conversations on race is having broad impact," said the Rev. John Dorhauer, UCC general minister and president. "The United Church of Christ is proud both of the curriculum and of the impact it is creating. There are other stories like this one coming in to the National Offices about how the curriculum is being used, about a largely white denomination gaining new insight into the impacts and manifestations of white skin privilege, and about commitments to help create a more just distribution of wealth, power, and privilege. All of that is good, and hopeful. We should not, however, assume that this will substantially and/or effectively dismantle or end privilege as we know it. There is much hard work to be done before anything approaching racial equity can be realized within the culture or the denomination."
But because of the work around white privilege in Decorah, Iowa, the thought process is changing.
"There's work with the city police, city council, book groups happening, and there are people working with our school system," Arnold said. "In addition, many of the churches are now talking openly about white privilege and systemic racism; preaching and teaching at the intersection of this vital conversation and scripture; and helping congregations and groups of folks understand the importance of showing up, giving an audience, following the lead of community organizers who are teaching how to be the change hoped for in the world. 
"And sadly, there were some folks that by the end of our time together were emotionally exhausted and were hoping to not have to talk about race, whiteness, or privilege ever again. But it gave me hope that after a man made that comment, someone looked at him with compassion but firmness, 'That my friend, is privilege in action. And as followers of Jesus, a man who taught and preached love of neighbor, you cannot disengage from this conversation.'"
---
Related News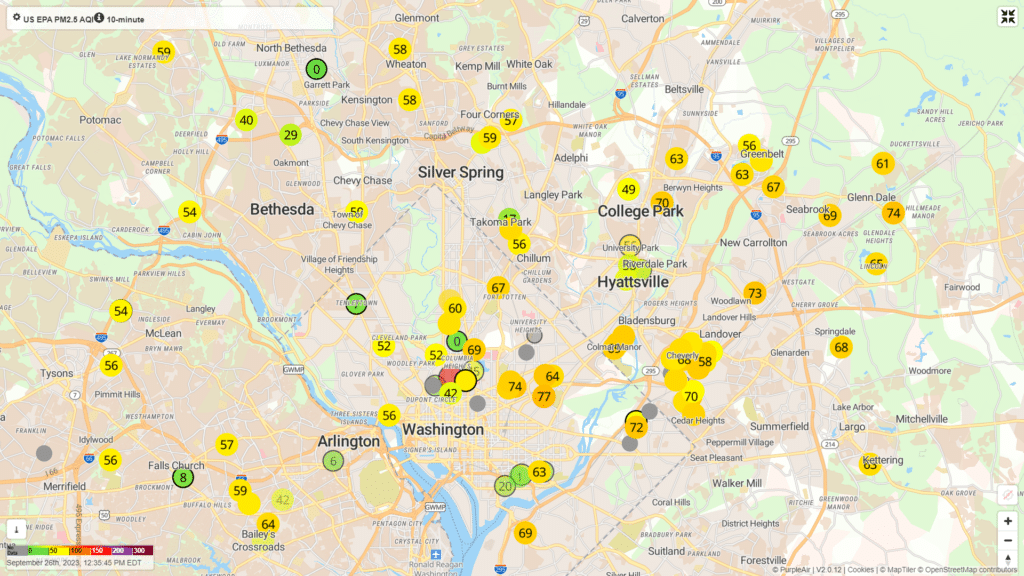 This summer, the United States experienced some of the worst days for wildfire pollution in...
Read More