Welcome to Talitha Koum: The UCC Newsletter for Women, Girls and Their Allies
Welcome! I am so grateful that you have decided to connect with UCC women and allies through this newsletter. As the Minister for Women and Gender Justice with UCC National Ministries, I am thrilled to provide a way to connect with the larger UCC community. I find that when we support each other as we try to walk in the footsteps of Jesus, we give each other grace to make inevitable mistakes.
You may recognize the title of this newsletter – Talitha Koum. This phrase appears the near the end of Mark 5 when Jesus heals a young woman who is believed to be dead and commands her to get up. Depending on the translation you prefer, it basically means "Arise, Girl." By no means do I want to question the maturity of any readers; whether you identify as girl, woman, female, cis, trans, non-binary, ally, or simply a human looking for connection on your journey, you are welcome to walk with UCC people seeking meaning and authenticity in our lives and identities.
I say Arise, Girl! to all of the youngsters we have been who needed support to say NO MORE to injustice! I declare Arise, Girl! to all of the young women whose needs for bodily autonomy, safety, and inclusion are ignored by a culture that treats them as if their stories are not their own to author. I shout Arise to all of us who side with people whose humanity is challenged by institutions that deny full existence and sacredness of all of God's children. I whisper Arise to each of us who needs a moment of peace to catch our breath as we continue to speak truth to power and push back against oppression and disempowerment.
This newsletter is our space to share upcoming events and projects that speak to the needs of people based on their gender. Here we can reflect on what it means to be a woman in the UCC and/or an ally to the many identities and beautiful ways we live our humanity. After our new team leader for the Justice and Local Church Ministries team for health and wholeness begins in April, I hope to provide similar content and resources for the LGBTQ+ and ally community within the UCC.
Lastly, I strive to create a resource that meets the needs of readers and provides tangible ways to live the vision of the UCC. Please see more about how I envision this work elsewhere in this newsletter. ~ Sherry Warren
Who Is Dr. Sherry Warren?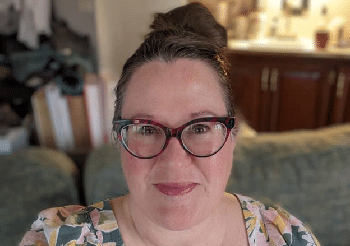 Hi! I am Dr. Sherry Warren, new in my role with the UCC National Ministries in the recently created position of Minister for Women's and Gender Justice. I come to this work after years of teaching social work students and working with congregations on spiritual development, justice-seeking action, and leadership. I have a clinical MSW and a doctorate in Social Welfare, and earned a graduate certificate in Women, Gender, and Sexuality Studies. A born and raised Kansan and proud Jayhawk, I now live in Ohio with my husband and our two dogs, Larry and Cheezit.
Envisioning Women's Justice Ministry
As I was applying for this position just over a year ago, I was asked to share my vision for the UCC Women's Justice Ministry. Our ministry has the potential to meet God's call in Micah 6:8 to do justice, love kindness, and walk humbly with God. My vision is guided by this scripture. I envision a United Church of Christ that connects diverse women and girls (and their allies) as they work for justice, provide mercy through charitable acts addressing immediate needs of vulnerable people, and contemplatively walk within the grace of God's love. This aligns with the UCC's transformative vision of God-centered action, Spirit-led leadership, and Christ-driven connection.
Love kindness through spirit-led leadership: Women lead differently. Developing leadership skills is essential to giving women the clear voices that communities need. To address complex social problems and create structures that dismantle racism, sexism, and other oppressions that keep us all from our full potential, women must be ready to courageously speak the love of the gospel in their local communities and congregations.
Do justice through God-centered action: Women need skills to engage in activism and advocacy. UCC women can be a voice of progressive inclusion that brings more justice to all of God's children. We are called to collective action in the arenas of legislation and widespread systems of oppression. We can also mercifully engage in activities that provide comfort and care to people all over the planet who benefit from our gifts and skills.
Walk humbly through Christ-driven connections: Women's ways of knowing the world differentiate them. Developing fulfilling connection and genuine compassion is essential to sustainability as caregivers, partners, children, parents, and individuals with responsibilities, hopes, and dreams. Christ-driven connections that focus on spiritual-emotional needs ground us in humility of being precious, worthy, children of God and siblings to those in need.
To realize this vision, I work collaboratively with other leaders in the UCC to create connection with these ideals. Through ongoing online workshops and consultations, and in-person events that attract participants who want to be inspired and informed, I educate women and their allies about fulfilling this call in their own lives and communities. In every Talitha Koum newsletter, you will see sections that reflect God's call and the UCC's vision.
God-Centered Action
I recently learned of a project that even someone newer to knitting or crocheting could knock out during a committee meeting. Knitted Knockers brings attention to the needs of people who benefit from soft handmade breast prosthetics to help people who are going through breast (re)construction or other breast surgeries. These gifts could be in addition to wonderful prayer shawls (I treasure mine that was gifted to me by my former church's shawl ministry) so many congregations already have. Textile aficionadas can access the website for free patterns, group registration, to donate their knitted and crocheted creations, or connect with a healthcare setting to provide your lovingly looped prosthetics to those in need.
Has your congregation or women's group participated in a project that others might enjoy hearing about? Give me a buzz so I can learn more and lift up this work! warrens@ucc.org.
Spirit-Led Leadership: Women Arising
Women all over the world are leading amazing work, and I want to celebrate them! One UCC woman who has been recognized by her community is Rev. Bridget Flad Daniels, of Green Bay, Wisconsin. The Neville Public Museum featured women leaders in Northeast Wisconsin, recognizing Rev. Bridget for her leadership and activism in the Green Bay community. Learn more about Rev. Bridget's "HerStory" exhibit at the Neville Public Museum or watch the interview (8 minutes).
Know of a UCC woman, girl, or ally who is leading with spirit? Let me know! warrens@ucc.org.
Christ-Driven Connection
How do you care for yourself? Truly care for yourself? It can feel like just one more thing to have to cram into an already overflowing calendar and yet it is crucial that we take time to nurture ourselves – physically, emotionally, spiritually, relationally, we can keep adding to this list but you get the point. I am in a new city, new job, new everything really, and my support network is scattered all over the country. On Tuesday mornings my neighbor doesn't start work until 10 a.m., so we have a new habit for which we intentionally sit down over tea to connect. We do not know each other well, yet we like each other, and we both have interest in spiritual growth and human connection. We are in vastly different places in our life journeys, yet I find myself so excited on Monday night when I think about the opportunity to sit down with my new friend and yak about family, work, scripture, nothing – it really doesn't matter because we just want to connect and feel seen. What have you done for yourself lately? How do you let the spirit of Jesus hold you?
Want to share your spiritual grounding practice, self-care, or meaningful ritual that brings you peace or connection? Please share! warrens@ucc.org.
Engendering Spirit Education Series
Talking with congregational, association, and conference leaders has helped me see what I can provide that is going to be relevant and accessible to congregants. One of the ways I can connect to local churches and congregants is by creating programming and resources that can be accessed by any of us. To empower congregants, I am creating the Engendering Spirit Education Series that can be accessed on Frontline Faith free of charge. In the recorded videos that are about an hour long, I will be talking with people about contemporary, challenging, topics that generally meet at the crossroads of real life and faith. If there is one thing I want to do in this position, it is help people examine their values to wrestle with the complexities of life.
My guests and I will discuss topics such as caregiving, gender and sexuality, reproductive justice, and how to advocate for ourselves and others. A few times a year, we will have a common read that you are welcome to join in (see our first common read book announcement closer to General Synod). Regardless of the topic, you will be provided with a short study guide to help you learn more about the topic, find resources, and ask questions to help you think about the issues women and their allies confront.
Growing a Community of UCC Women
Right now this ministry is primarily envisioned by me and this newsletter is written by me. I want that to change. I am looking for people who identify as a woman/girl to join me in defining what an inclusive and expansive women's justice ministry is for the United Church of Christ. If you care about women's needs and issues and want to put that concern into action, please reach out to me at warrens@ucc.org or 216-736-3287. We can discuss how you can be involved in a growing movement that recognizes women's involvement as an essential piece of justice.
Women's Issues Resources
Encounters at the Well
Justice for Women (more changes upcoming)
Church World Services Menstrual Hygiene Kits (Period Packs)
UCC matching grants to assemble CWS Period Packs (for more information, contact: Craig Hoffman, Program Assistant, UCC Global H.O.P.E.)
Health and Wholeness Advocacy
Justice and Peace Action Network
---
Related News
Throughout the holiday season—from Thanksgiving, through Advent and Christmas, to the New...
Read More