'We must dance' to transform our democracy, Otis Moss lll urges at interfaith MLK event
It takes a "village of resilience" to raise the moral imagination of the next generation.
The Rev. Otis Moss III shared that message with more than 1,000 people gathered at the Temple-Tifereth Israel on Jan. 16 in celebration of Dr. Martin Luther King, Jr. His keynote address was part of The Maltz Museum's Hear Our Voices: Annual MLK Day Celebration in Beachwood, Ohio.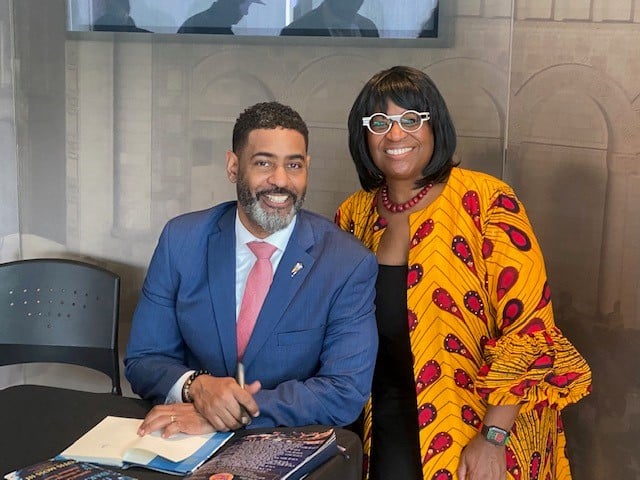 Moss, senior pastor of Trinity United Church of Christ in Chicago and a Join the Movement capital campaign co-chair, encouraged those gathered to ignite the moral imagination inspired by the "radical King," who spoke against the "scourge of poverty" and the dangers of militarism. This must be collective work, Moss stressed at the interfaith event.
'The organizing power of women'
He shared stories of the people who formed a "village of resilience" around Martin Luther King, Jr., including the Rev. Vernon Johns, who preceded King as pastor of Dexter Avenue Baptist Church, and Jo Ann Robinson, who demonstrated "the organizing power of women" by initiating the 1950s Montgomery bus boycott.
"Many of you think about the bus boycott in Montgomery, and we always have an image that was only Dr. King. But let me give you the truth of the village of resilience during that time period," Moss said. When the 26-year-old King and other area ministers could not come to an agreement on how to proceed following Rosa Parks' arrest, Robinson and a group of women took action to spread 55,000 flyers promoting a bus boycott, he said.
'Moral imagination'
Moss urged the crowd to raise the next generation with a "moral imagination" that has the power to "transform this particular democracy."
"Moral imagination simply means that I can see a future – though it is not, I will act as though it is. Moral imagination raises questions for 'the least of these.' A moral imagination is what Jeremiah and Isaiah and Ezekiel were attempting to do – they were speaking into the hearts and lives of those who had gone astray," he said.
'Dance with love plus justice'
Moss described how he and his congregation received media attention and death threats in 2008 because of video clips shared during then Sen. Barack Obama's first presidential campaign. At that time, when he heard a disturbing sound in the middle of the night, Moss found his daughter in her room, dancing in the dark. He related this image of dancing in the darkness to the work of transforming this country's democracy.  
"The darkness may be around us, but it is not in us. And if we are to see transformation in this fragile democracy, we must dance – dance with love plus justice, dance with compassion and joy, dance with forgiveness and grace and mercy. And if by chance we learn how to dance, we will see transformation in this democracy we call the yet-to-be United States of America. Let us learn how to dance in the darkness."
Moss ended his talk with an idea that mirrored the structure of King's famous "I Have a Dream" speech. Moss described a vision for people from all walks of life and faith to dance in a way that merges love and justice. If we do this, he said, "we will be able to sing like the bard of South Central L.A. by the name of Kendrick Lamar. We can say together: 'We gon' be alright. We gon' be alright.'"
Civil rights exhibits
Moss signed copies of his new book, "Dancing in the Darkness," following his speech, which can be viewed here in its entirety. The MLK celebration by the Maltz Museum of Jewish Heritage also included a photography exhibit "This Light of Ours: Activist Photographers of the Civil Rights Movement" and an interactive biography with an artificial intelligence projection of Moss' father — civil rights leader, the Rev. Otis Moss Jr.
---
Content on ucc.org is copyrighted by the National Setting of the United Church of Christ and may be only shared according to the guidelines outlined here.
---
Related News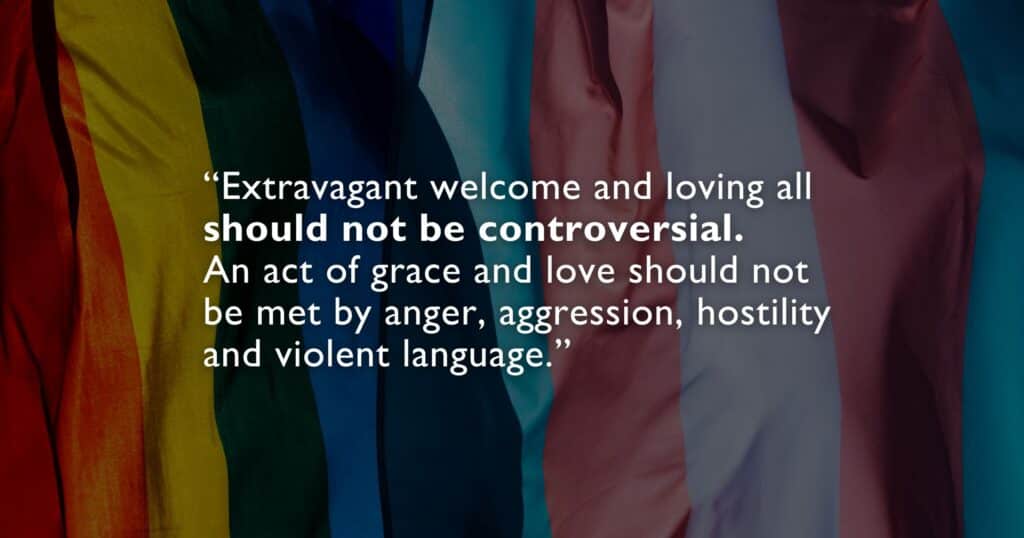 The United Church of Christ National Officers and the Conference Minister of the South Central...
Read More