Vote, stay vigilant in this election season, UCC leaders urge
Nov. 3 is two weeks away, and Americans are already turning out in record numbers to vote in the fall election. By mail, or early in-person, state election officials across the United States are reporting long lines at the local board of elections and hordes of ballots in hand.
As of Saturday, Oct. 17, more than 26 million people had voted, according to the U.S. Elections Project. That's more than six times the number of votes cast by the same time in 2016. Advocates in the United Church of Christ are hopeful that voters will remain patient and vigilant through the process.
"After so many election cycles reflecting low voter engagement, this is an encouraging sign for strengthening an ailing democratic process," said Sandy Sorensen, director of the UCC's Washington, D.C., office. She's part of the UCC team supporting the right of every American to participate in the election, with resources on the Our Faith, Our Vote website. Justice and Local Church Ministries has launched a campaign that outlines simple actions people can take to stay engaged. 
Vote! Make a safe voting plan; vote early if you can.  
Help friends and family make their voting plans. Spread the word by sharing with your networks and community that you voted. 
Contact your local elections board to ask what steps it is taking to protect the integrity of the electoral process. 
Share election protection resources with your community (866-OUR-VOTE) and know your rights at the polls. If you or someone you know experiences voter intimidation, call the election protection hotline. Check these resources in advance. 
Think about how your community can mobilize to protect the vulnerable and the vote using worksheets from the Resiliency Network Toolkit.
Participate in de-escalation training; resources offered by Just Peace Network.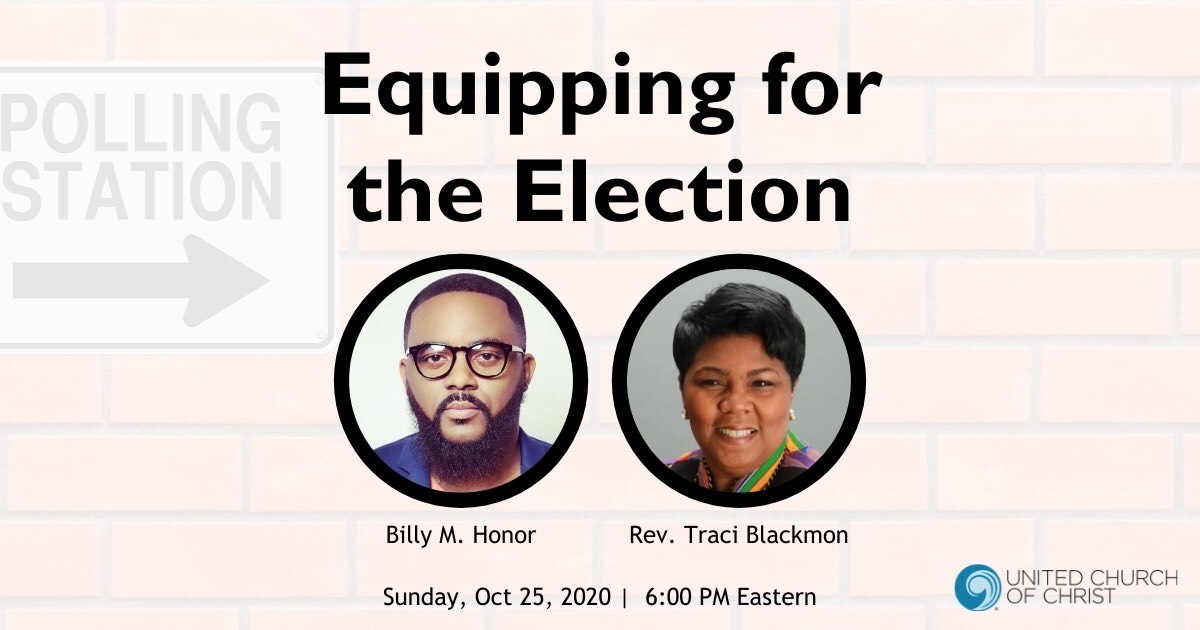 To help provide a vigilant spiritual witness at the polls on Election Day, JLCM is offering a webinar on Sunday, Oct. 25, to train clergy to stand as precinct chaplains. The instructional discussion will offer strategies for monitoring precincts, offer best practices for voter care and comfort as well as providing de-escalation training and tools for crisis management at the polls.
The 6 p.m. EDT session will be led by Billy M. Honor, director of faith organizing for the New Georgia Project. Interested parties can register here. 
"This election is unlike any other (just like everything else in 2020), and the uncertainty about the electoral process and what to expect from this election season can be intimidating," said UCC Domestic Policy Advocate Katie Adams. "Just like any uncertain scenario, thinking through how you, your family, your community and your congregation might respond in advance helps create muscle memory. Planning ahead for yourself and your community is an important part of making sure that people are protected, the vote is protected, and democracy is protected."  
Faith leaders, speaking out to encourage voter participation and election protections, are also reaching out to their elected officials. Last week, Sorensen and other office heads in the Washington, D.C., interreligious community sent a letter to congressional representatives addressing integrity, safety and fairness in the 2020 Election.
"This nation can only live up to its democratic ideals when all are confident that they can vote freely and without undue hardship for the candidates of their choosing. This is particularly critical in light of the long history of racial disenfranchisement in the United States," the letter reads. "Polling places must be equally accessible, safe, orderly, and free from intimidation. All votes must be counted in a fair and transparent manner. The decision of the majority must be upheld with a peaceful transition. These core democratic ideals should be fiercely protected by all of us, regardless of political persuasion or religious affiliation."
The 32 signatories on the statement are also encouraging their constituents around the country to share it with the secretaries of state in their representative states.
The UCC executive officers also joined a letter with national ecumenical and interfaith partners calling on the faith community to be aware of threats to the democratic process, warning that "democracy itself could disappear if the people's will, as clearly expressed through the ballot, should come to be set aside by authoritarian means and antidemocratic directives."
"We call on people of faith to insist that the vote of the people and the proper functioning of the Electoral College be respected by all parties to the national election," said the Oct. 9 statement from 13 Protestant, Catholic and Jewish leaders. "As peacemakers ourselves, we call on other faith-grounded peacemakers to join us in upholding the principle of the peaceful transfer of power."  Voters are invited to take the pledge here.
"Voting is the most fundamental way we can participate in decision-making that will impact our common life for years to come," Sorensen said. "Especially given the tremendous challenges we face with a continuing global pandemic and looming economic devastation, we need a robust conversation about the best ways forward in our policymaking. That can only happen with an engaged and informed electorate. My hope is that the high energy and engagement we are seeing around this election cycle will continue beyond voting to sustained engagement in our common life." 
Bookmark the Our Faith, Our Vote website for more resources, trainings and information. 
---
Related News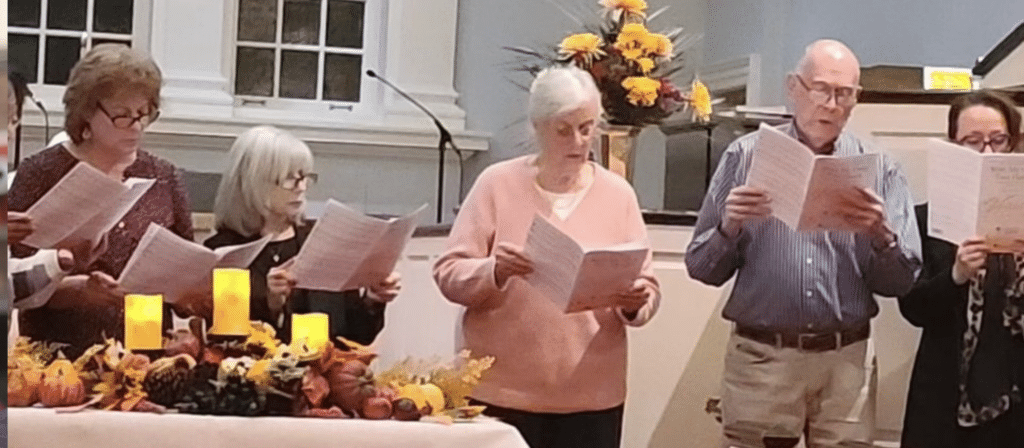 Many United Church of Christ congregations across the country participated in interfaith...
Read More