Volunteers manifest the UCC's 3 Great Loves through Synod service projects
Participants in a national United Church of Christ meeting fanned out across Milwaukee on a sunny Saturday afternoon to give back to the city through service projects underscoring the denomination's "3 Great Loves." The projects addressed a wide range of concerns, from homelessness to the environment, from teens in crisis to digital access for low-income people.
The activities were chosen with an eye to providing delegates and visitors with ideas for ways to respond to urban problems in innovative ways, said the Rev. Tim Perkins, who coordinated the trips for the Local Arrangements Committee of General Synod 32. Perkins, who recently retired after nearly 34 years with Bethel-Bethany United Church of Christ in the Sherman Park neighborhood of Milwaukee, said many of the organizations were founded with the help of local UCC congregations. Since the late 1980s, Bethel-Bethany has sponsored an Urban Immersion program designed to help people living outside of Milwaukee experience greater cultural diversity and learn how organizations in urban settings are responding to human needs.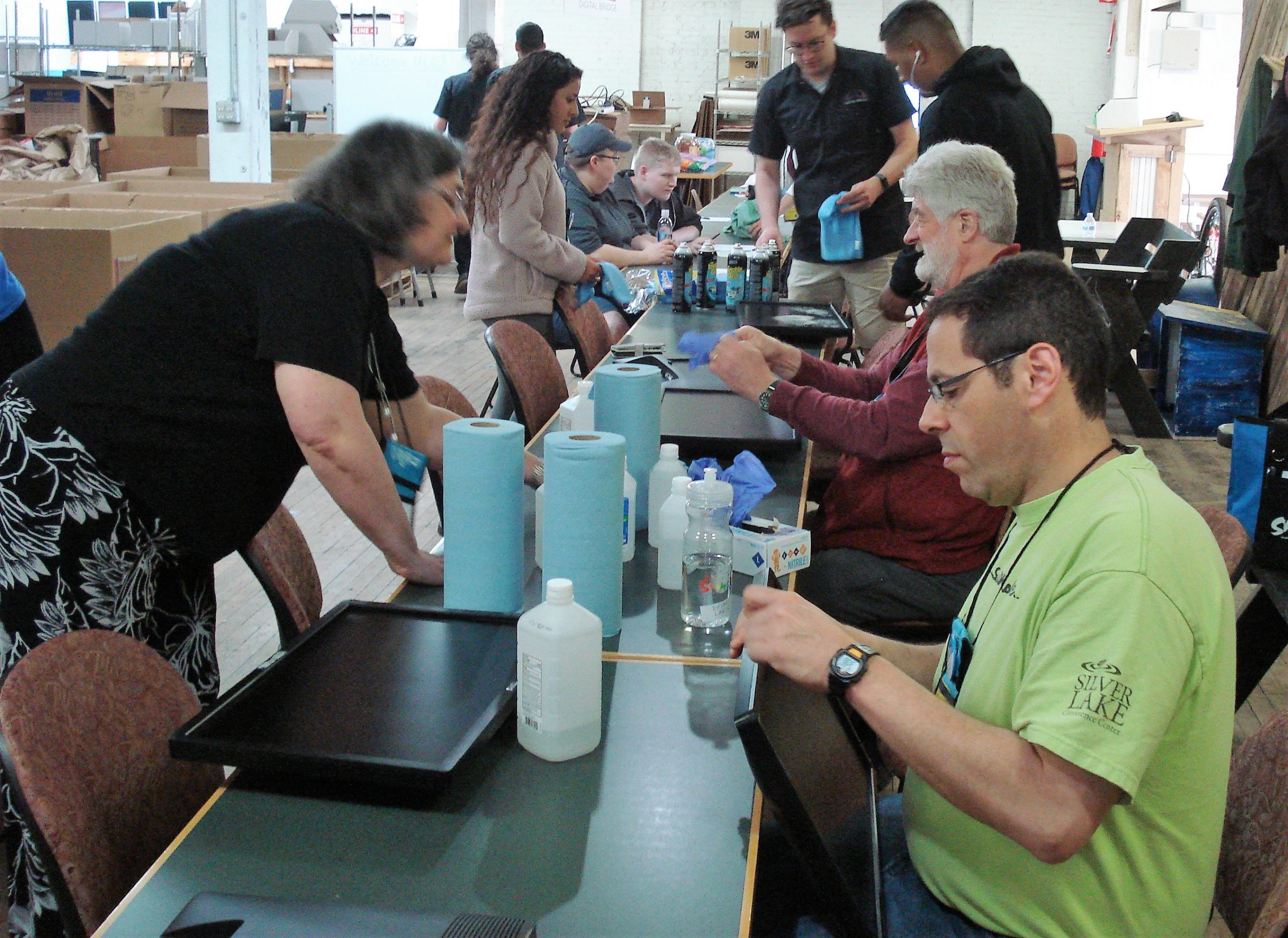 Synod participants could choose from a range of projects that addressed the denomination's focus on "Love of Neighbor," "Love of Children" and "Love of Creation." At the Guest House Shelter, a transitional shelter for homeless men, volunteers  bagged lunches, sorted donations and visited the Cream City Gardens, the project's nearby garden. Another group visited the Cathedral Center of Milwaukee, where they helped organize donations in support of the center's ministry for homeless women and families.
At the Urban Ecology Center, volunteers learned more about how that organization works to connect city dwellers with nature and each other. The group also joined Keep Greater Milwaukee Beautiful   in a clean-up project.  At another site, participants assembled hygiene sacks and sorted clothing for Pathfinders, a street ministry that works with young people 11 to 25 who have experienced homelessness, sexual abuse or other trauma.
Perkins led a 3.5-mile Justice Walk that visited places and organizations that interact with people in crisis, including the Milwaukee Public Library, the county courthouse and jail, St. Benedict de Moor Church, home to the city's largest community meal program, and the Coggs Building, where Friedens Community Ministries, a UCC-founded food ministry, is housed.
Yet another group of adults and youth traveled to the century-old warehouse of Digital Bridge, which works to connect under-served groups and individuals with computers and digital resources that they would otherwise not be able to access on their own. The visit was organized in partnership with the UCC's media justice ministry, the Office of Communication, Inc. (OC Inc.)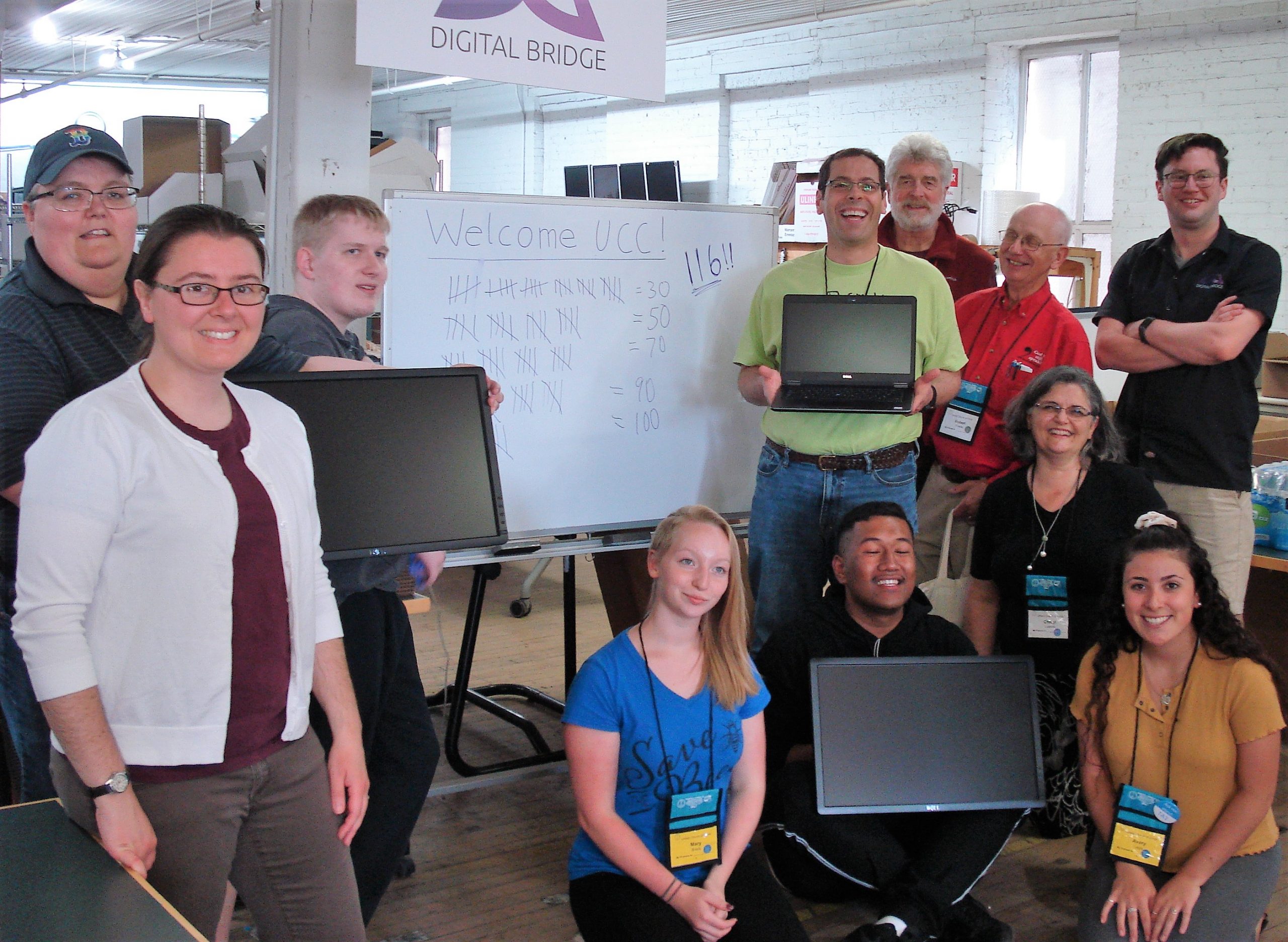 Jeff Hanson, Digital Bridge's executive director, described how his organization helps businesses dispose of their computers by scrubbing them of data, and then either recycling them, selling them at a discount, or donating them to persons in need around the world. The organization is part of the National Digital Inclusion Alliance, which works on digital access issues around the country.
Cheryl Leanza, public policy director of OC Inc., described how that UCC ministry works with other advocates to strengthen the Lifeline program of discounted Internet access for low-income families, promote Net Neutrality policies and to reform predatory prison telephone rates.
Volunteers then got down to business, forming an assembly line to strip good-quality computer monitors of their labels, clean their screens, check for scratches, and test whether they worked when plugged in. In an hour, they had the satisfaction of meeting their goal of boxing up more than 100 monitors for the next stage of the Digital Bridge disposal process.
Sara Fitzgerald, a Synod newsroom volunteer, is a member of Rock Spring Congregational United Church of Christ in Arlington, Va.
---
Related News
On a recent trip to Palestine and Israel, the Rev. Allie Perry was part of a delegation that...
Read More