Virginia church, target of hate crime, reaffirms ministry to build a just world for all
A hate crime during Holy Week has only strengthened the resolve of an Annandale, Va. congregation to 'be the church' open to all, a place of welcome that proclaims love of neighbor.
"I'm confident that this attack was directly related to our commitment to God's radically inclusive love for all, regardless of race, gender, orientation, or tradition," said the Rev. David Lindsey, pastor of Little River United Church of Christ. "We are on the record expressing our belief in the extravagant welcome of the UCC."
Swastikas and other racist graffiti were spray painted on the Little River UCC building, doors and windows, on their Holy Week schedule, and on a banner that declares 'say NO to anti-Muslim bigotry.' The vandals also added the words 'Jesus knows no traitors' to the church sign. The damage, discovered Tuesday morning, April 11, has kept the church senior leadership extremely busy, meeting with police, fielding calls from other investigative agencies and responding to the media. They, with the help of volunteers, are cleaning the building and the windows today.
The pastor said he was "shocked but not surprised" that the church became a target of racial bias. Little River, a long-time open and affirming congregation, recently added the anti-Muslim bigotry sign to reach out to their neighbors.
"Sadly, we live in a moment in American history where hateful rhetoric and imagery are increasingly allowed and even encouraged in our public dialogue," Lindsey said, noting that "it's not the first time we've been the victims of hate speech as a church. We were founded in 1955 by the Congregational Christian Church, and we made a decision early in our life to be racially integrated — an unpopular (and at times illegal) stance in the Virginia of the 1950's."
As the investigation into the hate crime continues, the congregation plans to continue to celebrate Holy Week as scheduled.
"We are, however, adding a community vigil on Saturday night, for people of all faiths and of no particular faith," Lindsey said. "These signs hurt our church, just as the parallel attack hurt our friends at the Jewish Community Center down the street."
The Jewish Community Center of Northern Virginia (JCCNV) was vandalized the same way as Little River UCC sometime Monday night, as that community was celebrating the first night of Passover.
"During Passover, when the Jewish community around the world is celebrating a time of freedom for our people as well as those who are affected by hate today, a crime like this heightens the reason that organizations like our own exist to bring communities together through messages and actions of peace, acceptance, and inclusion," reads a statement from JCCNV executive director Jeff Dannick and JCCNV board president Scott Brown.
"We are disheartened and deeply disturbed by the anti-Semitism our community has experienced today. We will not be deterred from our mission of being an open and welcoming place for people of all backgrounds as we continue our operations as normal," the statement continues. "We are grateful to the local and federal law enforcement officials who are working to identify and bring to justice the person or persons who committed this crime. As always, our community's safety will be our priority as we remain committed to fulfilling our daily mission as a community center."
Lindsey added, "A lot of folks in the wider community saw these hurtful images and this hateful rhetoric, and the JCC is working with us to make the Saturday service a time to begin healing the wounds in the wider community that resulted from these crimes."
And as the two faith communities plan to come together in Virginia, the Little River UCC congregation has a message for the wider church.
"We are not the first UCC church to be a victim of a hate crime, and we won't be the last. If this happens to you, know that you are not alone; that God's love is greater than this hate; and that you have a lot of neighbors who will want to help you."
---
Related News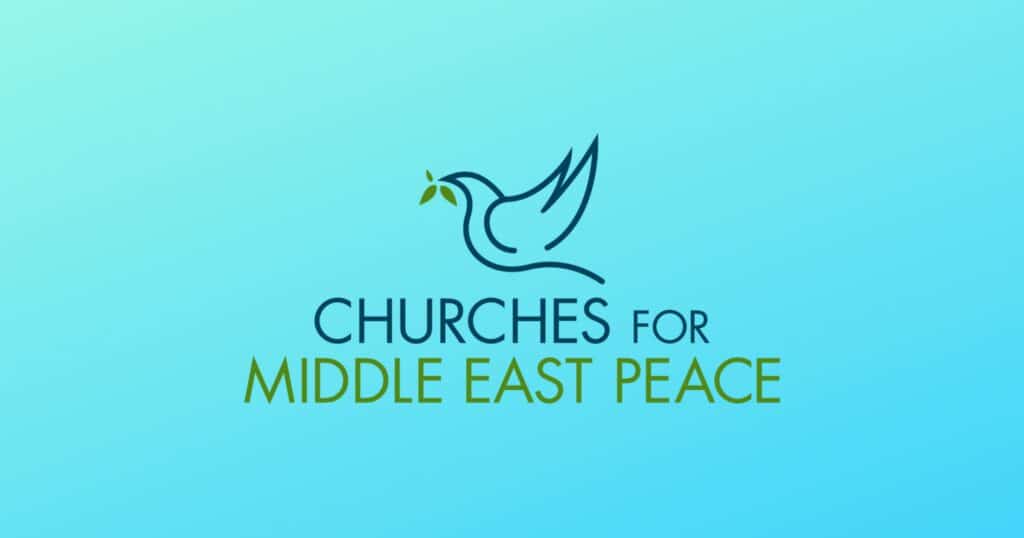 The following statement was issued Dec. 2 by Churches for Middle East Peace (CMEP), of which...
Read More