Vigils to 'Erase Hate' follow deadly mass shooting at Pittsburgh Synagogue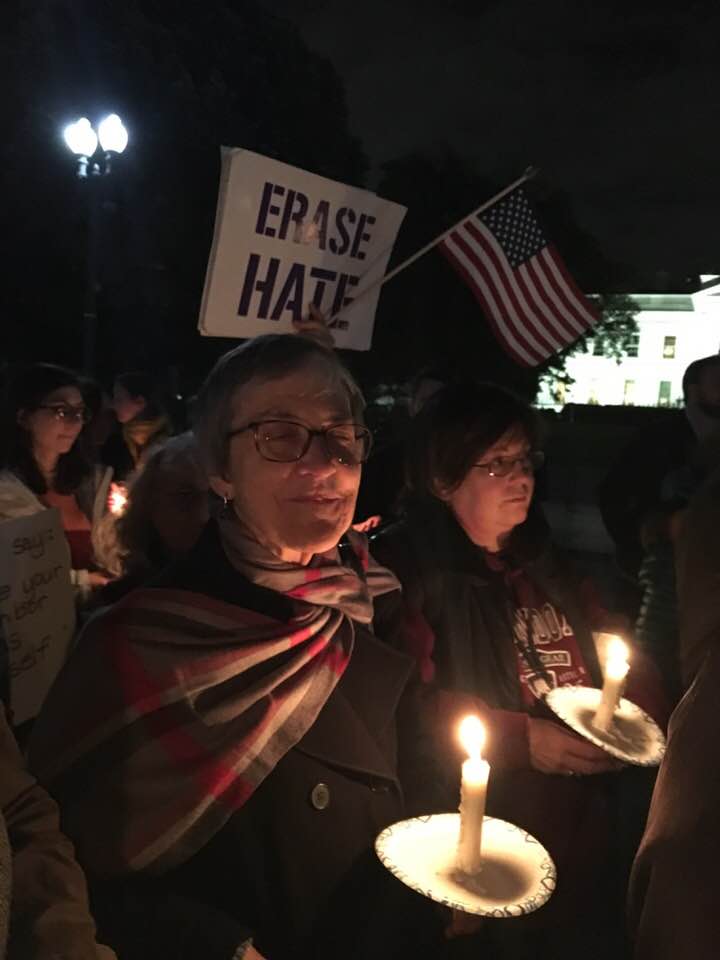 In cities and towns across America this weekend, people of all religious expressions came together in interfaith vigils and prayer services to remember the eleven people murdered at the Tree of Life Synagogue in Pittsburgh, Penn., on Saturday, October, 27.
Thousands gathered from coast to coast — including at Union Square in New York City, in Boston, Minneapolis, San Francisco and outside the White House in Washington, D.C. — to express solidarity.
Alice and the Rev. Jerrold Foltz, pastor emeritus of Wellspring UCC, in Centreville, Virg., and Jill Satterfield, Wellspring council president, joined the D.C. Havadalah ceremony, the ritual which the separates the holy Sabbath from the rest of the week to come. Hundreds gathered after sundown in the darkness outside the White House on Saturday evening, standing shoulder to shoulder, with candles lighting their way.
"We came to keep vigil in support for the Tree of Life Synagogue in Pittsburgh," Alice Foltz said. "This evening at the end of Shabbat led us away from weekend routines, to stand before the White House with strangers in search of hope. Beside us were women from Nuns on the Bus, and we walked with an imam. We prayed the Havadalah prayers, heard the songs, and held shoulders around the deep circles of respect and shared pain. We shared and lit each other's candles, and relit them when the light was gone.
"Jews from D.C. synagogues remembered past suffering and spoke of their anger that this should happen to faithful people, living their lives in peaceful community worship," Alice continued. "It is impossible to be here without remembering those who suffered and died in the Holocaust. Are our spaces for worship, for school, for community celebration, safe today?"
"We are angry," said a man from Pittsburgh whose family worshipped at Tree of Life last week. "This could have been my family," he said. Another woman with Pittsburgh family remembered in tears those who were wounded or died.
Speakers in D.C. also remembered other communities that have been affected, in a season when incidents of hate threaten faith communities. Mother Emanuel AME Church in Charleston; First Baptist Church of Sutherland Springs, Texas; Islamic Center, Quebec; Jeffersontown, Kentucky. A speaker representing the Washington, D.C., Muslim community called for the end of hate, and new action to support religious freedom.
The leadership of the United Church of Christ, in a statement released Saturday following the mass murder, condemned the shooting and reached out to their Jewish brothers and sisters with love.
"The United Church of Christ stands with our Jewish siblings today in love as we mourn this terrible tragedy in our midst," the statement reads. "We will not run. We will not hide. We will not shy away from confronting the toxic, white Christian supremacy that is masquerading as faith. We are here with you. We are praying with you. We are mourning with you. And we are loving with you until every street and every synagogue and every mosque and every sanctuary is free of hate. We are with you until love wins, and this is a just world for all."
The Christian Leaders' Fellowship of Pittsburgh, which includes the Rev. David  Ackerman, UCC Penn West Conference Minister, also spoke out.
"As Pittsburgh leaders of Christian denominations, we weep with our Jewish siblings in faith whose lives, families, and community have been shredded by a fusillade of bullets emanating from venomous bigotry. To the Tree of Life congregation and all our beloved friends in the Pittsburgh Jewish community, we extend our deepest love and solidarity, with prayers for comfort and justice," notes the Fellowship's statement. "We reject and denounce as evil every word and action that vilifies any faith community, for any reason. We call upon all members of our congregations, together with all others of good will, to repair the breach that sunders our community. Confessing together that the Lord is One, we commit ourselves to love the Lord with all our heart and strength by loving our neighbors, without exception."
"The separation that we felt on this Havdalah was not between this sacred day and the week ahead, but between our faith, and the fear, pain and anger following the mass shooting," Alice Foltz said. "On Sunday, in Wellspring UCC, Virginia, we re-lit our candles from the Havdalah, and prayed for new ways to 'Erase Hate.' We prayed for ways to relight the candles everywhere they have gone dark."
---
Related News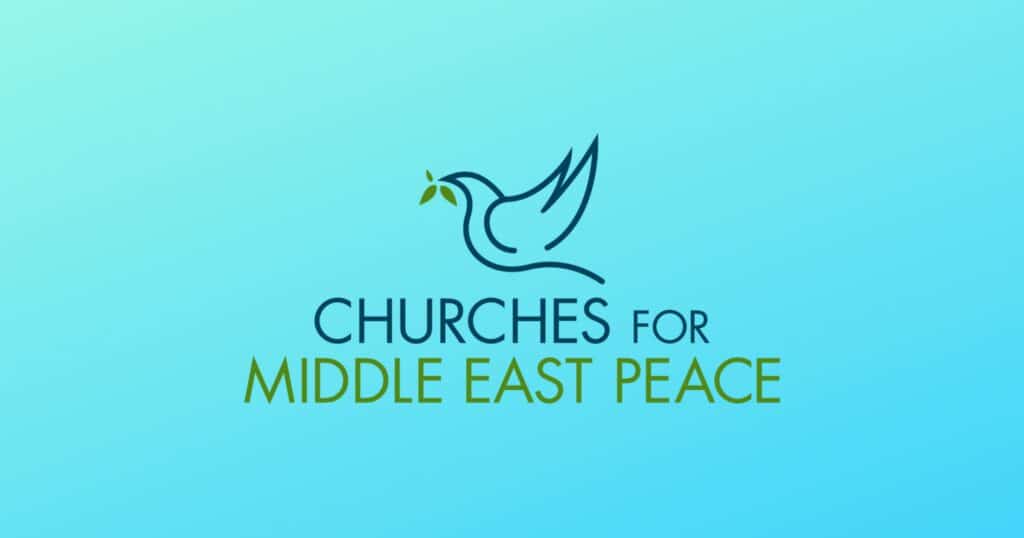 The following statement was issued Dec. 2 by Churches for Middle East Peace (CMEP), of which...
Read More