Vigils honor victims of the Orlando mass shooting, offer solidarity to their community
Solidarity and support shown for the LGBTQ community is bringing people together at vigils around the country honoring the victims of the deadliest mass shooting in American history.
All across Florida, from Seattle to Cleveland, in Fargo, N.D., and in Brooklyn, N.Y., United Church of Christ members and clergy gathered to pray, to mourn the loss of 50 members and friends of the Orlando gay community gunned down in an act of hate and of terrorism early Sunday morning, June 12, at a nightclub where people gathered to dance, socialize and have fun.
Just hours later, not too far from where the massacre at the Pulse nightclub took place, the Rev. John Vertigan, Conference Minister of the Florida Conference UCC, grieved the dead and prayed for the 53 injured. "I was honored to bring words of solidarity and peace to an overflowing vigil in Orlando," he said, "where people laughed and cried and lifted up the reality that ours is a God of unconditional love and in even in this instance: LOVE WILL WIN."
The Rev. Ann Kansfield, UCC minister, co-pastor of Greenpoint Reformed Church in Brooklyn and first out gay chaplain for the FDNY chaplain, spoke to a group gathered at Judson Memorial Church in New York City. "I asked the people assembled to remember that though there was one shooter, there were hundreds of first responders who came to the aid of people in need. And that doing so comes with a spiritual and emotional cost — EMTs, paramedics, firefighter's and police officers witness horrible trauma. And yet, in them, we find hope, goodness, bravery and sacrifice." 
In Seattle, Pacific Northwest Conference Minister the Rev. Mike Denton was one of the thousands gathered outdoors in a collaborative vigil. "I think with the rest of the country and the world, my heart was breaking, and I wanted to be in a place where people who stand for love and justice all came together as one." 
Investigators say the gunman, a U.S-born Muslim, made a 911 call before the shooting, pledging his allegiance to the head of the Islamic State.
Denton, after hearing the news of the Orlando murders, went to worship Sunday morning at All Pilgrim Christian Church together with Arsalen Bukari, a representative of the Northwest Region for the Council of Islamic Relations (CAIR). "It felt right all the way around," Denton said. "When an extremist from one of our faiths attacks other people in the name of faith, that's an attack on religion overall. In this instance, the attack was on the LGBT community, and an attack on any type of group is wrong and evil. We can work to combat that attack together more effectively than if we do it separately from each other."
In Cleveland, the Rev. Mike Schuenemeyer, UCC executive for Health and Wholeness Advocacy, was one of 100 people gathered at a downtown park "to honor the lives lost not only by our words, but with our actions," he said, "to give public witness to the solidarity we share against hatred, bigotry and violence."
The United Church of Christ has long been a religious voice for the rights of LGBTQ people and continues that support today. The denomination's national officers and leadership of the UCC Open and Affirming Coalition have issued this joint statement, mourning the loss of those murdered, lifting up prayers for their families and the gay community:
Today the United Church of Christ and the Open and Affirming Coalition stand with the LGBTQ community in Orlando, Florida, and with all who are grieving for the victims of the massacre at a gay nightclub in the early hours of Sunday morning.
Their grief is our grief.
We pray for the families and friends of the 50 who were killed.
We pray for the many injured and for their doctors and care-givers.
We renew our resolve as a church to work in Florida and in communities across America for the safety, dignity and freedom of our LGBTQ members and neighbors.
We renew our resolve as a church to work for sane laws that will curb the epidemic of gun violence in this country.
We now know the assailant was a U.S. citizen and a Muslim. We join with the leaders of Muslim communities in the United States who have denounced the attack in Orlando and the unreasoning hatred that motivated it.
The time has come for churches to end the spiritual violence they perpetrate against their LGBTQ members and neighbors. Preaching hate against others because of their sexual orientation or gender identity has taken a terrible toll of lives lost to suicide, and is incompatible with the teachings of Jesus Christ. We call on every church to stand with, and not against, the LGBTQ community.
We are angry, but we will not return hate for hate. Hate will not stop the cycle of violence–not in this country, or anywhere in the world. And so we remember at this time the words of Dr. Martin Luther King Jr.
"Returning violence for violence multiplies violence, adding deeper darkness to a night already devoid of stars.
"Darkness cannot drive out darkness: only light can do that.
"Hate cannot drive out hate: only love can do that."
---
Related News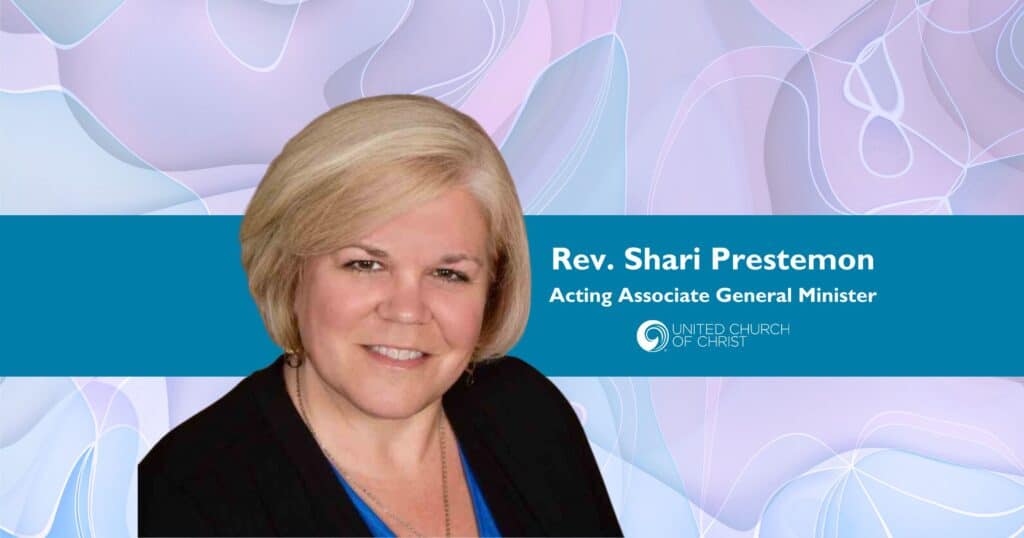 A new United Church of Christ national leader has been called. The UCC Board voted in a...
Read More