UCC Southern California congregation vows to 'Be the Church' in wildfire recovery process
As wildfires continue to rage across large swaths of Southern California spewing smoke and ash across the landscape, the people of the UCC congregation in Ventura are making every effort to get back into their building for worship on Sunday, Christmas Eve.
"Our church was spared, but our property is damaged, and fire came within five feet of our front door," said the Rev. Kris Bergstrom, pastor of Church of the Foothills in Ventura, Calif. "We have a lot of smoke and ash involvement which is nothing to what others are dealing with.
"It is overwhelming to stand in our parking lot and look up the hill," she continued. "This grief is going to last a long, long time. We are up to 20 families who have lost everything. We probably have another 40 families who were displaced and are waiting to get back in. On Sunday we have 150 people in worship, so that's a high percentage of folks directly impacted. It seems that everybody knows someone who has lost everything."
Residents are just being allowed back into their neighborhoods, with police escort, to survey the damage from the Thomas Fire, which continues to burn to the southeast, forcing evacuations in Santa Barbara, where Bergstrom lives. The fire, which covered 30 miles from Ventura to Santa Barbara, is the biggest of a number of blazes burning across Southern California. Right now, it's the third-largest wildfire in modern California history at 270,000 acres, on track to become the largest. Fire crews have the blaze about 45% contained, and officials expect it to burn into January.
"We're all okay, still reeling from the shock and the magnitude of this," Bergstrom said. "We are now seeing what comes in the aftermath, a new loss and pain. Many of our neighbors are the walking wounded—moving from insurance tents, to city planning tents. Having to figure out how to deal with mortgages outstanding on devastated properties they won't be able to rebuild. Then there's the overwhelming responsibility of getting the lots cleaned. I have learned more about toxic debris than I ever cared to know."
She and her congregants are looking forward toward recovery, but see a long road ahead. They've worshipped together the past two Sundays at the local Seventh Day Adventist Church, drawing strength from each other.
"People in the community are starting to make their way through this, but it's a relentless maze that just perpetuates the sense of loss, shock and sadness," Bergstrom said. "I just talked to one woman who left her insurance company, a conversation with a very responsive claims adjustor. Now she had to deal with the mortgage company, and she said she doesn't have it in her – she just can't have that talk today. Stories like this keep me humble – how to help these folks."
One of the first ways Bergstrom believes she can do that is to 'Be the Church.'
"Our work right now is to get ourselves up and running," she said. "To serve as a place of worship and support, and to be open to the community. We host AA meetings, and other organizations meet there. We are always committed to being a good neighbor and that's our goal now."
The Church of the Foothills parking lot has been a staging area for utility crews working to restore power, but service has been intermittent. There are still many people without electricity or gas. Phone and internet service remain spotty too. The neighborhoods that burned were up on a hillside where the TV, cable and phone towers were also situated.
"We are located right at the entrance to the two neighborhoods that were most profoundly impacted," Bergstrom said. "People going back into that devastation see our 'Be the Church' sign. So now we're wrestling with 'what does it mean to be the church here and now?' We're going to live into a new understanding, ways to be the church. We're going to receive mail for those who don't have homes. To offer our neighbors space to have meetings. As soon as we are up and fully functional, we want to have a free Sunday lunch, so our neighbors know there is a kind and loving place where they can come for a free meal and find space to recharge."
The UCC congregation, the oldest Protestant church in Ventura County, is also part of an interfaith coalition which, Bergstrom said, is providing tremendous support.
"There's not a whole lot we can do individually but bear witness and remind people they aren't alone and won't be alone. We have to commit to walking through this with them long term. When we sing 'We are One in the Spirit,' as we did on Sunday, the promise that we will work together and walk together takes on new meaning.
"There's just so much that goes through a minister's mind and heart – thinking what is my work in this? People don't want platitudes and they don't want to be told how to feel. They want to hear that they are not alone. They want to be reminded of Immanuel – that God is with us. That has been our mantra day by day. Advent is the time to see light in the darkness and that has been our theme."
During the two weeks the fires have been burning, Bergstrom has been in frequent touch with the Rev. Felix Villanueva, the Southern California Nevada Conference Minister, who has offered support. "I have told him we are okay for now — but to stand by."
UCC Disaster Ministries is gearing up to assist too. In communication with the conference, Disaster Ministries will support these local church efforts to reach out to neighbors. The UCC's focus on long-term recovery means planning with local communities through state disaster coordinators is just beginning. The Thomas fire alone has burned an area larger than New York City, Washington D.C. and San Francisco combined — larger than any city in California except Los Angeles. Long-term recovery will continue for years to come, funded through support of UCC Wildfire Response.  
For today, the priority of the pastor of Church of the Foothills is getting back in a functioning building. "I think it will be very important for our congregants and the people of our neighborhood to see that we are open," Bergstrom said. "We are going to be the church and feed our neighbors. We have a fund started, and we have been able to give people cash now until the insurance kicks in. Making sure people have cash, a place to stay. I'm keeping in touch with everyone by phone service … since our people are so scattered."
"Just house upon house, street upon street, just ash. This is so big — and I'm just really humbled."
---
Related News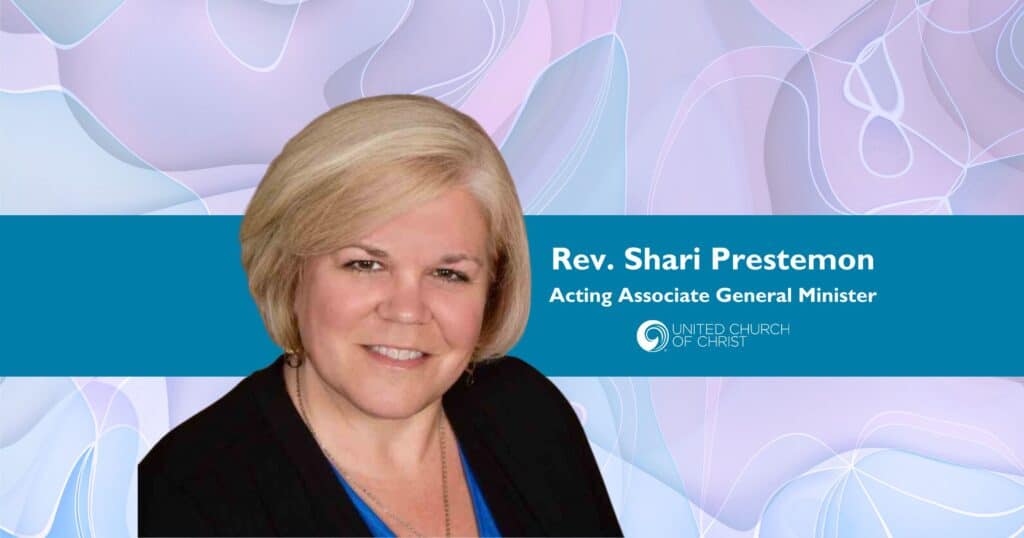 A new United Church of Christ national leader has been called. The UCC Board voted in a...
Read More