UCC sending first round of assistance to partners in Puerto Rico
The United Church of Christ is sending the first of many grants to church partners in Puerto Rico on Friday, to get drinking water, first aid, and fuel to as many people as possible on the hurricane-ravaged island where life-saving supplies seem to be limited.
The denomination dispatched a $10,000 solidarity grant on Sept. 29 to the Iglesia Cristiana (Discípulos de Cristo) en Puerto Rico (Christian Church-Disciples of Christ in Puerto Rico, or ICDCPR) to equip pastors and lay leaders assessing the needs in dozens of local communities.                                       
"ICDCPR will be conducting an assessment with pastors and lay leaders in approximately 5 to 10 towns in Puerto Rico on this first initiative," said the Rev. Angel Rivera-Agosto, Global Ministries (the common ministry of the UCC and Christian Church Disciples of Christ) executive for Latin America and the Caribbean. "Part of this evaluation will be worked through visits to affected areas, interviews with victims, valuation of damages and seeking alternatives to overcome the crisis created by the passing of the hurricane. Partners will be handling first aid kits, electric generators, drinking water, water filters, non-perishable food, battery-powered radios, batteries and other in-kind donations according to the needs they will be facing. We estimate serving 5,000-10,000 church members and community neighbors through 20 communities."
Three and a half million Puerto Ricans face a devastating humanitarian crisis. In the 10 days since Hurricane Maria decimated the U.S. commonwealth with 150 mph winds, drenching rains, flooding and mudslides, millions are left without power, 40 percent without drinking water, and there are long lines for food and limited fuel. More than 11,000 are in shelters, and countless homes have been damaged. The majority of roads on the island are severely damaged or destroyed. Communications continue to be a challenge because cell towers and phone lines are down.
On Thursday, the Trump administration temporarily waived the Jones Act, a 97-year old set of restrictions which limit shipping between U.S. ports to U.S. owned-and-operated vessels, to help get fuel, medicine, food and water to Puerto Rico, but problems remain getting supplies off the docks in the U.S. and into the hands of the people who need them.
UCC Justice and Witness Ministries, in an action alert, is urging church members to stand with Puerto Rico by reaching out to lawmakers, telling them to hold federal and local authorities accountable for the immediate distribution of aid, and to ensure that Puerto Rico has the long-term capability to recover and rebuild, by making the lifting of the Jones Act permanent.
Zach Wolgemuth, UCC Disaster Ministries executive, has been in touch with Federal Emergency Management Agency (FEMA) contacts, and said he hopes to link their resources with those who need them. "One of my jobs in the immediate future is going to be helping connect our Global Ministries church partners with FEMA resources and other organizations where we have longstanding partnerships and relationships. This work has already begun."
The United Church of Christ has a long history of walking with the people of Puerto Rico in the form of support for Puerto Rican self-determination through General Synod statements and strong relations with the churches of Iglesia Evangelica Unida de Puerto Rico. This year at General Synod, the denomination launched an 18-month Caribbean Initiative to celebrate and support our partners in that country, as well as in Cuba, Haiti, the Dominican Republic, Jamaica, Venezuela, and Colombia. The crisis following the hurricanes only intensifies that effort. The Rev. James Moos, UCC national officer and co-executive of Global Ministries, said the church will be there with the most vulnerable, advocating and serving alongside them.
"We have partners in numerous places in the Caribbean including Puerto Rico which has been devastated by the Hurricane Maria," Moos said. "We will visit partners in Puerto Rico when the situation on the ground allows for it. Currently it is desperately short of electricity, fuel and water, and we don't want a visit to place an additional burden on our partners who are struggling to meet their own immediate needs. It's important to note that we will be working with Caribbean partners on long-term recovery efforts. In the wake of a major disaster we are typically engaged for a period of three to five years, and often much longer. We need prayers and financial donations to facilitate this effort."
More than a half a million dollars has already been donated to the UCC disaster relief fund for recovery assistance following Harvey, Irma and Maria, much appreciated gifts that will be used to restore lives around the affected regions.
"We have now seen Houston devastated by Harvey, Florida damaged by Irma – and now Puerto Rico utterly ruined by Maria. My God, when will it end? It has been heartwarming to see the outpouring of love and support coming in from our churches. We all want to do our part to help – and it matters. Please give to support the relief work. 100% of the money you give goes to direct relief aid – your OCWM contributions cover the overhead expenses," said the Rev. John Dorhauer, UCC general minister and president. "Help us live out our commitment to build a just world for ALL."
For the latest information on Puerto Rico, bookmark this Disaster Ministries page.
---
Related News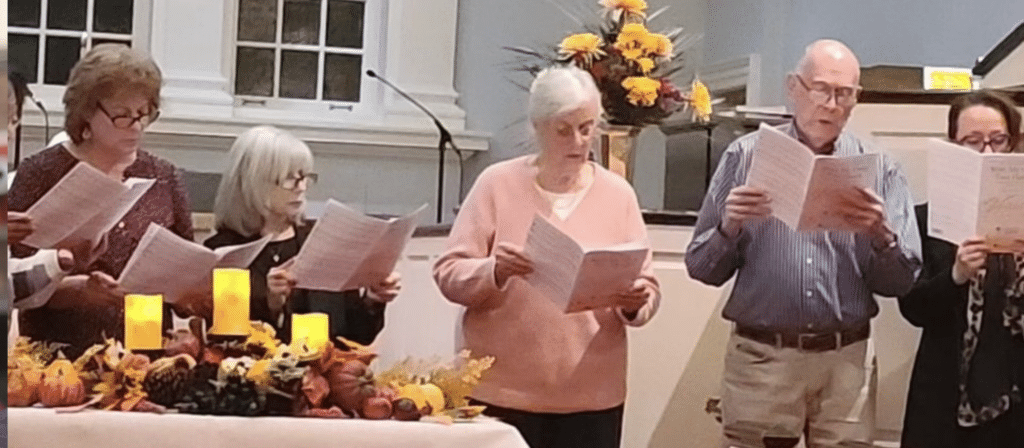 Many United Church of Christ congregations across the country participated in interfaith...
Read More