UCC pastor: I pray with my body in the Poor People's Campaign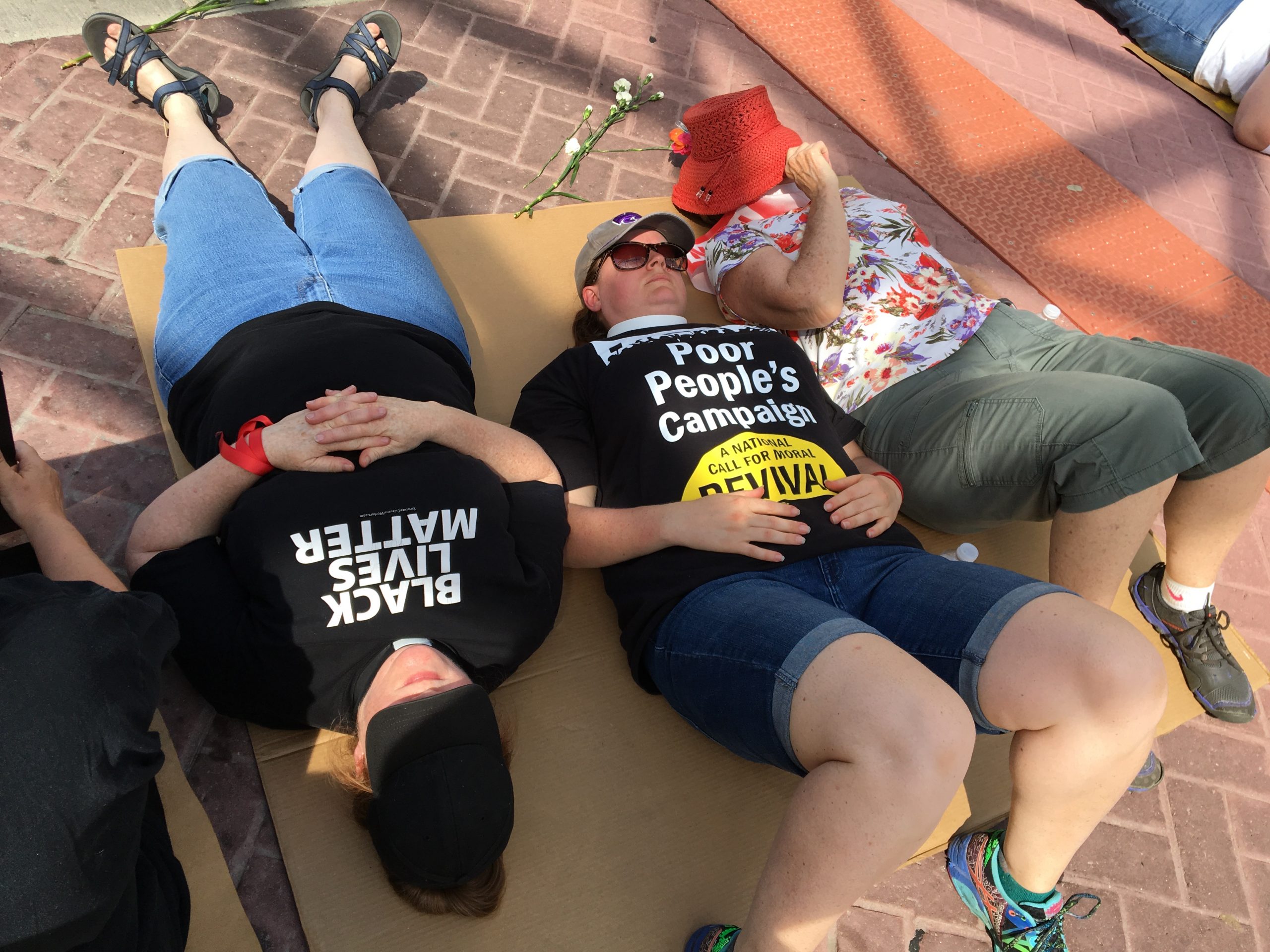 On June 3, 2018 the people of First Congregational UCC in Manhattan, Kan., focused on what it looks like to pray with our bodies. We opened and closed worship with a simple body prayer that allowed us to engage physically as we contemplated our openness to the movement of the Spirit, our vulnerability, and the strength we find in God.
As part of that service, I shared what it felt like to pray with my body as a part of the Poor People's Campaign in Topeka, last week after Donna Keyser, one of our members, and I were both arrested while participating in nonviolent civil disobedience on Tuesday, May 29. We were joined by another layperson from First Congregational, Rachel Shivers, who has been volunteering her time as the statewide media coordinator for the Poor People's Campaign's 40 Days of Action.
At 3:30 in the afternoon on that hot day in late May, Donna and I, along with many others, laid on our backs on cement that was so hot that we couldn't let bare skin touch any part of it. We listened to two of my beloved colleagues chant the names of people who have been killed in war or by police in the United States. We participated in a die-in as a part of the Poor People's Campaign. We weren't in a sanctuary, but the place felt holy. We didn't have our hands folded, but it surely felt like we were communing with God.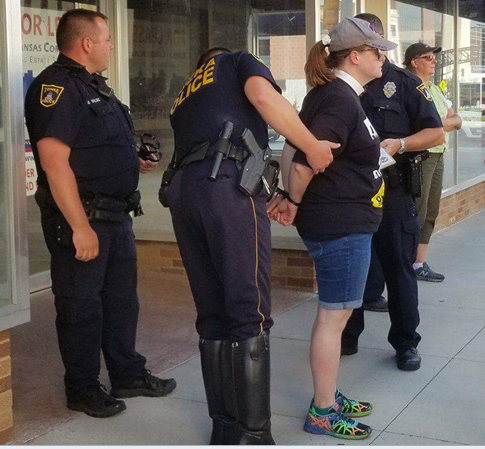 You might be wondering, why did I choose to pray in this odd way? Getting arrested? On purpose? Why would anyone do that?
It is something I felt called to do. (Incidentally, this doesn't mean it's something everyone is called to do. I'm just speaking for me.)
When Rev. William Barber spoke to a packed house at the UCC General Synod almost a year ago in Baltimore, he started with these words, 'I've come recruiting.' The vision that he cast — a vision of a synchronized, large-scale movement across the U.S. A vision of people from every conceivable background coming together as one band with one voice to say that we want to make this nation a place where all people are treated with dignity and respect — well, that vision moved me. And when I learned more about the movement that was being planned and the vast scope of it, I came to believe that I had a role to play.
It quickly became apparent to me that engaging in nonviolent civil disobedience was the task I was called to. As a cisgender white woman who looks like a cross between an Earth Mother and a soccer mom wearing a clergy collar, I can easily put myself out there and know that I'll likely be safe. This is certainly not true for everyone. So I wanted to answer the call in this particular way, knowing it's certainly much easier for me than it would be for many other people.
I prayed a lot in preparation for this day — the kind of prayer where you're actually on your knees talking to God. But even with all my praying ahead of time, I didn't realize that ACTING would feel so much like prayer once we got into it.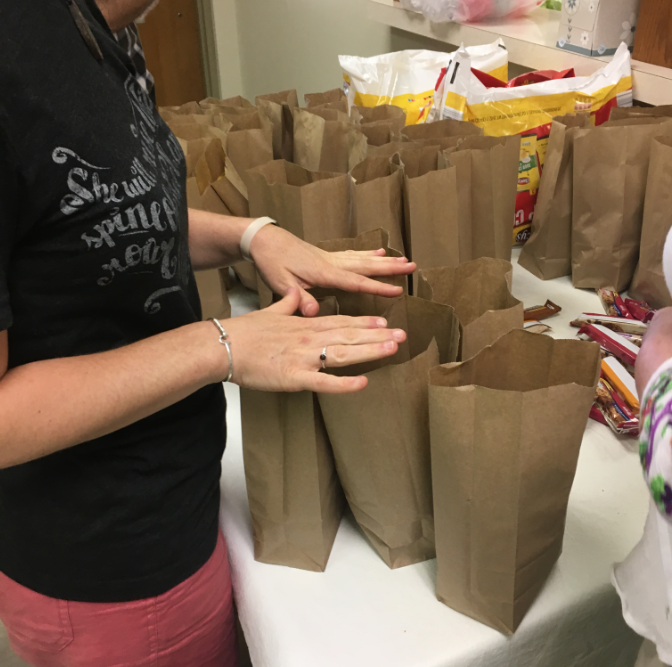 The people of First Congregational also have been active in the Poor People's Campaign, with members of the congregation attending the weekly actions in Topeka. On June 3, many of us gathered after worship to assemble 80 sack lunches for volunteers with the Campaign. Each lunch included a handwritten note of support. The Campaign and related issues have been the focus of many of my sermons and we have had "theomusicology" sessions during worship — allowing those who cannot travel to the direct action events to be a part of the movement from afar.
Throughout the Campaign, people at First Congregational have been engaged in multiple ways — singing, marching, praying, cooking, photocopying, making phone calls and sending texts — to be part of this historic movement that seeks to build a just world.
I am praying with my body as a part of the Poor People's Campaign. We are trying to finish the work that Martin Luther King, Jr. and so many others began 50 years ago — trying to create a world with peace and justice for all of God's creation.
The Rev. Caela Simmons Wood, pastor of the First Congregational UCC in Manhattan, Kan., was one of fourteen people arrested on May 29 in Topeka, charged with "obstruction of public ways." She was back out at the Poor People's Campaign rally again this week. She indicated that members of her congregation will continue to participate in the actions until the campaign ends with a 'Sending Forth' rally in Washington, D.C., on June 23.
---
Related News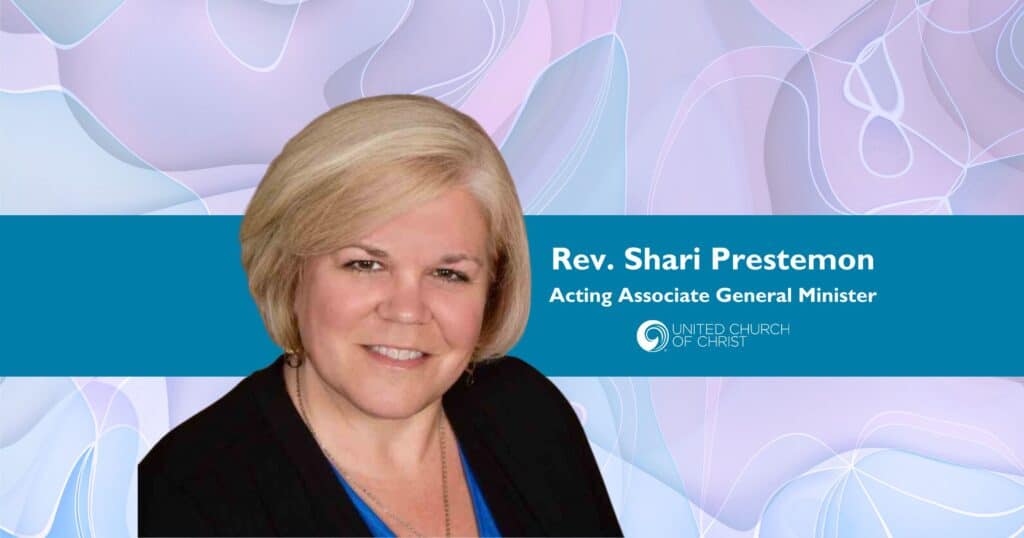 A new United Church of Christ national leader has been called. The UCC Board voted in a...
Read More