UCC officer and her family battle COVID-19 as they mourn her father's death
The Rev. Karen Georgia Thompson couldn't find joy on Easter Sunday. The United Church of Christ associate general minister, mourning the death of her father and recovering from, most likely, COVID-19, said she got stuck on Good Friday, struggling with death and grief.

"The empty tomb made me think about my own mortality. It was hard to move from there," she said.
But the national executive overseeing Wider Church Ministries said she drew strength from the outpouring of support she's received from the wider Church and the pastoral presence of her colleague the Rev. John Dorhauer. The two have been in contact every day since the national staff was deployed, to work from home, on March 20.

Thompson lost her father to viral pneumonia caused by COVID-19 on March 21. She shared the details of four incredibly difficult weeks with Dorhauer in an Easter Sunday Facebook post, "Conversations with John."
She learned her father was ill the afternoon of March 20. After talking to Dorhauer, Thompson decided to drive to New York to be with him. Her sister took him to the ER, where he passed away early the next morning. Thompson arrived at the hospital to pray over his body, offering last rites.

"Grieving in these days is hard. I have this sadness that lingers and is perhaps a part of the pain in my chest that will not leave. My father went very quickly. He died alone in the ER. No one expected him to die and we were not prepared for the aftermath and dealing with our own mortality in the midst," Thompson said. "There is much that we do not know."
Thompson and her siblings did not know that her father had COVID-19. He tested positive, but the results were not communicated to them until days after their father's death. And by then Thompson, her sister and her nephew were already sick.
"We had decided to self-quarantine," she said, noting that they were given no indication that they had been exposed to the virus. After her father tested COVID-19 positive, there was no follow up. And by then New York City started shutting down.
Thompson, staying with her sister in the home where they grew up in Brooklyn, has spent the last few weeks battling fever, chills, body aches, a sore throat, chest pain and extreme fatigue. Her sister, a police officer, tested positive for COVID-19 on April 3. Thompson and her nephew, while not tested, believe they were also overcome by the virus.
"While I continue to see signs of improvement, the fatigue lingers and there are days like today when the exhaustion is overwhelming," Thompson said. "I did not imagine this set of circumstances when I got in my car heading to New York to deal with a sick parent." She has drawn strength from the daily calls or texts from Dorhauer, contact with the Rev. Kent Siladi, Southern New England Conference Bridge Conference Minister, and outreach from colleagues across the wider church.

"I am thankful for the neighbor who brought us groceries. The family friend who left Tylenol on our door. The prayers of friends far and near got us through as did the text messages and well wishes," she said. "I give God thanks for the presence of the Divine in each of these who took a few minutes to care for us."
Thompson is now on medical leave and will remain in New York until she is strong enough to make the drive back to Cleveland. She also hopes to have a virtual memorial service for her father before she returns, since the family wasn't able to hold a funeral and needs that closure.

As she recovers, Thompson said she is having a hard time adjusting to the new sounds of the city she knows so well. The usual noise, the hustle and bustle of life, has silenced. The predominant sounds she hears now are the wails of sirens.
As she recovers, she is thinking about the role the Church needs to play. How do we provide care and support through a crisis that nobody had seen coming?
"Caring for each other is important. I continue to pray that we find ways to be better community in these days."
Read Rev. Thompson's Easter reflection, 'No Alleluias', in which she chronicles her experience.
---
Related News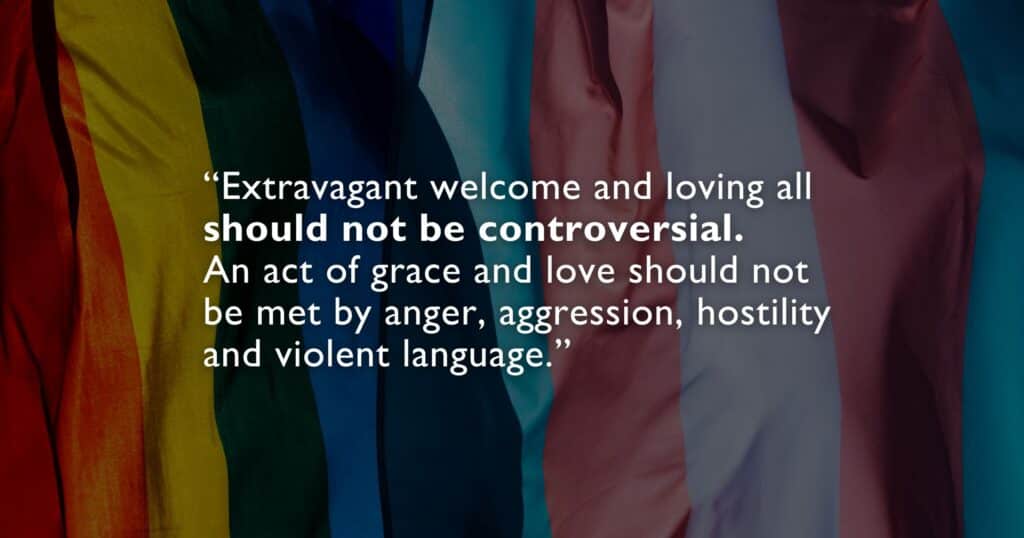 The United Church of Christ National Officers and the Conference Minister of the South Central...
Read More