UCC October border initiative to show God's love knows no boundaries
The status of immigrants in the United States is a major point of contention on Capitol Hill and a key point in the upcoming presidential election. That's why the United Church of Christ, which welcomes the stranger and advocates for social justice and human rights, is planning a big presence at the United States-Mexican border next month.
At Border Convergence in Nogales, Arizona/Senora, Mexico, UCC congregations will join the School of the Americas Watch, immigrants' rights groups and interfaith partners during the first week of October to demand justice for immigrants and laws that address the root causes of migration.
Thousands of activists are expected to gather at this vigil to push back against militarization of the border, against criminalization of migrants and refugees, and to name the root causes of migration. As the denomination's October multimedia initiative, the UCC National Collaborative on Immigration has identified goals that also include a commitment to immersion education, and work to stop deportations.
The Southwest Conference of the United Church of Christ is hosting the denomination's delegation, along with Good Shepherd UCC in Sahuarita, Ariz. General Minister and President the Rev. John Dorhauer will be speaking at the bi-national interfaith service and vigil.
"Jesus put his body on the line for the sake of justice and to save others," said the Rev. William M. Lyons, designated conference minister. "The Southwest Conference is calling the Body of Christ, the Church, to stand on the line between the U.S. and Mexico October 7-10 to bring attention to the injustice of militarizing rather than economically revitalizing our border communities, and who will build bridges rather than walls between privileged and marginalized people."
"It is important for the United Church of Christ to have a presence at the School of the Americas Watch convergence in Nogales because it allows us to be witnesses to the injustice at the U.S./Mexico border, but it also allows our church to be in solidarity with the throngs of people from Mexico, Guatemala, El Salvador, Honduras and beyond that have been violently pushed out of their countries of origin and pulled into the United States," said the Rev. Randy Mayer, pastor of  Good Shepherd UCC and member of the UCC's Collaborative on Immigration.  "It doesn't take a genius to follow the root causes of that push and pull. Without much effort you begin to uncover that the United States has a long history of manipulating foreign economies to its favor while in the same breath propping dictators and their officers who create terror and repression. As people of faith we can no longer stand by as our nation helps ignite the fires that are ravaging Latin America and pushing its humble masses to our border."
Thousands of people are expected to attend the event, including members of more than a dozen UCC congregations representing six different conferences. A few days before the weekend program, which includes a march to the border wall between the United States and Mexico, the UCC participants will have the opportunity to take part in an immersion experience, with a desert walk with Samaritans, theological reflections on border ministry and a strategic discussion on immigrant justice.
"As a follower of Jesus and faith leader in the United Church of Christ, I am grieved that current U.S. border security policy targets human beings and violates everything I know of what it means to be a Christian," said Lyons. "If even one person in our land can be targeted or labeled illegal, every person runs the risk of being targeted or labeled illegal. No one should ever be put at such risk."
If you want to participate in this witness but can't make the trip, the Southwest Conference UCC is inviting you to send a cross (2′ x 1'w maximum) to be placed at the border to give voice to the tens of thousands of migrants who have died in the desert as a result of failed U.S. immigration policy. Send your cross to Southwest Conference UCC, 917 E. Sheridan St., Phoenix, AZ 85006 before Oct. 1, 2016.
"Walls and security will never be the answer to the problems of fear and greed." said Mayer.  "Instead we must search our hearts and recognize our wrongs—and build a world that is free of suffering and violence—a world where all have opportunity."  
---
Related News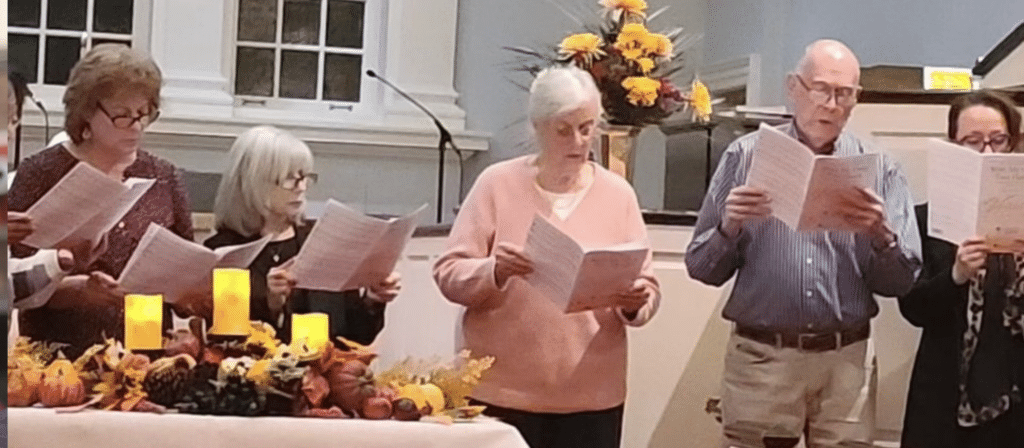 Many United Church of Christ congregations across the country participated in interfaith...
Read More