UCC New Hampshire church rejoices after federal judge decision halts Indonesian deportations
It may have come the Monday after Thanksgiving, but the decision of a federal judge in Boston is bringing a lot of joy and thanksgiving to a United Church of Christ congregation in New Hampshire.
That's because the ruling issued by Chief Judge Patti Saris in U.S. District Court on the afternoon of Nov. 27 means that nine members of Maranatha Indonesian United Church of Christ, in Madbury, N.H., are temporarily protected from being deported to their native country.
Saris, who in late September stopped the deportation of more than 50 Indonesians living in New Hampshire under orders of supervision, affirmed that her court has the jurisdiction to make that decision and told the government not to remove any of petitioners in the case.
When the judge's decision became public, the pastor of Maranatha Indonesian UCC, the Rev. Sandra Pontoh rejoiced — immediately reaching out to share the good news. "When I heard the news I posted an announcement on our Facebook page," she said. "I emailed my friends, oh my God. We have been praying for that!"
Pontoh anticipates a joyful worship service on Sunday since 19 congregants, the nine order of supervision applicants and their families, no longer live with the fear of being separated or sent back to Indonesia. "Everyone is very happy and thankful. We're going to have a wonderful service and enjoy a meal together in celebration."
In contrast, "Last week, when we had our Thanksgiving together, it was very simple," she said. "We didn't know what was going to happen. What if judge would say I can't stop the deportations, and you have to go home?"
"I invited everyone to write what they are thankful for. On the 50-60 cards —most were thankful that at least they are still here. They are still with their children. The children were worried about going back to Indonesia. 'We speak English, we know nothing about the culture,' they have said. One of my friends has a young granddaughter who said, 'I was born here, I am seven years old, why would I have to make a decision about whether I go  back to Indonesia with my parents or stay in my country with my friends?' When her parents asked what kind of gift she wanted for Christmas, she said 'I was going ask God to let you stay — that's the only present I want from God.' It made me cry. I'm crying now just thinking about it."
The Maranatha Indonesian UCC group is part of a wave of people who came to the U.S. in the late 1990s when violence against Christians in Indonesia was at its worst. They overstayed their visas and applied for asylum, but never received it. Since then, the undocumented immigrant Indonesian community along the New Hampshire coast has lived under supervision, checking in with Immigration and Customs Enforcement (ICE) regularly.
But in August, ICE told a few dozen of them at check-in to return in September with a plane ticket to Indonesia. Maranatha UCC member Terry Rombot was detained and taken into custody, spending 92 days in jail before he was released Nov. 1.
"After I heard from my pastor that we can stay here and reopen our case, I just want to thank God and thank the so many people who helped me," Rombot said. "I'm very happy. We have a future again."
Pontoh said lawyers for Rombot and the other Indonesians can now file motions to reopen their cases with the Board of Immigration Appeals (BIA), under the U.S Department of Justice. It typically takes months for the BIA decision, and if it approves the motion to reopen, the undocumented Indonesians can go back before an immigration judge with their asylum case. If the BIA denies their petitions, they can appeal. The process could take years.
"It's difficult, but it's buying them time," Pontoh said. "Most of them have young children that they want to see grow up."
They can now go back to supporting those families, renew their work permits and hold a job without worrying that they are going to lose that opportunity.
"My company asked me to come back to work, but I am still waiting for my working permit, since my former permit expired," Rombot said. "I applied in May, and hopefully I can get it soon."
Both Rombot and his pastor showed much appreciation for the UCC churches and UCC members who said prayers and sent donations used to help him and the rest of the community.
"We are thankful for Rev. John Dorhauer (UCC General Minister and President) for his beautiful letter, the Rev. Noel Andersen (UCC Immigration Collaborative organizer), who came to preach and to educate us about sanctuary; New Hampshire (Transitional) Conference Minister the Rev. Charles Buck, who came to visit us; and especially former Conference Minister the Rev. Gary Schulte, who walked with us on this journey," Pontoh said. "We just want to thank everyone for your prayers, your support— that was amazing. We cannot thank all of you enough."
---
Related News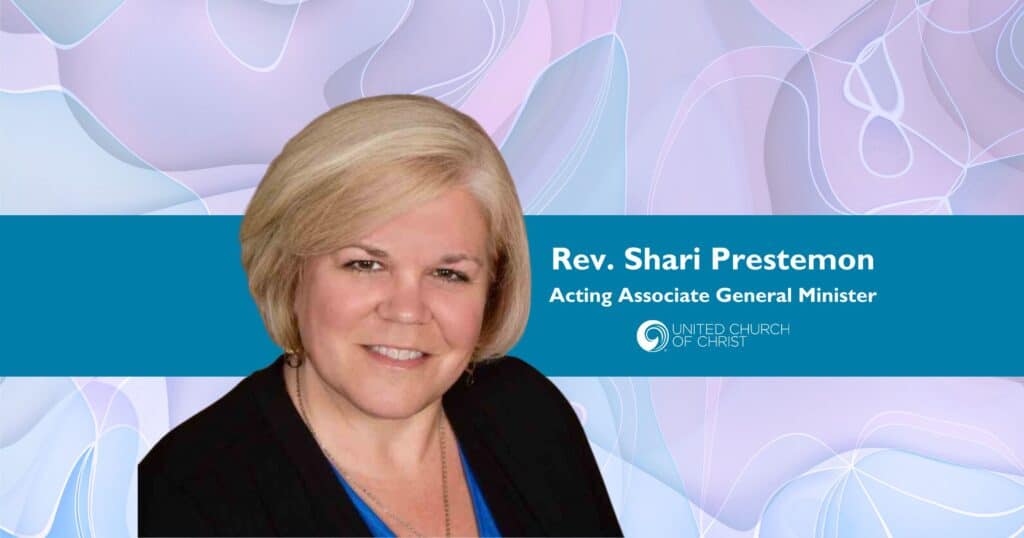 A new United Church of Christ national leader has been called. The UCC Board voted in a...
Read More