UCC ministries to explore MLK's dream in today's world
Scores of United Church of Christ congregations are preparing to celebrate the legacy of Rev. Martin Luther King, Jr. this weekend in a variety of ways. As the nation marks his life's work for civil rights toward the creation of a just world for all, churches and affiliated ministries of the UCC will look to deepen their understandings of King's dream of civil and economic rights.
Anticipating MLK Day, which will be celebrated on Monday, Jan. 16, a UCC pastor in Illinois is proposing putting action behind people's dissatisfaction — rather than just expressing their outrage through online comments.
The Rev. Otis Moss III, senior pastor at Trinity UCC in Chicago, will be the keynote speaker for Lexington's MLK Day celebration in Kentucky on Monday. In a social media post on Jan. 11, Moss noted that the combination of information, action, organization, imagination and faith are more than just powerful, they're unbeatable — something that will be particularly important with the incoming presidential administration set to take office the same week that King is honored.
Moss tells the Lexington Herald Leader that the election of president-elect Donald Trump "is a setback, but it is also a call … to move from rhetoric to organization in the street and building of institutions that will outlast ourselves."
He explained that his notion of imagination means action that leads to movements such as the Standing Rock demonstration, Black Lives Matter, Occupy Wall Street and the Arab Spring, which create "a new global movement toward justice and fairness and focusing on the poorest of the poor globally."
A UCC congregation in New York is taking part in an interfaith service that acts as an expression of King's enduring vision of equality in America, economic justice and mutual understanding. Congregational Church of South Hempstead, in Long Island, N.Y., will join Mount Olive Baptist Church for an annual MLK celebration at Temple Beth-El of Great Neck on Friday, Jan. 13.
The Rev. Patrick Duggan, one of the speakers at the service, believes that citizens must take every opportunity to be in dialogue with others toward changing our world for the better. New York State Attorney General Eric Schneiderman will also speak at Friday's event.
Duggan, senior pastor of Congregational Church of South Hempstead, and executive director of the UCC Church Building and Loan Fund, will discuss the theme "The Message of MLK in Our Day." In particular, Duggan will address the idea that more can be done economically to lift millions of Americans out of poverty.
"It is dishonest to suggest that 45 million Americans live in poverty because of character flaws," Duggan said. "There are untapped market opportunities and unrealized economic potential in our inner cities, small towns and rural areas. The tradition of Dr. King reminds us that the struggle for justice and equality is about economic transformation that lifts all people."
On Saturday, Jan. 14, City Mission of Boston will live into King's dream by hosting an intergenerational event," Courageous Conversations on Racism," in which participants ages 7 and older will learn to heal families, work environments, schools and communities.
"In this time of great uncertainty and division in our country, City Mission is proud to offer a day of learning to deepen our understanding of one another," said the Rev. June Cooper, City Mission's executive director. Founded by Old South Church of Boston UCC and Park Street Church of Boston in 1816, City Mission is the oldest multi-service agency in New England, and the second oldest in the United States. The organization is celebrating its 200th anniversary this year.
Participants of the conversations will discuss and engage the elements of an open and honest dialogue on racism, while younger participants will have a facilitated conversation with arts and activities that guides them how to have a discussion about race and racism. 
"The only way that we will stop this cycle of racism that engulfs our lives and communities is for each of us to step outside of our comfort zone," Cooper said. "King's prophetic words call us to this very task when he said, 'Faith is taking the first step even when we don't see the whole staircase. Love is the only force capable of transforming an enemy into a friend.'"
---
Related News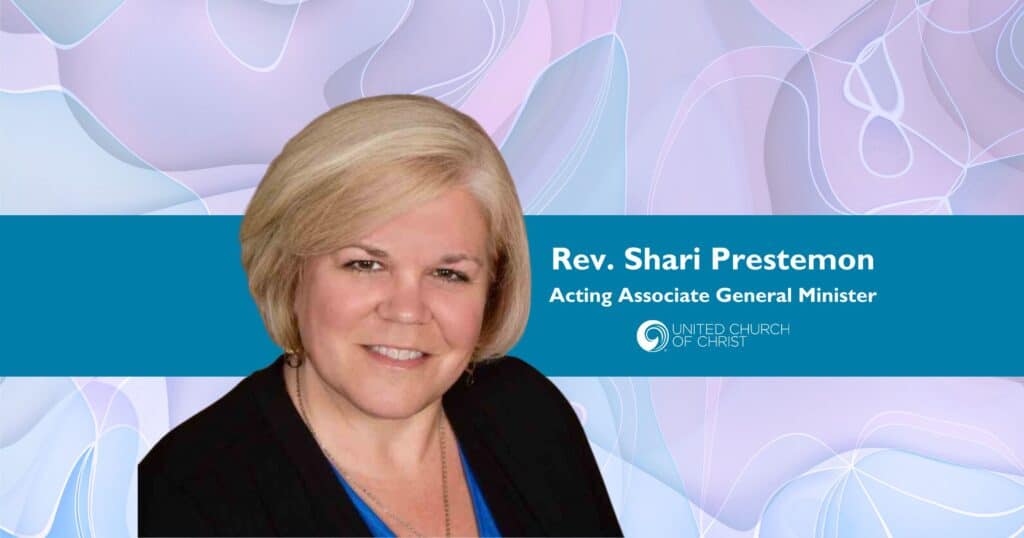 A new United Church of Christ national leader has been called. The UCC Board voted in a...
Read More