UCC leaders question Kavanaugh nomination to U.S. Supreme Court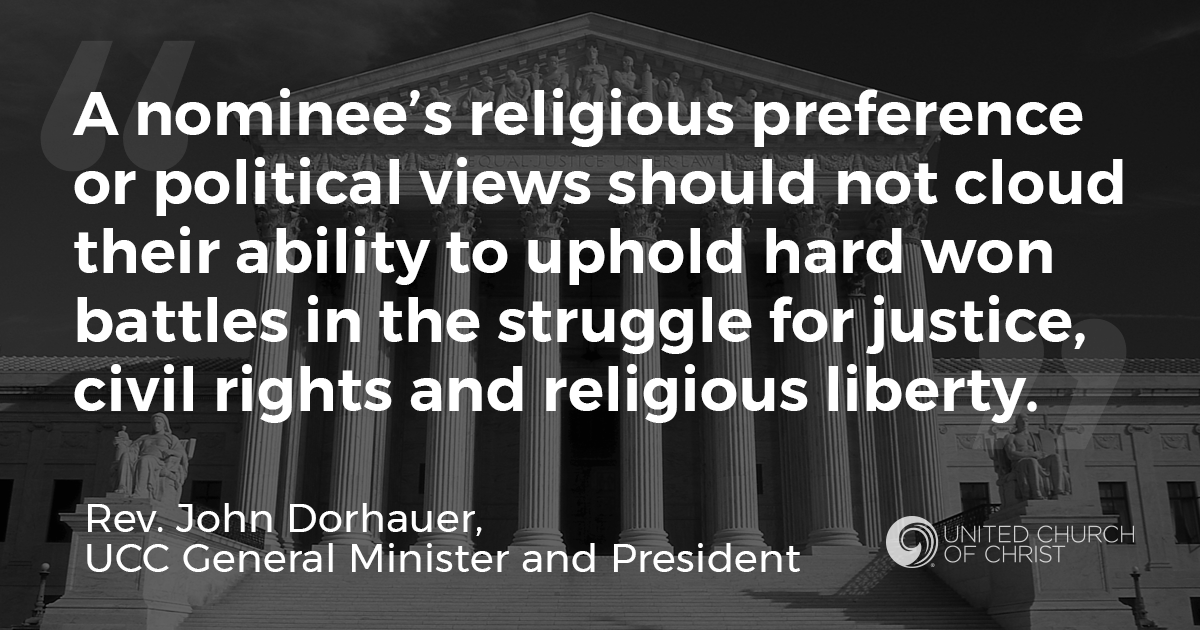 Leaders of the United Church of Christ are expressing concern about the nomination of federal judge Brett Kavanaugh to the United States Supreme Court. UCC officers believe Kavanaugh, a conservative U.S. District Court judge in Washington D.C., who came up through the Bush administration, could shift Court rulings to the right.
"The slow, painful, and incredibly important work over decades to advance a woman's right to control her reproductive options is now likely under threat," said the Rev. John Dorhauer, General Minister and President. "The United Church of Christ will do all it can to protect that, committed to making sure that the advancements made recently in LGBT justice and worker rights, as well as matters related to climate justice, are not threatened by a new justice to the Supreme Court."
Kavanaugh, 53, tapped to succeed retiring Justice Anthony Kennedy, currently serves the U.S. Court of Appeals, and worked in the George W. Bush White House before becoming a federal judge, serving on the bench for 12 years. He served as a clerk to Kennedy in the early 1990s alongside Justice Neil Gorsuch, whom Trump nominated for the Supreme Court last year.
"The newest Justice will consider issues of law that will shape the rights of all Americans, including the right to religious liberty, which protects the religious beliefs of every citizen and the right to privacy, which protects a woman's right to her reproductive choices," Dorhauer continued. "When extreme right wing ideologues like members of the Federalist Society provide a short list of candidates to a sitting President, then those of us who are committed to bending the arc of history toward justice have cause to shiver and feel real fear. We urge the Senate to carefully examine the nominee's commitment to the constitutional rights established over decades in this country. A candidate's religious preference or political views should not cloud their ability to uphold hard won battles in the struggle for justice, civil rights, and religious liberty."
President Donald Trump, introducing his nominee in the East Room of the White House on Monday evening, July 9, said he believes Kavanaugh will stick to the rule of law.
"What matters is not a judge's political views but whether they can set aside those views to do what the law and the Constitution require, Trump said. "I am pleased to say that I have found, without doubt, such a person."
Kavanaugh, appearing with his wife, two daughters and parents, told Trump he was honored by the nomination.
"No president has ever consulted more widely or talked with more people from more backgrounds to seek input about a Supreme Court nomination," Kavanaugh said. "Mr. President, I am grateful to you, and I am humbled by your confidence in me."
But like Dorhauer, the Rev. Traci Blackmon, Executive Minister, Justice & Local Church Ministries, questioned the administration's selection process.
Kavanaugh was one of four federal judges who emerged as Trump's finalists after interviews early last week. Amy Coney Barrett, Thomas Hardiman and Raymond Kethledge were also vetted by the White House and considered as candidates for the seat vacated by Kennedy.
According to the Washington Post, Kavanaugh was boosted by the Bush network and legal conservatives; Barrett was touted by social conservatives; Hardiman was recommended by the president's sister and sometimes-confidante, retired federal judge Maryanne Trump Barry.
"In my opinion, the gravest issue facing our nation with the current administration's selection process for the Supreme Court is not whether the candidate is progressive or conservative in their religious beliefs, but rather that faith would be a determining factor at all," she said. "The prevailing consideration for such a nomination should be the candidate's proven ability to interpret constitutional law. That is the task at hand. We are nation built on principles of religious freedom. The task of this current administration is not to nominate a supreme priest but a Supreme Court judge."
Kavanaugh, a practicing Catholic, now faces Congressional confirmation, with conflict expected in a divided Senate where Republicans hold just 51 seats.
"Whoever fills this Supreme Court vacancy will be instrumental in shaping the direction of the court for the next generation," said the Rev. Jim Moos, Executive Minister, Global Engagement & Operations. "Reproductive rights, the environment, labor, immigration, voting rights, LGBTQ issues and numerous other areas of concern will be on the court's docket in the coming years with broad impact. The court needs to uphold the principles of liberty and justice for all, and not cater to a narrow ideological segment of society."
---
Related News
On a recent trip to Palestine and Israel, the Rev. Allie Perry was part of a delegation that...
Read More