UCC leaders: Politics hold the common good hostage in government shutdown
The federal government shutdown at midnight Friday after the Senate failed to pass a short-term stop gap funding bill that did not include protections for young undocumented immigrants or address other priorities such as disaster relief.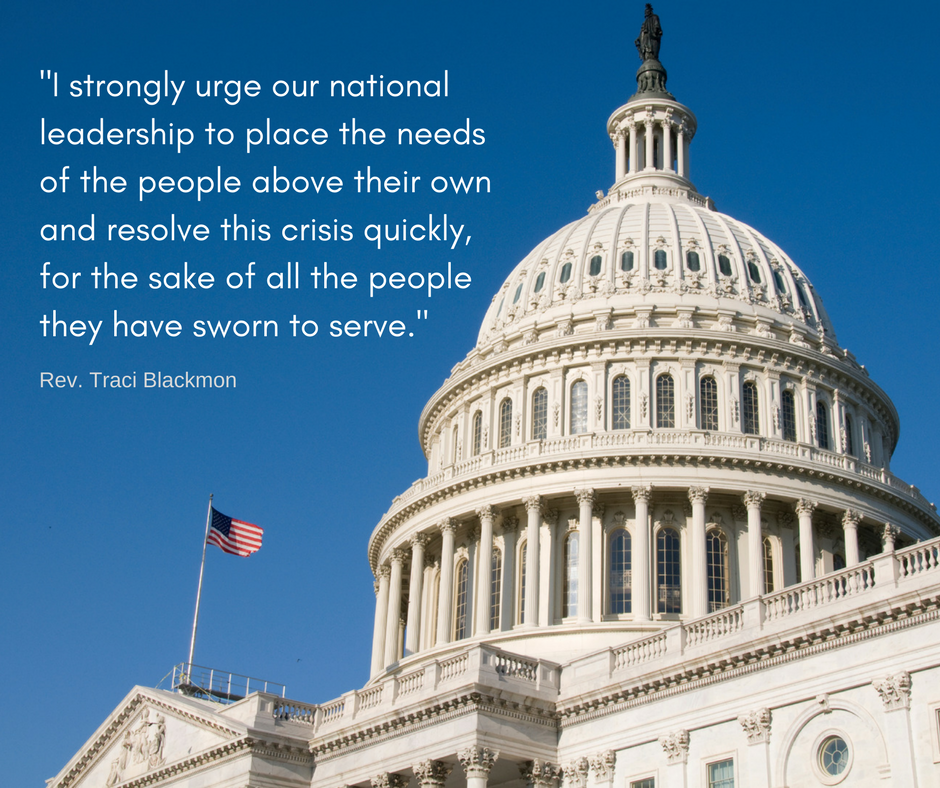 The January 20 shutdown, on the first anniversary of Trump's inauguration, is the first in four years and the only government furlough with the White House and Congress under unified party control.
"We have embarked, once again, on a moral crisis," said the Rev. Traci Blackmon, executive minister of UCC Justice and Local Church Ministries. "It saddens me deeply that the inability of our nation's elected officials to fulfill their duties to the American people, by effectively working together in a bipartisan fashion, has resulted in a shutdown of our government. The result of such obstinance will have deleterious effects on workers and citizens most in need of stability. This need not be a win/lose battle. We are quite capable of supporting Dreamers by passing a clean dream act and keeping the government running. Such political games are a luxury of the privileged at the expense of the people. I strongly urge our national leadership to place the needs of the people above their own and resolve this crisis quickly, for the sake of all the people they have sworn to serve."
The United Church of Christ is joining interfaith advocates in raising the alarm about the consequences of the government's inaction on a slew of bills impacting vulnerable communities. It's not solely the budget. Major federal policies that offer aid remain in limbo. With Congress unable to come to an agreement, millions of people will pay the price; Dreamers without a way to replace DACA, families waiting on the reauthorization of the Children's Health Insurance Program, and storm victims in need of disaster relief for Puerto Rico, the U.S. Virgin Islands, Florida, Texas, and California.
"The common good is being held hostage to partisan politics," said Sandy Sorenson, director of the UCC Office in Washington, D.C. "It's deeply disappointing, and blame and finger pointing do not get us anywhere. Dreamers on the cusp of losing their protected status and being torn from the only lives they have known don't have time to debate the merits of who should have done what and when, they're just waiting for someone to take action. Families worried about their children's health insurance are not helped by partisan rhetoric – they need health care coverage. Communities still reeling from natural disasters are just trying to rebuild.  Partisan posturing will not address the tremendous challenges facing our nation and the world. Inaction on major federal policy decisions are hauntingly severe for millions of people."
In 1997, the United Church of Christ General Synod passed a resolution "Affirming the Government's Role to Protect the Common Good," declaring that "it is an appropriate activity of government to establish laws to preserve and improve the common good."
Congress plans to go back to business on Saturday to try to end the impasse, with the House reconvening at 9 a.m. and the Senate at noon. But White House is standing firm one a key issue — no negotiations on immigration until a spending bill passes.
"We need Congress and the White House to do their job – to work together to preserve and improve the common good," Sorensen said. "Real people's lives are at stake. Government can and should do better than this."
---
Related News
On a recent trip to Palestine and Israel, the Rev. Allie Perry was part of a delegation that...
Read More