UCC, DOC general ministers discuss long-term solutions for peace with Baltimore clergy
As the city of Baltimore begins to recover from the recent race-related unrest that took place there following the death of Freddie Gray at the hands of police, local clergy are working toward long-term solutions for peace. The Rev. Geoffrey Black, general minister and president of the United Church of Christ, and the Rev. Sharon Watkins, general minister and president of the Christian Church (Disciples of Christ), traveled to Baltimore on Wednesday, May 6, for conversation and prayer with nearly four dozen UCC and DOC clergy and lay leaders.
The event took place at the offices of the Central Atlantic Conference of the UCC in Catonsville, Md.
"The recent events in Baltimore exposed long-festering wounds and islands of hopelessness within our city," said the Rev. John Deckenback, conference minster of the Central Atlantic Conference. "Tragically, once-vibrant neighborhoods are now wastelands, just a couple of miles from our offices."
The Rev. Julius Jefferson, senior minister of Heritage UCC, shared a brief overview of the turmoil in Baltimore over the past weeks. Heritage UCC is located just a few blocks from where much of the violent unrest took place following the death of Gray, the 25-year-old African American who died April 19 after sustaining a spinal cord injury while in Baltimore police custody. Jefferson said that more than a dozen pharmacies were damaged or destroyed, limiting the availability of prescriptions. Food banks at Heritage UCC and other local churches have seen a surge in requests and supplies are dwindling.
Jefferson noted that it does not look as if a special legislative session will be called to address police reform in Maryland, but instead, a special committee is being established to look at reform of the justice system, including a review of the police officers' bill of rights. He added that racism has been a long-term issue in Baltimore neighborhoods, and that the killing of Black people by police must stop.
"What we saw last week is just the tip of the iceberg," Jefferson said. "We are now sitting on a powder keg."
Black urged Baltimore faith leaders to network with clergy from Ferguson, Mo., who experienced similar unrest and uncertainty following the death of Michael Brown last summer. He suggested engagement in long-term conversations modeled after the UCC's Sacred Conversations on Race.
"You will need to build long-term relations across many lines," Black said.
"Restoring Baltimore will be a long journey and, in order to achieve justice, we will need to listen and learn," Watkins added.
Suggestions for action included contributions to the Central Atlantic Conference's "Restoring Baltimore Fund," which will be used to replenish local food banks, provide trauma counseling, and other activities. Other suggested actions include advocating for reform in the Maryland legislature, such as revamping the police officers' bill of rights, ending discrimination in employment applications (known as the "remove the box" campaign), community policing, the demilitarization of police and their use-of-force policies, and initiating new police training standards.
"Huge fissures exist and the failure of the war on drugs and the militarization of the police can no longer be ignored," Deckenback said. "The response from the faith community to seek long-term solutions has been fabulous." 
---
Related News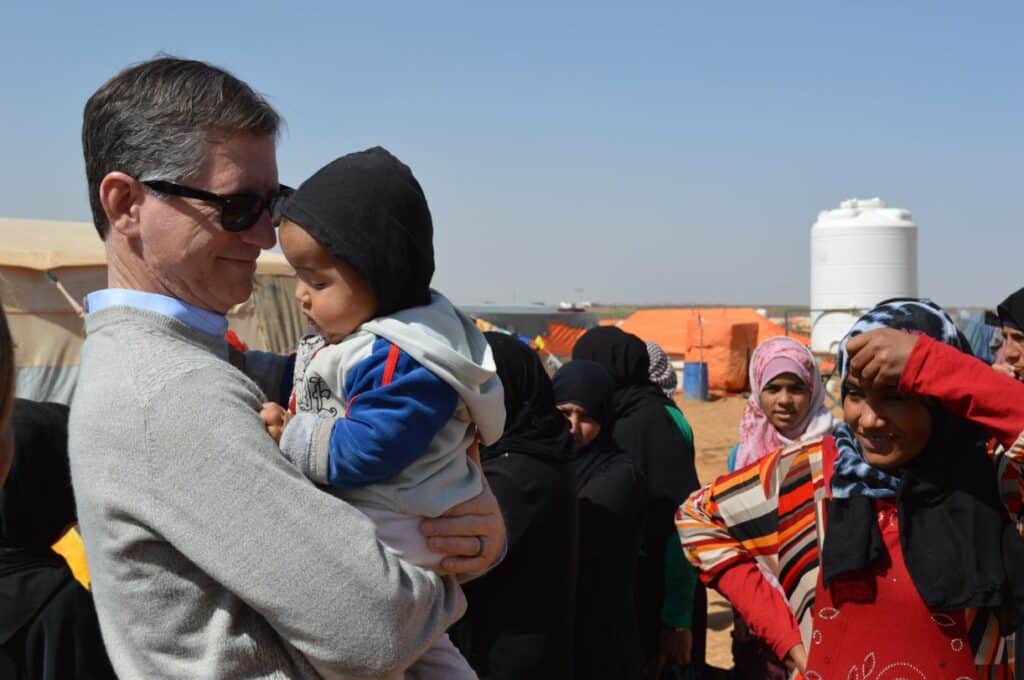 General Minister and President-elect John Dorhauer celebrates his new call with his wife Mimi...
Read More