UCC Disaster Coordinators watch, wait, pray as Tropical Storm Florence floods North Carolina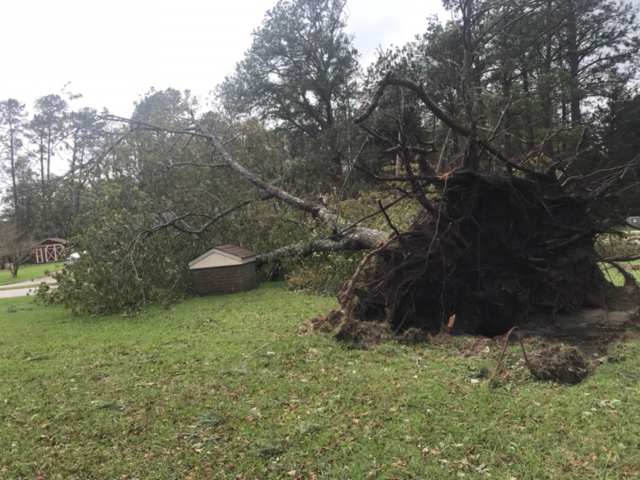 In the 72 hours since Florence, now a tropical depression, made landfall in the Carolinas, it has not stopped raining somewhere. The tremendous amount of water, with more than three feet of rain expected in parts of North Carolina before this sluggish system moves on, is making it almost impossible for United Church of Christ disaster coordinators to get an accurate handle on how Churches and congregants are faring in this storm. Power outages, flash floods and washed out roads are still commonplace.
"Wilmington is surrounded by water; people can't get in or out. It's too dangerous to do damage assessments, and it's almost impossible to get information right now," said Jon Wallace, conference disaster coordinator, UCC Southern Conference. "We can get information from our representatives, specific to where they are. But until it's safe for people to move around, it's going to be a while yet before we have a real solid damage assessment. Major interstates in the southeast part of the state – like I-95 in Lumberton – have sections that are closed. State roads have completely collapsed in some spots. Right now, we need to minimize exposure to deadly situations."
As of Monday, Florence has left two dozen people dead, tens of thousands in shelters, more than a million without power. The wettest tropical storm in North Carolina history has shattered rainfall records, and triggered historic flooding. The storm's high winds have brought down power lines, uprooted trees, ripped roofs off buildings and blown out windows.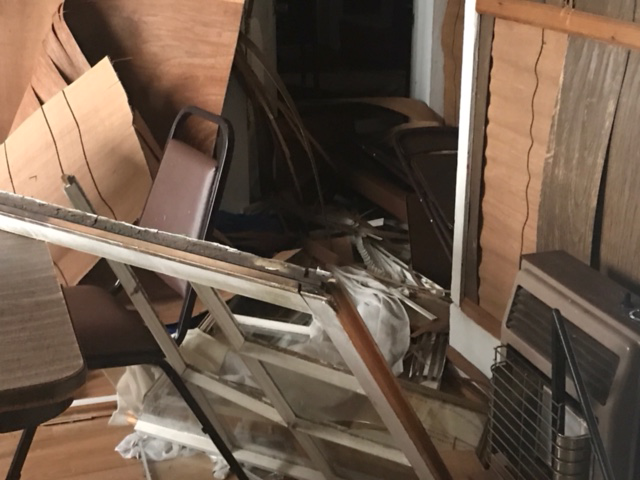 That's very evident in Beaufort. The Rev. Carlton Davis, pastor of St. Stephens Congregational Church, UCC, said the former Washburn Seminary, now the church fellowship hall, will need major repairs.
"When the storm came through it blew out five windows in the fellowship hall," Davis said. "Two of them blew completely out – right into the building. The storm blew the paneling right off the walls. The room flooded, and the floor will need to be replaced."
He and his wife have been sheltering in place, without electricity, since the middle of last week when Florence's winds first came ashore. They've got a tree laying in their front yard, which fortunately missed their home.
"We've been without power since Wednesday, and based on what I hear now, if we get it back by Wednesday it will be a miracle," Davis continued. "Just about everywhere people are starting to scramble and get what they can. The lines at the grocery store and the gas stations are wrapping around the building and down the highway. We've had storms before, but this one is bad. People say this one is worse than Hazel (in 1954). We've never been this long without power, but we're managing. Just praying. We still have hope."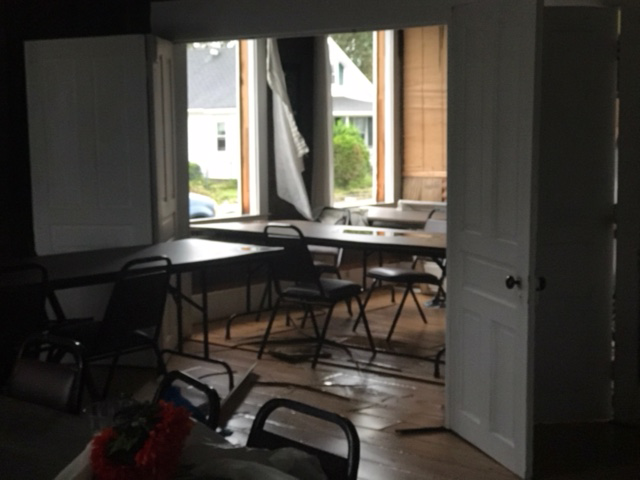 Davis said his sisters evacuated to Raleigh, but with the rising rivers still expected to crest, they are uncertain how and when they will be able to return home.
"This is the worst," Wallace said. "Florence is a slow moving disaster pulling rain up from the ocean. It's probably going to surpass any disaster that this state has had. (Hurricanes) Floyd and Matthew didn't do that, they came in and left – and the magnitude of moisture is just catastrophic. Recovery here is going to take years and years. We are not a resources-rich state. Every dollar will count and will make a difference. That's where the fellowship disaster partnership comes in. We are consolidating our efforts, but we can't yet know what the need is."
The Southern Conference has initiated a partnership effort with 'formula of agreement' denominational partners. The Rev. Edward Davis, SOC Conference Minister, has reached out to Bishop Tim Smith, Evangelical Lutheran Church of America; Bishop Valerie Melvin, North Carolina Christian Church (Disciples of Christ); and the Rev. Jim Fisk, Presbyterian Church USA. Wallace said the group has identified three opportunities for work and have begun to explore and discuss and plan initiatives for collaborative ministry in response to Florence.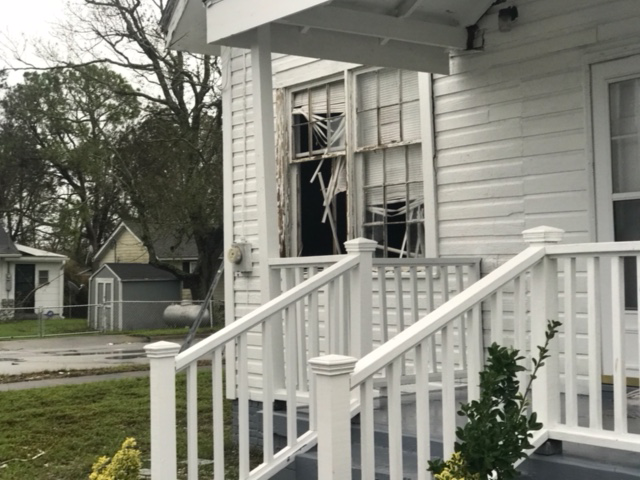 "We are now compiling all of our inventory within the Conference such as those churches that will provide shelter for displaced victims, distribution centers for collected items, and clergy and laity who will serve as volunteers," said Davis. "We all have to wait now to start the recovery process. The First Responders are in place. I continue to keep all of you in my prayers."
UCC Disaster Ministries, which is also encouraging continued prayer for all the families, individuals, first responders and emergency management staff in the region, has already established a 2018 Hurricane Relief response to expand current capacities and assist through established relief networks and partners in the impacted areas.
"UCC Disaster Ministries for its part continues to collaborate with the conference, offering up financial resources, guidance and expertise," said Zach Wolgemuth, executive, UCC Disaster Ministries. "Right now the best thing people can do is to continue to be in prayer and give financially. We know the recovery from this storm will be long-term and we are committed to being in it for the long-haul."
"The United Church of Christ's motto, 'that they may all be one' describes the tempo of Florence response in North Carolina just now," Wallace said. "Neighbor helping neighbor, neighbor praying for neighbor, neighbor rescuing neighbor, neighbor being Jesus to neighbor. May it be so for the long period of recovery. Lord, hear our prayers."
Give to the UCC 2018 Hurricane Relief Effort here.
---
Related News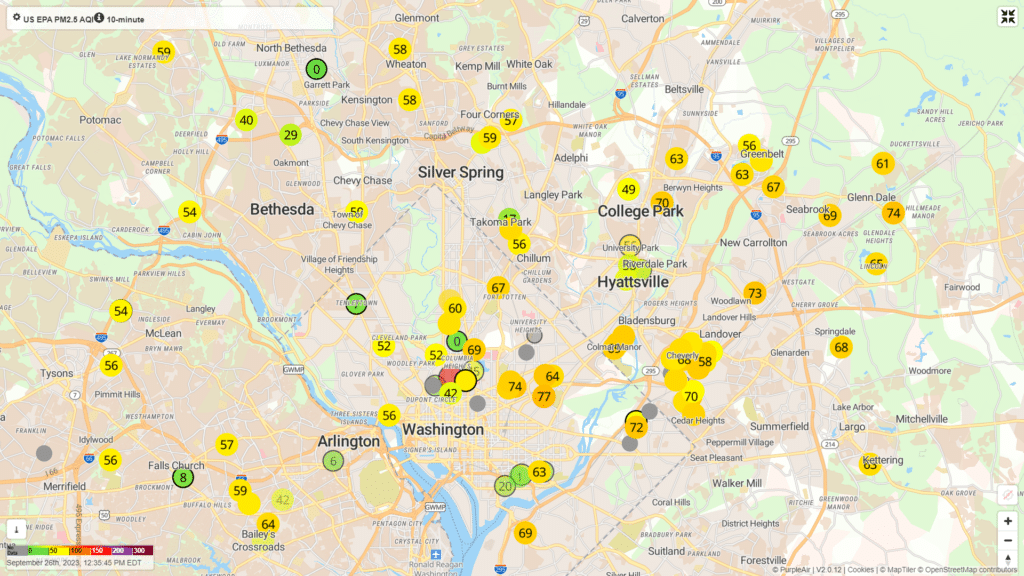 This summer, the United States experienced some of the worst days for wildfire pollution in...
Read More