UCC, Dakota Association mourn 'matriarch'
The United Church of Christ is mourning the passing of the 'matriarch' of the Dakota Association and its 13 Lakota churches on four Native American reservations in three states.  Winifred "Freddie" Boub, administrator and program coordinator of the Dakota Association of the South Dakota Conference, United Church of Christ, died Monday, July 4, in Pierre, South Dakota after a short hospital stay. She was 89.
"'Freddie,' whose Lakota name was Tate Luta Wi (Red Wind Woman), was one of the most extraordinary people I ever met," said the Rev. David Felton, conference minister emeritus, South Dakota Conference UCC. "The Dakota Association is unlike any other association in the UCC. It has some characteristics of an association and other characteristics of being one church spread over a large area. It has taken a lot of hard work and dedication by a group of laity and clergy with Freddie as the leader.  It is not a job for the fainthearted.  It is a unique expression of the Church in the UCC and it has taken a unique person to lead it for these last 21 years."
"The word 'administrator' in no way does justice to the work she did," said the Rev. Gordon Rankin, conference minister, South Dakota Conference. "The Dakota Association functions differently than other UCC associations. The Association owns the church buildings; the Association pays the pastors, and the Association recruits, trains and authorizes pastors.  In a very real way, the Association is the governance board for all 13 churches.  Freddie managed all of that – the administrative functions, the fiscal functions, the coordination functions (there are fewer pastors than churches so she arranged who would be where when).  She was an organizer, a mentor, a coach, a prophet, a networker, an advocate and the list goes on."
Boub came to lead the Dakota Association in 1995 as an interim administrator after she 'retired' in 1987 from a career in social work. Under her leadership, she oversaw several transfers of tribal land parcels from the South Dakota Conference to the Dakota Association, land on which UCC churches are located. The deeds to the lands had been held in trust by the denomination and its predecessor bodies for decades.
"One of Freddie's greatest passions was the return of the lands of the Dakota churches," said Felton. "It had long been her dream that this would happen. We returned the first land (Ponca Creek) in 2012 and completed the returning of the lands that the conference held title to in 2015. It wouldn't have happened without her leadership. I asked her once when she was in her mid-80's and dealing with some serious health issues if she were thinking about retiring. She said yes — but not until all the lands have been returned. I believe she can rest in peace."
The majority of the land transfers, after 2012, followed the UCC General Synod resolution, passed in 2013, repudiating the Doctrine of Discovery. Boub was instrumental in bringing that resolution to General Synod, initiating the measure as a member of the joint working group representing the Council of American Indian Ministries (CAIM) and Justice and Witness Ministries.
Those who knew her best said Boub was really proud of both of those justice actions. "Freddie was overjoyed that the United Church of Christ, her church, would stand up and name this injustice (the Doctrine of Discovery) that has been perpetrated upon native peoples for centuries," said Rankin. "Freddie was also part of the team that worked tirelessly on the South Dakota Conference's return of the lands upon which many of the Dakota Association churches are located back to Lakota ownership.  Even with all that work, you could see on her face as she received the deeds that it was an experience of God's grace that something long imagined impossible could actually happen in her church."
Winifred Elaine Wilson was born on December 19, 1926, one of seven children of Rev. Norman "Guy" Wilson, Sr. and Ida Brave Boy Wilson. Guy pastored the Dakota Association churches and the family moved several times according to the churches he served. She married Jerry Boub in 1952, and they celebrated 62 years together, until his death in Dec. 2014. She is survived by daughters Vicki Warne (Bob), and Joni Boub, brothers Norman (Bernadine) Wilson, Steve Wilson, nieces, nephews and several  grandchildren and great-grandchildren.
"I worked with Winifred a lot the past 15 years, and I can tell you that she was one of the most compassionate people that I've ever worked with, very intelligent and also very funny! She was more than our matriarch, she was the total foundation of the Dakota Association," said Louie Blue Coat, the Association's administrative assistant. "She 'raised' us as our DA mother with 13 'kids' and 7 pastors, and when we lost some of our strongest leaders, like my dad Rev. Norman, and Rev. Hampton, she held us together as we grieved and mourned. Now it's our turn to hold ourselves together and mourn our Rock of Gibraltar and find comfort and solace in each other as we pull ourselves together and keep the Dakota Association in the way she would have wanted and to strive to spread God's word to our people and beyond!"
Boub also served on the UCC Executive Council of the United Church of Christ and was the only person to be honored twice by General Synod, in 2011 by General Synod 28, as one of 56 laywomen named for outstanding service to the church.
"There are a couple of things I think of when I think of Freddie.  The first was her love of the United Church of Christ. To be honest, I've never met anyone who loved the UCC more than she did," said Rankin. "She was fervent in her commitment and vocal about her passion for how the UCC lives out its call to be church. She would hold her churches, her pastors, and even her conference minister accountable to fully living out the ideals of the United Church of Christ."
Freddie was an extraordinary leader with great passion, wisdom, and strength.  She loved the church.  She loved the UCC.  And she loved the Dakota Association," said Felton. "I will miss her friendship and wisdom but the whole church will miss her leadership and vision."
"Winifred Boub, you will forever live on in all that you have done in your service to God, the Church and especially the Dakota Association of Churches," said Toni Buffalo, former moderator of the South Dakota Conference and chairperson of CAIM. "We will continue on as you have taught us to do but it will be with such emptiness. Journey well, my friend, my other mother, my teacher. We all love you!!"
---
Related News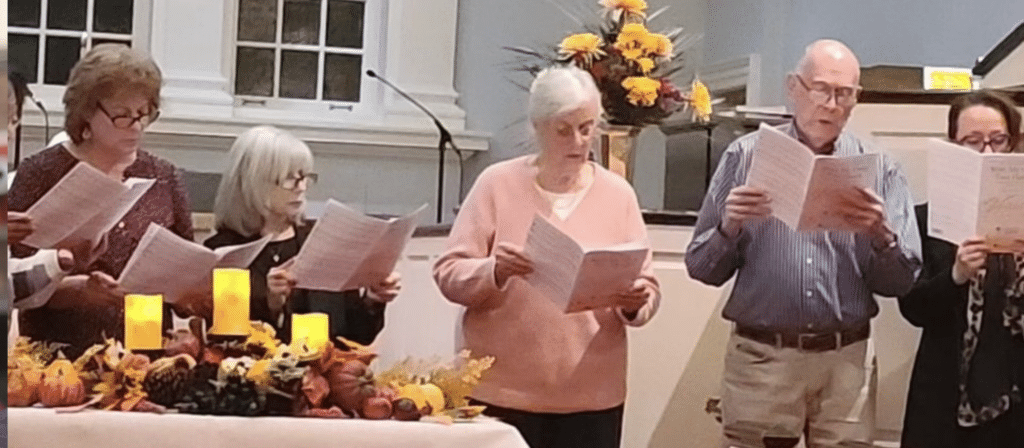 Many United Church of Christ congregations across the country participated in interfaith...
Read More