UCC curriculum on White Privilege engages and encourages sacred conversations on race
The United Church of Christ, anticipating a late summer release of  "White Privilege – Let's Talk," an adult education curriculum designed to invite members to engage in safe, meaningful, substantive and bold conversations on race, is launching a series of free webinars on the subject in June, in partnership with the Center for Progressive Renewal.
"As an extension of our ongoing commitment to Sacred Conversations on race, it is time that this still largely white denomination wrestle with its investment in whiteness, and learn all it can about the manifestations and impact of White Privilege," said the Rev. John Dorhauer, UCC general minister and president. "This Curriculum, written by five gifted authors with decades of experience teaching about race and privilege, is presented to enable such dialogue to take place at every level of the Church."
The UCC white privilege curriculum is divided into four key focus areas, each one introducing a different aspect of the dynamic of white privilege. Each of the four sections in the guide will have material from all five authors, with every author contributing a different perspective to the subject matter.
The Rev. Traci Blackmon is acting executive minister of the UCC Justice and Witness Ministries and the first female pastor of the 156-year-old Christ The King United Church of Christ in Ferguson, MO. She is a prominent civic leader and gifted preacher well known for racial justice work in her St. Louis community. She became one of the new voices for civil rights in America, thrust into the national spotlight after the Michael Brown shooting in Ferguson in 2014.
The Rev. John C. Dorhauer is the ninth general minister and president of the United Church of Christ. He has served as the conference minister of the UCC's Southwest Conference, as associate conference minister in the Missouri Mid-South Conference, and as a local church pastor in churches in rural Missouri. He has a Master of Divinity degree from Eden Theological Seminary and a Doctor of Ministry degree from United Theological Seminary, where he studied white privilege and its effects on the church.
The Rev. Da Vita D. McCallister is the associate conference minister for leadership and vitality in the Connecticut Conference of the United Church of Christ.  She is a mother, ordained minister, entrepreneur, philanthropist, writer and advocate for youth and young adults. She has served the Fund for Theological Education, the national setting of the United Church of Christ, and the United Methodist Church.  
The Rev. John Paddock is the Rector of Christ Episcopal Church in Dayton, Ohio.  He has a Master of Divinity degree from The Episcopal Theological Seminary in Virginia and a Doctor of Ministry degree from United Theological Seminary in Dayton.  His thesis title was "Reframing the Dialogue on Racism in America in a Parish Setting."
The Rev. Stephen Ray is the Neal F. and Ila A. Fisher Professor of Systematic Theology at Garrett Theological Seminary in Evanston, IL.  He is an ordained minister of the United Church of Christ and has served as pastor of churches in Hartford and New Haven, CT., and in Louisville, KY. He was also an associate professor of African-American studies and director of the Urban Theological Institute at Lutheran Theological Seminary at Philadelphia; associate professor of theology and philosophy at Louisville Presbyterian Theological Seminary; and lecturer at Yale Divinity School and Hartford Seminary.
Each of these five authors will host one of the five webinars – Monday, June 20 through Friday, June 24, presented by the Center for Progressive Renewal.
"Our organization is honored to partner with John Dorhauer, Traci Blackmon, Stephen Ray, John Paddock and Da Vita D. McCallister to host this online webinar series," said the Rev. Cameron Trimble, CEO, for the Center for Progressive Renewal. "We hope that your church leaders will sign up to be a part of these live events. If they can't be online at the specified times, we will record the sessions and send out links to view them later. Today, we together declare our continuing solidarity with all oppressed people, but especially black and brown men, women and children who deserve a world of equal opportunity."
Monday, June 20: The Big Picture – John Dorhauer
Tuesday, June 21: Spiritual Autobiography through the Lens of Race – John Paddock
Wednesday, June 22: Whiteness as the Norm – Da Vita D. McAllister
Thursday, June 23: Whiteness as Cash Value – Traci Blackmon
Friday, June 24: On Being an Ally – Stephen Ray
All five webinars are free, scheduled at 1pm ET, and can be accessed live or recorded on the Center for Progressive Renewal's website.
"They [the Center for Progressive Renewal] not only share our commitment to equipping the church to be an agent for racial equity, they have a network of allies that have come to trust and rely on them to provide outstanding resources and support," said Dorhauer. "This webinar series to promote the curriculum is a part of a larger effort to market and promote the release of the curriculum for use in September."
The curriculum and the webinars will lead participants through four areas of focus: telling the story of your spiritual journey through the lens of race; looking at the dynamic of a culture in which whiteness is the established norm; learning how America attaches a cash value to whiteness; and inviting the participants to commit to becoming an ally in the pursuit of racial equity.
"We as the United Church of Christ are a denomination born amidst the Civil Rights era that has not yet realized its promise," said Trimble. "We have the chance to write a new and hopeful chapter in the narrative of race in this country. White people do not want oppression to be our narrative any more than black and brown people want to live in the system of oppression that defines our present age."
Dorhauer is encouraging every one of the UCC's more than 5,000 congregations to participate. "In partnership with a Holy Spirit who envisions a future in which the United Church of Christ matters, and in response to the UCC still being over ninety percent white almost 25 years into our commitment to be a multi-racial and multi-cultural church, I call all covenant settings to engage in a safe, meaningful, substantive, and bold conversation on privilege."
---
Related News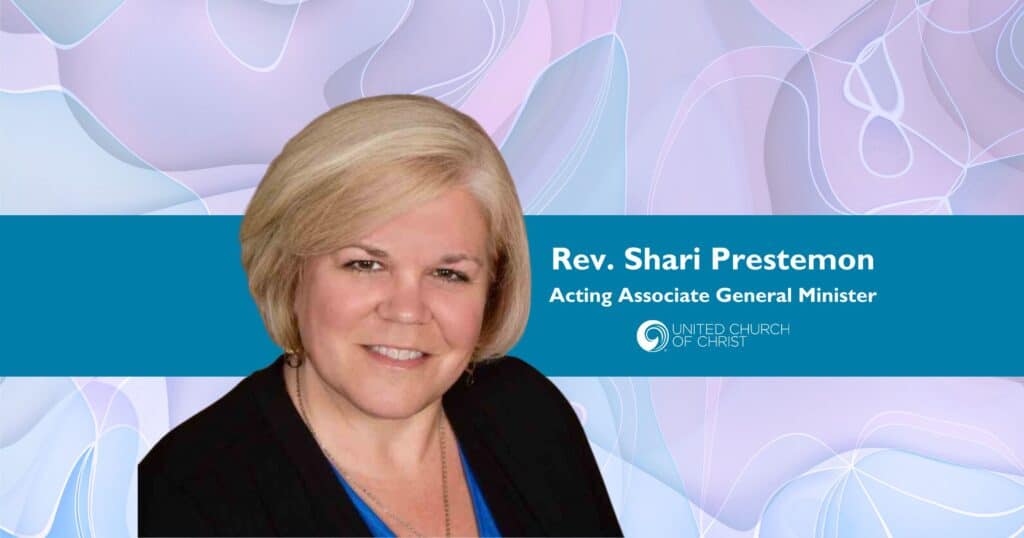 A new United Church of Christ national leader has been called. The UCC Board voted in a...
Read More