UCC calling Creation care advocates to the People's Climate March in Washington D.C.
Earth care advocates from United Church of Christ congregations around the country will be converging on Washington D.C. next month for the People's Climate March. It's no surprise that the denomination is expecting to field a large contingent at the Saturday, April 29 event, since creation care and climate change top the list of priorities UCC members believe the church needs to focus on going forward in the future.
"Climate change makes all the other justice issues worse," said the Rev. Jim Antal, conference minister and president of the Massachusetts Conference of the United Church of Christ. "From war, to the refugee crisis, to hunger and famine, to the lack of potable water, to the spread of the Zika virus and other insect-borne disease, to world-wide homelessness with tens of millions of the poorest and most vulnerable people on earth subject to rising oceans – these and other justice issues are all amplified when the natural cycles of God's creation are disrupted as they are today."
A longtime, outspoken advocate of environmental justice or renewing God's creation, Antal has lived out his activist calling by making care for Mother Earth a focus of his ministry since the first Earth Day in 1970. He's working with UCC Minister of Environmental Justice the Rev. Brooks Berndt to organize members of the UCC to band together in D.C., encouraging people to sign up so they can receive information about where to gather as group, along with the updates on UCC signage, prayer services and other preparations. They are also urging advocates who can't attend the movement in our nation's capital the last Saturday in April to participate in Sister City Marches around the country. 
Both ministers strongly believe that people of faith need to recognize that preserving the gift of God's creation is now a core vocation of the church.
"An outdated view of climate focuses solely on endangered polar bears, melting ice caps, and scientific studies about global impacts that are universal in nature. An updated view emphasizes a lived climate reality that disproportionately impacts the poor, communities of color, and nations in the Global South," said Berndt. "This updated view focuses on frontline communities that suffer in multiple ways. On the one hand, these communities get hit with severe weather events or pollution from fossil fuel extraction. On the other hand, these same communities frequently contend already with a number of ills ranging from high unemployment to poor health indicators. Suffering compounds suffering as climate becomes a threat multiplier."
Antal adds this specific reference. "The millions of Syrian refugees whose desperation has overwhelmed the international community are a small fraction of the pending refugee crisis that the rising oceans will soon trigger."
Creation Justice Ministries is organizing advocates of Orthodox, Protestant, Historically Black, Baptist, and Peace Church traditions to connect as an interfaith community, at the People's Climate March. Along with the UCC, The Christian Church (Disciples of Christ), Presbyterian Church (USA), Evangelical Lutheran Church in America, Mennonite Central Committee, and the United Methodist Church are planning prayer and advocacy gatherings for their respective communities. 
The Massachusetts Conference is coordinating transportation to move people to the march, and two UCC congregations in the D.C. area are already planning to host others coming in from out of town on April 28 and 29. The Rev. Timothy Tutt, senior minister of Westmoreland Congregational UCC in Bethesda, Md., will be opening his doors to a  group from Minnesota bringing more than 100 people. 
"Our church's front doors open onto Massachusetts Avenue – Embassy Row," said Tutt. "You can stand on our front porch and look right into the corridors of power in our nation's capital city. So we feel that we have an obligation to share that perspective with others, to invite others into our lives and into our building as a reminder that we all have a voice and a role to play."
"We believe that climate change is real and one of the greatest theological issues of our time.  If we truly believe that we are to love one another, then we must commit to honoring the conditions that lead to fullness of life," said Laura Martin, associate pastor of Rock Spring UCC in Arlington, Va. "All of the impacts of climate change already–increasing diseases, increased asthma and allergies, droughts, floods, famines–are disrupting lives and leading to physical and spiritual deaths. We have a moral and theological obligation to respond."
Martin has already registered a contingent of 50 people the Arlington, Va. church is accommodating from Minnesota Interfaith Power and Light. Rock Spring UCC is also chartering a bus and hosting Antal as a guest preacher on Sunday.
"People of faith need to start acting like 'the earth is the Lord's.' We cannot stand idly by in the face of the current assault," Antal emphasized. "Trump's Executive Actions, his appointments, his proposed budget and much more amount to an abdication by U.S. leadership on climate change. Just one example: he plans to eliminate 95% of Federal Funding to protect the Great Lakes which supply drinking water for 45 million Americans. And his elimination of any reference to 'climate change' from the EPA and NASA websites, along with deleting decades of scientific data, amounts to a book burning. "
---
Related News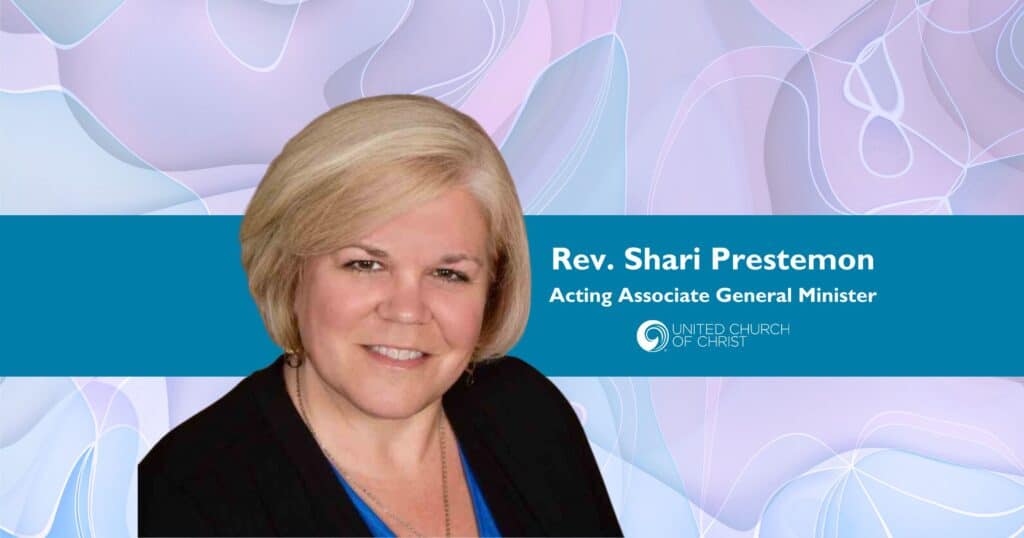 A new United Church of Christ national leader has been called. The UCC Board voted in a...
Read More