UCC congregations, organizations heeding call to help after Harvey
They may be separated from the people in Texas and Louisiana who have been hit hard by Harvey by thousands of miles, but members of the wider United Church of Christ want those suffering to know that they stand with them, and will do all they can to help them recover.
From the Riverside Church in the City of New York, to Bethel United Church of Christ, in Kansas City, Mo., and beyond, churches are collecting donations and putting together Church World Service (CWS) clean up buckets. In Massachusetts, the Conference is setting up bucket drop off locations at local churches in three communities through Sept. 24.
Associate Conference Minister the Rev. Don Remick writes, "The news reports continue to tell the story of unimaginable devastation following the flooding rains of the hurricane. The images move us at that deep place within our hearts. We know there is a long road ahead. We want to respond: to send support, to relieve the suffering and to ease the pain. We want to know the best way to help out."
 
Retirement Housing Foundation (RHF), a member of the Council of Health and Human Service Ministries (CHHSM), is offering to double the donations that RHF collects for Harvey relief this month.
"For those who choose to respond with a tax-deductible gift through RHF, donations received through September 30, 2017, will be matched up to $50,000 and sent through the Emergency USA Fund," said the Rev. Laverne Joseph, president and CEO of RHF. "So If we receive $50,000, RHF will respond with $100,000 in total aid." One hundred percent of the donations received will go directly to efforts supporting essential on-the-ground relief efforts.
 
The UCC Disaster Ministries team, which is offering $250 matching grants to congregations  assembling the CWS cleanup buckets, has counted 27 churches that are working on or have completed applications to take advantage of the funding.
 
Rev. Cynthia Reynolds, Interim Minister, St. Paul's Congregational Church UCC, Nutley, N.J., is applying for a $250 matching grant. They are doing clean up buckets "because Jesus tells us to. Why do we want to help? Because we can. Because no matter how bad things are for us it's worse somewhere else. And to share out of our abundance is what we are called to do. For me it's a no brainer. When you do something like the cleanup buckets, everybody can afford to help.  If someone's on limited income they can buy an extra bottle of Dawn."
"We were already making buckets for the Festival of Sharing, but because of the need created by Harvey we are going to try to increase the number of buckets we can support," said the Rev. Karen Aitkens, pastor of Bethel United Church of Christ, Kansas City, Mo. "When someone is trying to get back into their home, a CWS Cleanup Bucket is a starting point. It gives them some kind of empowerment that 'I can get started with something.'"
She is encouraging her congregation to donate money too.
"I'm sharing all the info from the UCC website on how to give directly to Disaster Ministries' Harvey Appeal and I'm hoping our congregation will give generously to that. I've always appreciated how quickly our UCC Disaster Ministries people get in there and start the work. They know, after being part of so many different disasters, they know what's needed first. I trust their assessment and always feel good about sending funds to that particular ministry."
St. Peter's United Church of Christ, in Pine Grove, Pa., is planning a hot dog fundraiser after worship on Sunday, Sept. 24, with proceeds going to the survivors of Hurricane Harvey.
"We'll set up tables in front of the church – anyone can stop by, and pick up hot dogs, chips, and a drink for $3," said Edie, in the church office. "Baked goods for sale at an additional cost."
The folks at St. Peter's are veterans of this type of fundraising. Last year, church pastor the Rev. Jason Stump noted the congregation raised $700 for flood survivors in Louisiana.
"For a church our size, if we raise anywhere near the same amount we'll be doing well," Stump said. "I know disaster recovery is long-term work. We may do mission work in the affected area in the future. Right now we can support current work financially."
Eventually, UCC Disaster Ministries will be looking for groups to do that mission work.
 
"Volunteers around the country are needed in the months and years ahead," said the Rev. Mary Schaller Blaufuss, UCC Global Sharing of Resources team leader. "Individuals to be trained and serve for periods of 6-12 months will be needed for leadership. Groups will be needed to rebuild homes and walk with people as they recover their lives and dreams. In the past, volunteers in long-term disaster recovery have removed carpet and drywall from flooded homes, installed framing, listened to local stories of the disaster, wrote guest editorials in their local news outlets."
 
Disaster Ministries has already heard from more than a hundred people interested in that type of mission, and those interested are being encouraged to sign up to receive information on registration for long-term recovery.
 
Stump said the people of Pine Grove know what it's like to live through a Harvey kind of disaster. Extra hands help.
"Six years ago, the two main streets in our little town were basically flowing rivers," Stump said. "They did not see it coming. We're not in an area prone to that kind of disaster. Some people lost homes. Many lost possessions. It wears on you physically and emotionally to see your life upended. To clean up your home, be delivered a cup of coffee, it helps.
"I'm thinking of the General Synod theme, 'There is a river whose streams make glad the city of God.' In a sense this tragedy, I hope, is re-centering our nation," Stump continued. "A river is running through it right now. I believe for a moment our nation is taking the right course – as tragic as this is and I know God hurts with us, God created the church for just these moments.   I've often felt the church is not a noun, it's a verb. I don't 'go' to church, I 'do' church."
"Jesus isn't going to show up walking on water with his boat, it's going to be a guy from Kentucky with a boat, or a little church in Pennsylvania doing a fundraiser. Raising money is the best thing we can do right now that won't get in the way. It will build a culture of caring in our church."
Bookmark the UCC Hurricane Harvey information page for the latest information on how to help.
---
Related News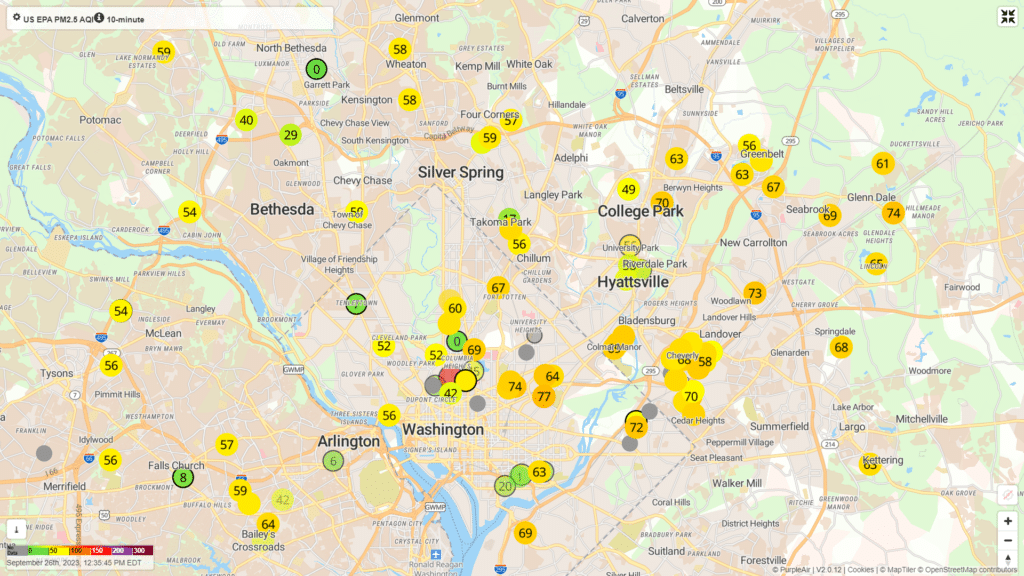 This summer, the United States experienced some of the worst days for wildfire pollution in...
Read More