UCC clergy support student memorial demonstrations in national call for gun control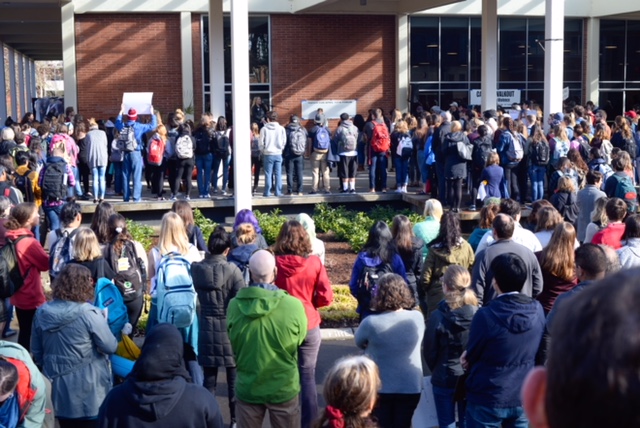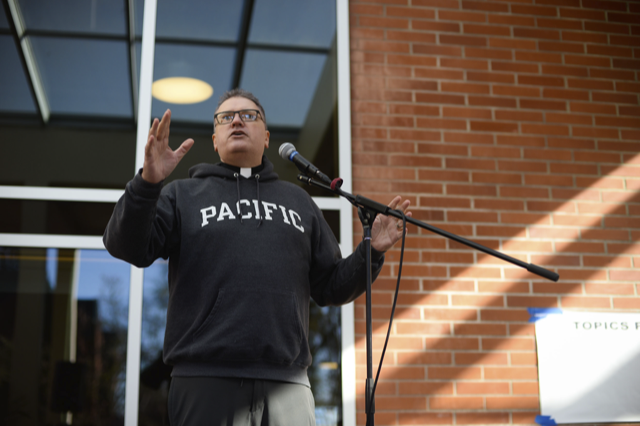 Courtesy of Tanner Boyle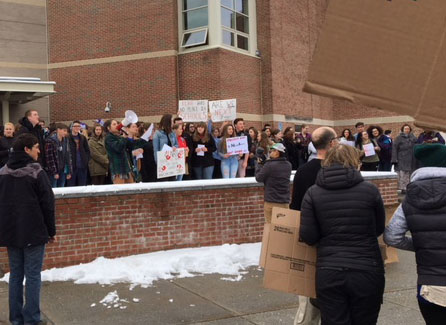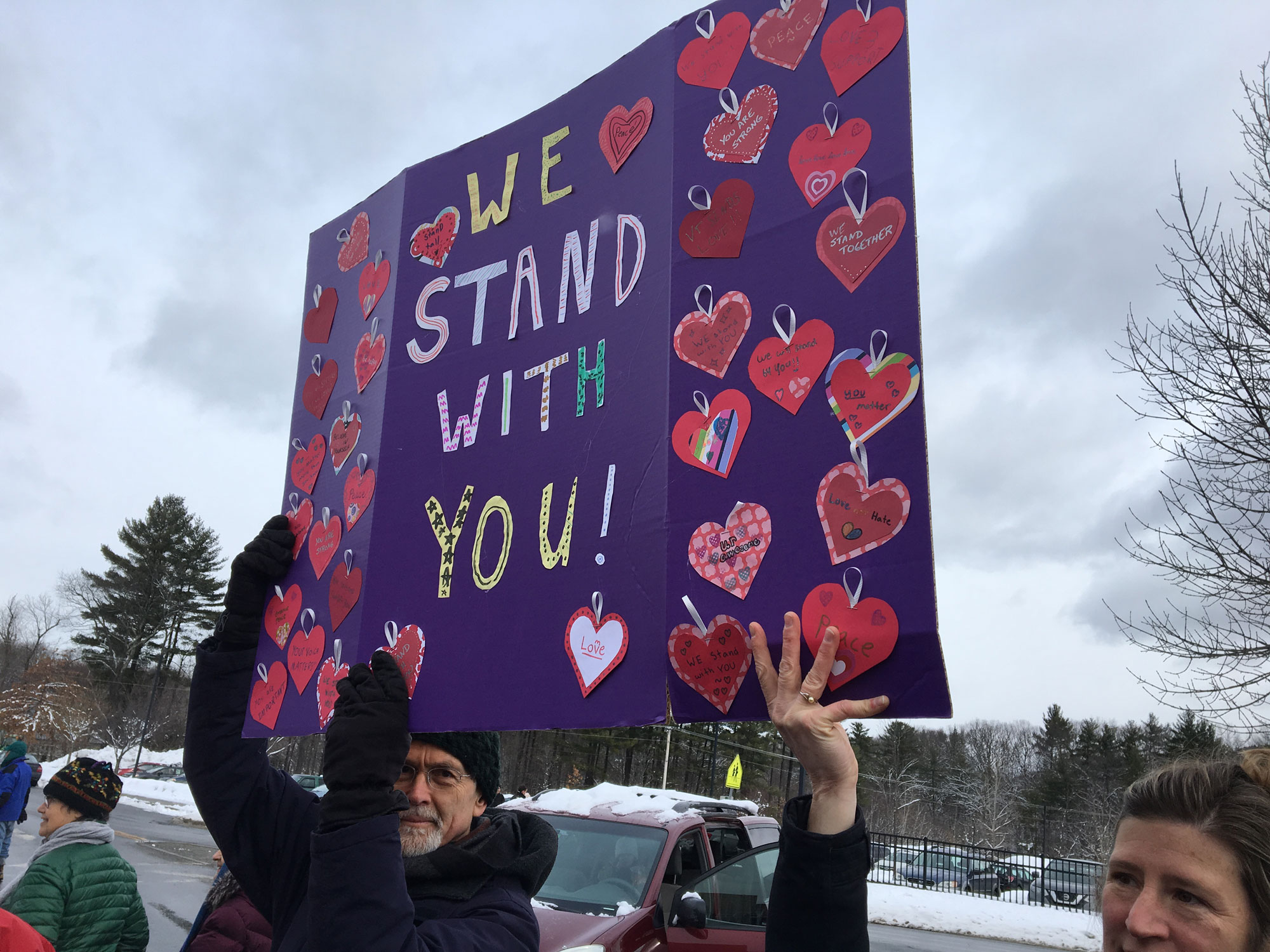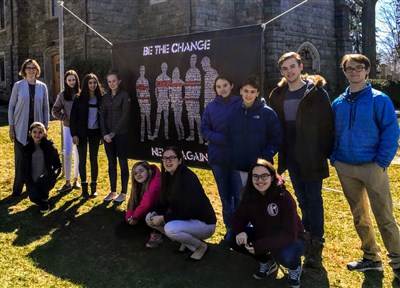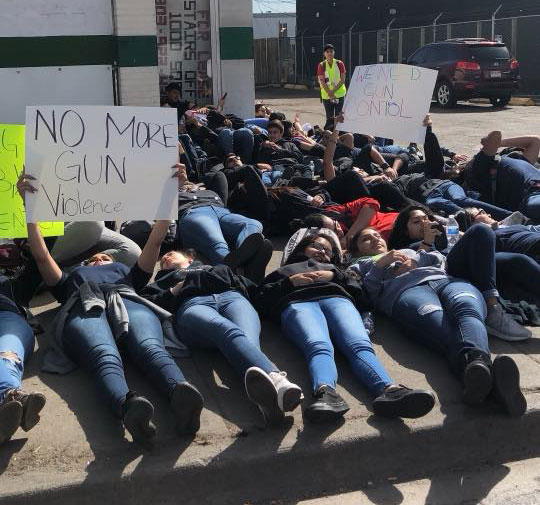 Courtesy of Emma Bliesener, Padres y Jovenes Unidos
Tens of thousands of students at high schools and universities across the country walked out of classes on Wednesday morning to support gun control, accompanied in some communities by their chaplains and local clergy.
The Rev. Chuck Currie, chaplain at Pacific University in Forest Grove, Ore., joined over 500 of his students in the walkout against gun violence at 10a.m. on March 14.
"As the university chaplain at Pacific, I was glad to be invited to participate and to share with students some of the strategies developed by the faith community to address gun violence," said Currie, who also directs of the school's Center for Peace and Spirituality. "Middle schools, high schools and universities across the United States had protests today. This new generation is energized and ready to take on Congress and the status quo. They give me hope."
The 'national walkout' began at 10a.m. on scores of local school campuses across America and lasted 17 minutes. The demonstration and memorial marked a month after a shooting at Marjory Stoneman Douglas High School in Parkland, Fla., which took the lives of 17 students and faculty members. More than 3,100 walkouts were registered with the group organizing the action.
The Rev. Lise Sparrow, pastor of Guilford Community Church, UCC, was one of more than two dozen clergy in Brattleboro, Vt., who stood in solidarity with hundreds of Brattleboro Union High School students from 10:00 to 10:17 Wednesday morning. She held a banner made up of thousands of hearts created by Guilford Sunday school students to show love for the students of Parkland.
"One hundred community members came in support of the students — mostly if not all from faith communities," Sparrow said. "There was consensus that we, like the Good Samaritan, need to support and comfort the wounded and youth and to stand against fear and violence of all kinds."
In Denver, Colo., the Rev. Anne Dunlap, UCC minister and faith organizer for Showing Up for Racial Justice (SURJ), an organization that works to dismantle the systems of white supremacy, supported students as a marshal through the local SURJ chapter.
"We accompanied students from three high schools on the west side of Denver. 400 primarily Latinix teens walked out together, met up at a major intersection on this side of town and did a die-in on sidewalk for 17 minutes," Dunlap said. "The lives of every human are precious and valuable and people of faith we should be honoring that. Jesus lived that out that value, withstood state violence on his body and transcended that. And we are to do the same."
The young advocates nationwide — supported by parents, teachers, clergy and community members — are pressing Congress to pass stricter gun control laws, laws that would ban assault weapons, require universal background checks before gun sales, and allow courts to disarm people who display warning signs of violent behavior.
The call for gun reform legislation was universal, though the size and scope of each demonstration in the national walkout varied by locality and by school.
After this action, student activists and their supporters are turning their attention to the March for Our Lives planned for Saturday, March 24. The main event will be held along Pennsylvania Avenue in Washington, D.C., with satellite marches planned in state capitols and other communities across the United States.
Rev. Sparrow will be accompanying teens from Guilford Church to Montpelier, Vermont's state capitol. Two UCC Conferences  are sponsoring trips to D.C for young advocates from Arizona, New Mexico, and Minnesota.
Youth from First Congregational Church of Greenwich, Conn., have created a banner that focuses on silhouettes of young people with the names of those killed — their visual call for change. The youth are displaying the banner in front of the church and will be taking it to New York City on March 24 to join in the March for Our Lives NYC event.
The United Church of Christ is planning a major presence at the March for Our Lives in Washington. By Thursday, March 15, more than 375 people have confirmed participation in the event, planning to march as one church next Saturday. The group will be assembling at the Methodist Building, where the UCC Washington Office is housed. More information can be found here.
"The activism that is happening around gun violence prevention is advocacy at its most powerful," said UCC Washington Office Director Sandy Sorensen.  "The communities most impacted by gun violence —  students, parents, teachers, faith leaders, health care workers — are telling their story and speaking truth to power wherever it resides.  History tells us that the work of justice takes persistence and resilience.  There will be setbacks — but faith, passion, vision, energy moving in an through communities creates change.  It gives me great hope."
The UCC has created a graphics bundle 'Faith over Firearms' that is available for free download. Use the digital images to create posters and T-shirts to identify your group at the March for Our Lives.
---
Related News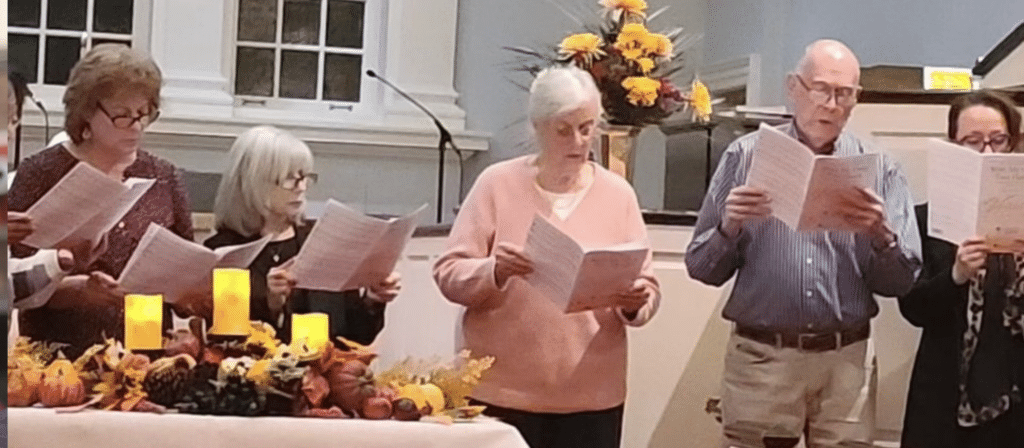 Many United Church of Christ congregations across the country participated in interfaith...
Read More