UCC clergy answering the call to oppose Alt-Right rally in Virginia
Love over fear.
Hoping to gather 1,000 clergy and people of faith in Charlottesville, Va., next week, a group of anti-racism organizers joined by a national officer of the United Church of Christ will stand against racial hatred opposite a white supremacist rally in the city on Aug. 12.
The pastoral presence is a loving response to a "United the Right" rally for members of what has been called the Alt-Right, or Alternative Right, a group of far-right conservatives that favor white nationalism. Though the event is local, organizers are raising awareness that white supremacy is a national issue — one that progressive people of faith can confront.
"The Charlottesville Clergy Call (#CvilleClergyCall) is seeking to make visible the liberating love of God and to walk in the action of that love here in the world," said the Rev. Tracey Howe Wispelwey, who is minister of congregational and community engagement for the UCC. "As people start to see and understand and join, we begin, together, to transform the story we are all living in, which is critical to overcoming white supremacy and all the ways it is institutionalized in our world, systems and history."
"So, this radical bodily presence of the #CvilleClergyCall is responding to an acute pastoral need of people being crushed in the violence of white supremacy, not just made visible by the Unite the Right rally, but in its institutionalization of the state," she added. "It is also the spiritual and bodily confrontation of evil."
The Rev. Traci Blackmon, executive minister of UCC Justice and Witness Ministries, and Cornel West, an author, political activist and social critic, will both be present in Charlottesville and will speak Friday, Aug. 11, during an interfaith prayer service at St. Paul's Memorial Church.
A pair of UCC organizers from Charlottesville, who have been engaged in anti-racism work across the city for years, are heading up the #CvilleClergyCall. The Rev. Seth Wispelwey is the directing minister of Restoration Village Arts, and Brittany Caine-Conley (a member in discernment) is lead organizer of Congregate Charlottesville, a group of local faith leaders.
"We are hoping to galvanize the local community and national as well for people of faith to begin, and to continue, to counteract white supremacy," Caine-Conley said. "We think this weekend is a great point for people to enter in, or continue, this long and deep work for justice… We want folks to spend the whole weekend with us. We will be present, we will be pastoral, and we will confront and counteract white supremacy. We are asking faith folks to show up and change the narrative and express that God's love is for everyone, particularly those who are marginalized and oppressed.
Rev. Seth Wispelwey said his hope is to "show with our bodies and our spirit that God's love and protection is for all' especially those that the Alt-Right seeks to dehumanize with their ideology."
"The UCC envisions a just world for all and is calling individuals and communities to realize that through the action of love in very specific ways," Howe Wispelwey said. "So, wherever you see injustice in this country, you also find the presence of the UCC. I am proud to be jumping in as the new minister for congregational and community engagement with Justice and Witness Ministries and I am working together with colleagues across the national setting and within the Central Atlantic Conference to make sure our local churches across the country, first, understand that this explicit display of white supremacy is not isolated to Charlottesville but is a growing national movement and, second, can find the resources and feel equipped for the long and deep anti-racism work our faith calls us to."
The Charlottesville City Council voted to remove prominent Confederate monuments from public parks, and the city has become a hotspot for white nationalist and supremacist rallies. Howe Wispelwey admits that the situation is expected to be "incredibly volatile" and that "no one's safety can be guaranteed."
"If people know they might be triggered, in what promises to be a very intense situation, there are other ways to support and be a part of the effort," Howe Wispelwey added. Clergy planning to attend are asked first to register. Organizers want people who attend to be part of an organized group and to participate in non-violent training that those groups are running up until next weekend. 
A group of seven from Hope UCC, in Alexandria, Va., is answering the call and will travel to Charlottesville. 
"As people of faith, we are troubled by nationalistic and white supremacist narratives and actions," said the Rev. Amber Neuroth, pastor of Hope UCC. "We believe that these narratives are antithetical to the gospel, that they misconstrue American values and that they cause great harm to society. One of the ways we live out our faith is to stand against hate. We will be in Charlottesville standing for love, equality and diversity."
Destiny Aman serves as co-leader of Hope UCC's Mission and Social Justice team, and is helping organize the trip. "I believe that white people of faith need to move beyond passive support for the folks on the front lines," she said. "The Bible says 'Let us not love with words or speech but with actions and in truth.' For me, this means that it's not enough to say 'Black Lives Matter' without also being willing to show up as a faith presence for and with the people in my community who are being attacked and marginalized. I'm nervous about going. Does it sound like fun to hang out with hundreds of white supremacists? But there absolutely must be a faith presence in Charlottesville to say that the culture of white supremacy is unacceptable. And if not me, then who? If not now, then when?"
---
Related News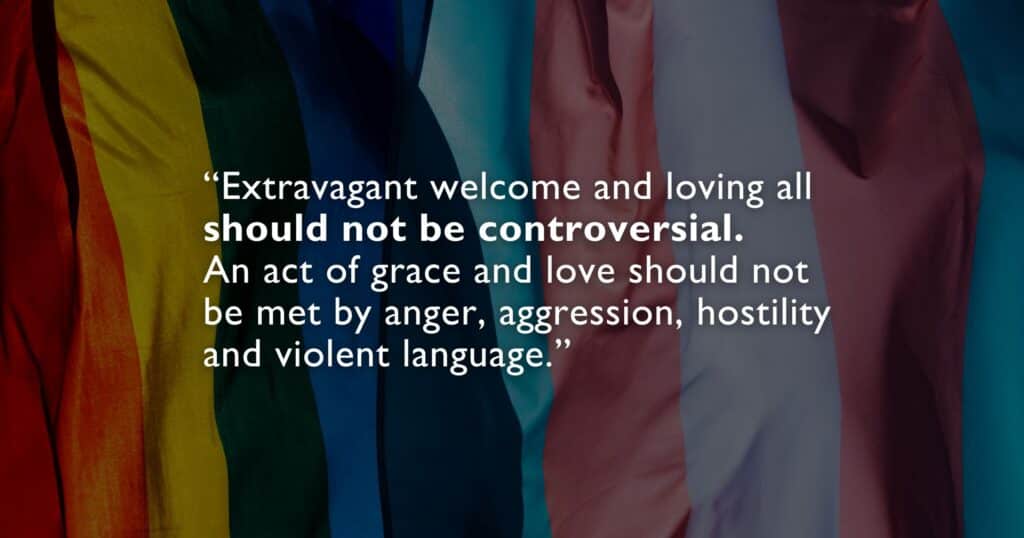 The United Church of Christ National Officers and the Conference Minister of the South Central...
Read More