UCC Churches, Conference in Phoenix offer hospitality to migrant families released by ICE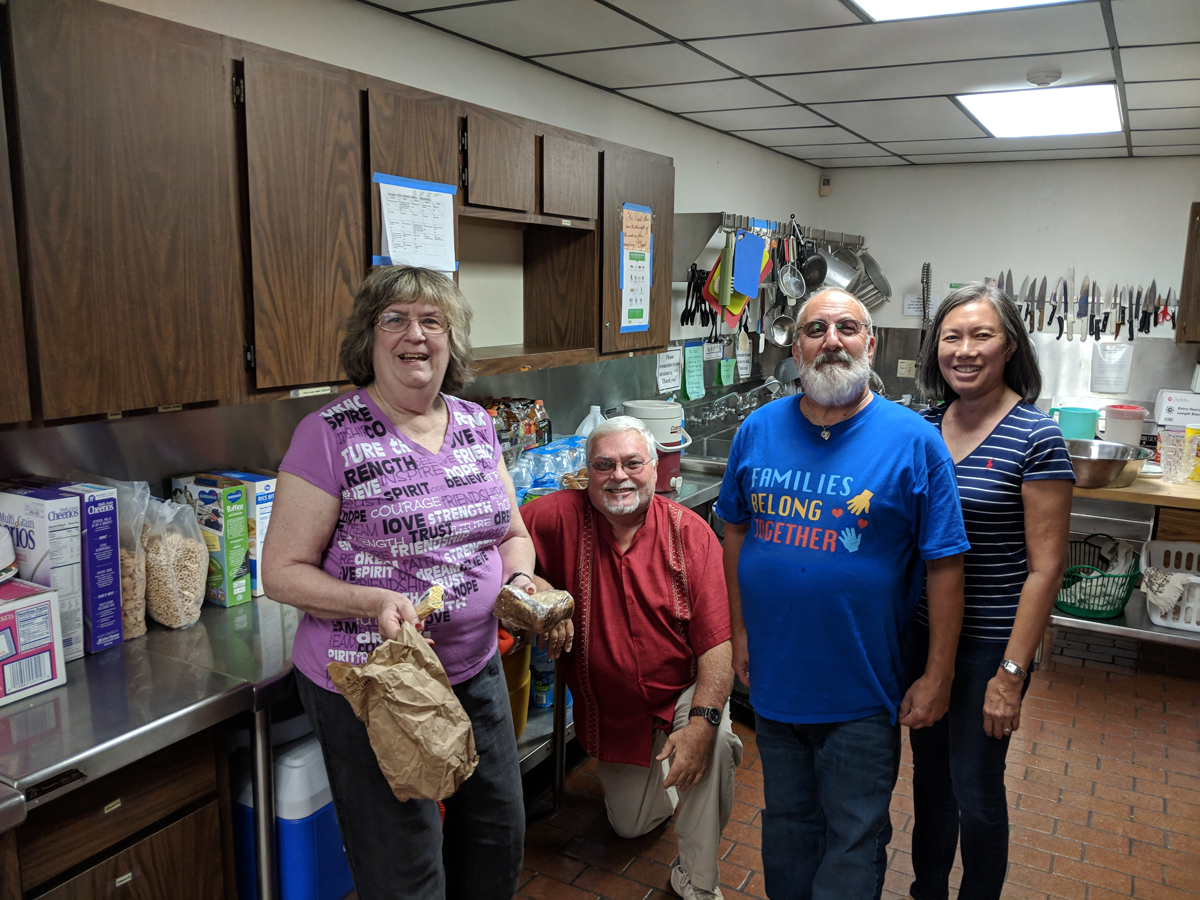 From right: Susan, Herb, Mike and Barb in the kitchen at Shadow Rock!
A United Church of Christ congregation in Phoenix that provides a safe space for migrants seeking asylum in the United States has been extremely busy since Monday, offering an extravagant welcome to more than 100 people. Busloads of immigrant families who have been released by Immigration and Customs Enforcement (ICE) are routinely dropped off at Shadow Rock UCC for a meal, clothing, supplies and a place to stay while they try to connect with relatives and friends around the country.
"Hospitality is one of the ideals we hold as people of conscience in this country," said the Rev. Ken Heintzelman, Shadow Rock pastor.
Scores of immigrants waiting to have their cases heard have come through Shadow Rock, bussed in by ICE, since 2016 — but never more than a few dozen at a time. And not with a lot of advance notice.
"We got a call on Friday that they wanted us to take 100 people," said Abeth Spencer, the church's director of communications. "We had a weekend to get organized before they arrived Monday night, and they all stay here until we take them to the Greyhound Station."
As of Wednesday morning, October 10, the Shadow Rock group had dwindled to about 20 people.
The numbers welcomed to the church campus skyrocketed this week because ICE is releasing several hundred migrants in Arizona as the agency seeks to comply with legal restrictions on the length of time people seeking to enter the U.S. may be held at detention centers.
"Roughly 700 people are being released in Arizona this week," said the Rev. Bill Lyons, Conference Minister of the Southwest Conference UCC. "There are also more than 150 people waiting in Nogales at the Border to be processed because they aren't taking anybody in — there isn't any room for them in detention."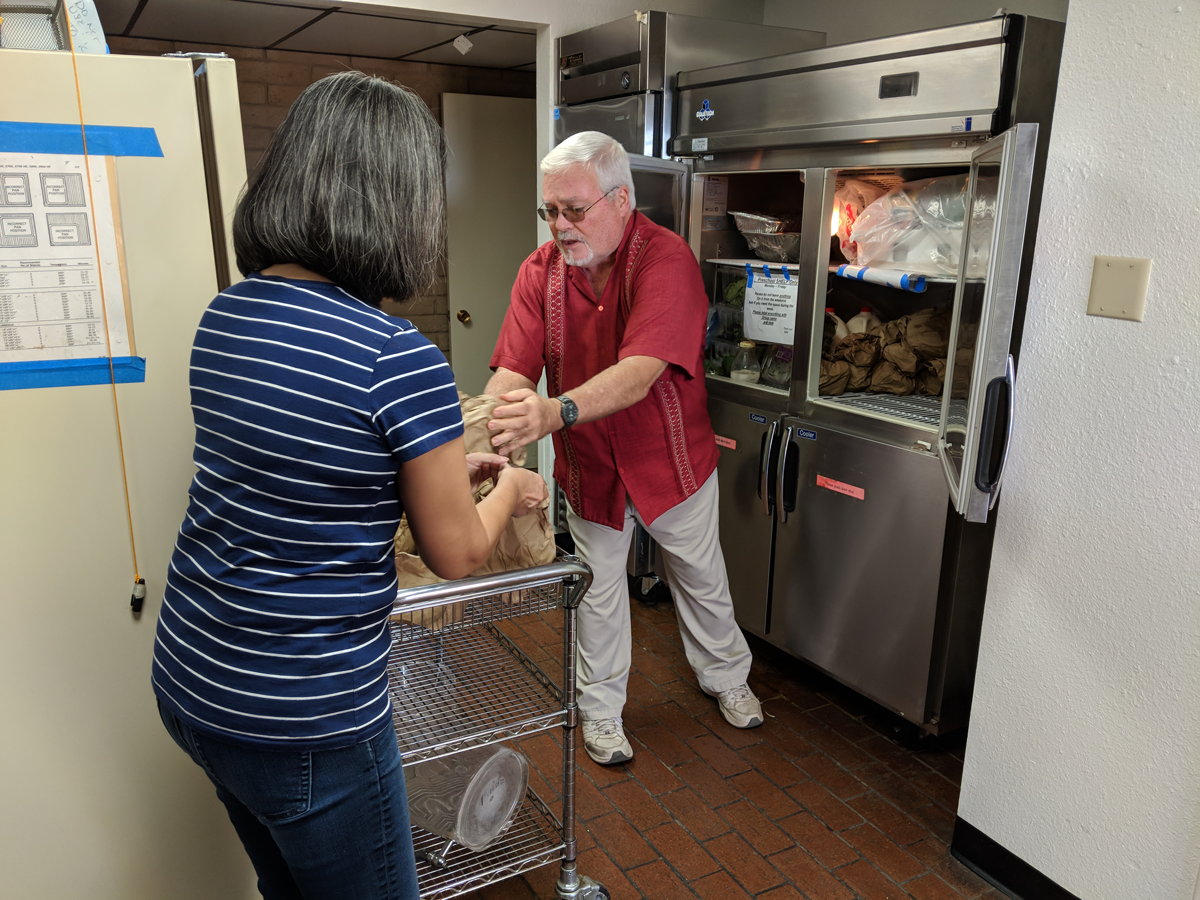 Shadow Rock lunch volunteers
The families seeking asylum usually have no local place to go — ICE holds them until they are processed. After that ICE often contacts churches to harbor migrants, so they have nourishment, a place to sleep and safety as they wait to connect with relatives and friends.
It's been a huge task the last few days trying to find safe refuge for that many people all at once. ICE has even tapped faith communities that work with immigrants, but aren't usually equipped to take overnight guests. Spencer noted that that First Church UCC in Phoenix had some families arrive Tuesday night, where Lyons said they were literally sleeping in the pews. 
Lyons noted that while ICE has released three times the usual number of detainees this week, UCC faith communities, partnering with the Disciples of Christ Regional office and congregations, and ecumenical partners including Jews for Justice, welcomed, housed, fed, and blessed on their way more than 250 people in the last three days.
"Host congregations send them off to their families on the bus, and if they need those tickets we help with phone calls," Lyons said. "We do currency exchange for them, and we have medical folks on hand for care."
Shadow Rock is one of a coalition of churches and faith based organizations that consistently steps up to meet the needs of people fleeing violence in their home country and looking for a better life. And word of that welcome offered by the UCC congregation has spread south of the border.
Heintzelman tells the story about a man who arrived a few months back who kept asking if he was at Shadow Rock — because he was told in Guatemala if he made to Shadow Rock he would be okay.
The pastor also shared a comment from a man who was putting up shelves in the church, and got involved in the hospitality being offered to dozens in need of assistance. "He said it was the deepest experience of Christian service he ever had."  
Many of the migrants in transition are also comforted by the chance to embrace their faith. When their guests arrive, Heintzelman said, many times one of the first places they want to go, right off the bus, is to the sanctuary. After they take time to pray, they go take their showers and have a meal.
Spencer said that Shadow Rock doesn't often publicize this work for obvious reasons, but once word leaked out to the media on Monday, the church started receiving a number of offers of assistance. "We want to respect the safety and privacy of our guests. But we have taken a lot of calls. A lot of people in the community want to know how they can help out. People who have seen us and are coming forward to assist. It's been really been awesome."
Usually the church needs the most assistance finding people to help with translation. Volunteers also make time to take people to the buses, to get food on the table, to provide jackets and other warm clothes—and most importantly, to give of themselves.
"I remember a woman who sat for three hours and spoon-fed a child out of a stupor," Heintzelman said. "Our vision — that there will be 1,000 churches that would offer sanctuary. That this crisis of conscience would lead to immigration reform."
Until then, Lyons said, UCC Churches should be ready to stand with our migrant brothers and sisters.
"I believe in our covenant and our belief in welcome and hospitality," he said. "I give our guests my business card, and tell them if they need help, to find one of our churches, and tell them Bill from the Southwest sent them."
---
Related News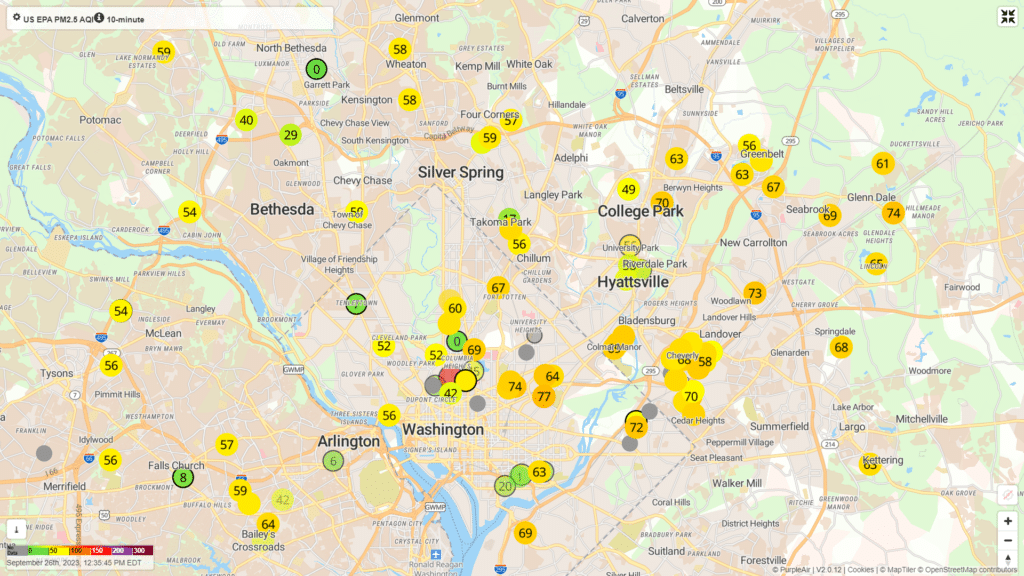 This summer, the United States experienced some of the worst days for wildfire pollution in...
Read More