UCC church in Phoenix mourns man deported to Mexico, welcomes another into sanctuary
He called the United States home for more than two decades, spent almost two years living in Shadow Rock United Church of Christ, and became one of the faces of the national Sanctuary Movement when he was featured by CBS News for a story on 60 Minutes. Ismael Delgado was picked up by Immigration and Customs Enforcement (ICE) agents in Phoenix on Aug. 23, and quickly deported to Mexico.
"We are all heartbroken about losing our friend and neighbor, and we are supporting his family through this difficult time," said Abeth Spencer, director of communications at Shadow Rock UCC.
"The circumstances of Ismael's apprehension by ICE officials are not difficult to understand," said the Rev. Ken Heintzelman, pastor of Shadow Rock UCC. "He has been in sanctuary at our church for almost two years and his concern about providing for his family grew every month. Ismael felt that ICE could come to the church any day. With ICE acting more and pushing the boundaries of their own sensitive location policy, Ismael weighed the risk of staying in sanctuary with the risk of leaving our campus to make money for his family. He decided to earn money for his family by taking on odd jobs and risk apprehension in doing so."
Delgado, who is awaiting a decision on a U-Visa application, was picked up on his way home last Wednesday, after doing yard work for someone in the community. He was dropped off in Nogales, Mexico, five hours later, and was able to call his family, his church and his pastor.
"When Ismael was pulled over and detained he was told by ICE agents that they know everything about him," Heintzelman said. "They know his wife, his children, his home, and the cars he and his family drive. The intimidation was intentional."
Sharing the news of Delgado's deportation in a letter to his congregation, Heintzelman said they will remain committed to this mission, and the struggle to keep families together.
"There are moments when it feels like we are losing more than we are winning," he wrote. "However, I want us to be mindful that our offer of sanctuary has given Ismael and his family almost two years together. They have shared birthdays, two Christmases, hugs, and tears of joy and heartache. They have laughed together and celebrated their daughter Melanie's graduation. These are experiences they otherwise would not have shared if it was not for the ministry of sanctuary. Therefore, I encourage us to stay in the struggle for justice and peace. I encourage us to keep the faith."
Delgado was one of two men living on the Shadow Rock campus, and the fourth provided sanctuary by the UCC congregation. He held a weekly Bible study with members and friends at the church, as a way of maintaining ties to his community. He leaves a wife and two children (18 and 25) in Arizona. He has a small chance of reuniting with them there, if his U-Visa is approved in the next year or so. 
On Sunday, Aug. 27, the Shadow Rock community welcomed another man into sanctuary, with a ceremony at morning worship. The entire congregation did a laying-on-of-hands, embracing Jose Mora Navarrette. The 25-year-old came to the United States from Mexico as a child, and is married to Carmen, an American citizen. He has requested consideration of deferred action for childhood arrivals (DACA) status, and a decision in his case expected any day.
But until then, at Shadow Rock UCC, the mission of the Sanctuary Action Team is clear: "We are committed to advocating for comprehensive immigration reform that is just and compassionate. Until that time we are committed to keeping families together and keeping people safe."
---
Related News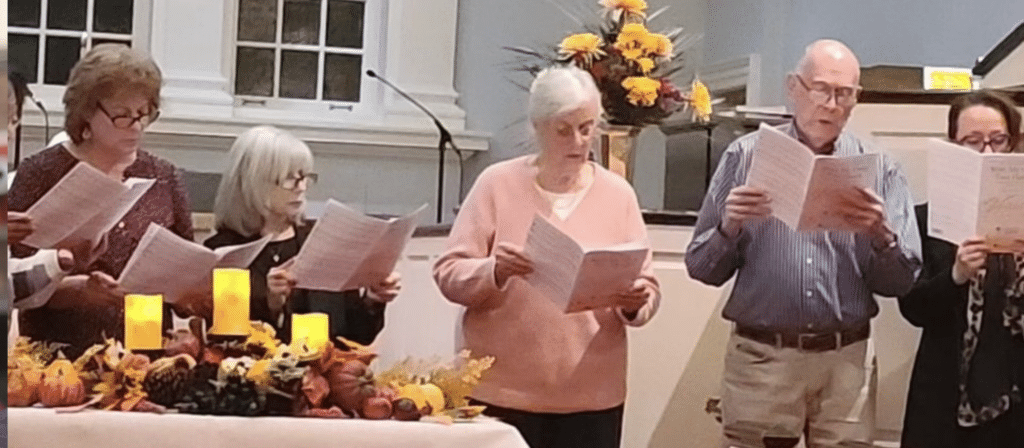 Many United Church of Christ congregations across the country participated in interfaith...
Read More