UCC advocates demand action on 'moral issue' of climate change with Rise for Climate march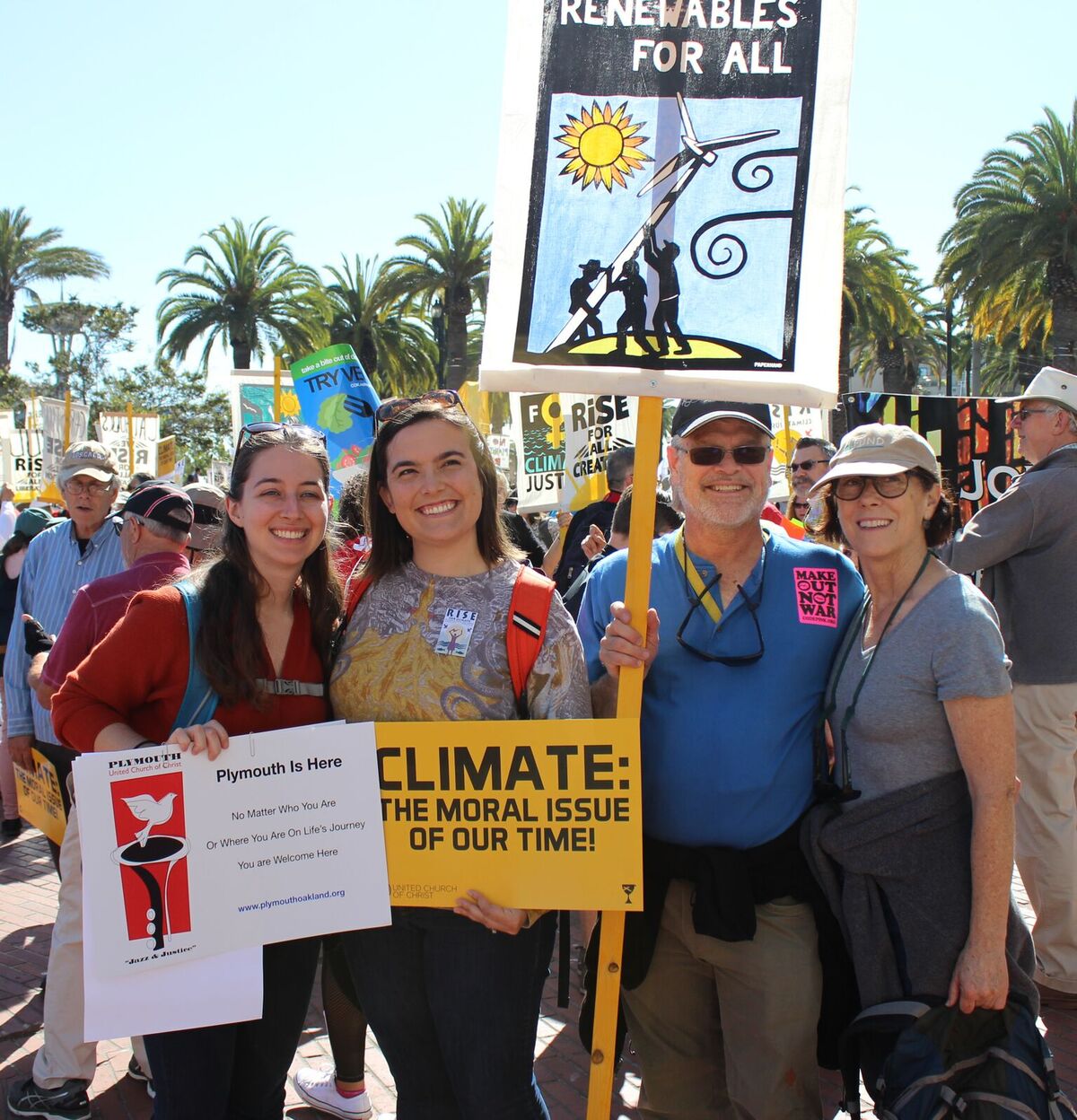 Environmental justice advocates marched in the streets across hundreds of communities in roughly 90 countries on Saturday, delivering the same message to government leaders — it's time to address climate change by making the shift to renewable energy and away from fossil fuels. The faith contingent was visibly evident at one of the largest demonstrations in San Francisco on Sept. 8, with UCC and Christian Church (Disciples of Christ) participants carrying signs calling climate change the moral issue of our time.
"Climate change is the moral issue of our day," said the Rev. Jeffrey Spencer, senior pastor, Niles Discovery Church, Fremont, Calif. "If we don't address it, if we don't mitigate its impact, it will lead to famines, people lacking access to potable water, and sections of the earth becoming too hot to be habitable. These will lead to mass migrations of people (we thought we had refugee problems now) and wars. People starving is a moral issue. People being thirsty and not having water to drink is a moral issue. People needing to flee their homes is a moral issue. War is a moral issue. That's why I say that climate change is the moral issue of our day."
Spencer was one of several dozen UCC clergy and congregants participating in the Bay Area demonstration, the Rise for Climate, Jobs and Justice, which drew 30,000 people who marched from Embarcadero Plaza to the Civic Center. Spencer also helped organize 20 UCC and DOC congregations which participated actively on the streets, with many more holding the action in prayer. He indicated that the faith contingent, estimated at least 3,000, represented 10% of the march, with more than 150 UCC and DOC members joining scientists, students and community organizers.
"Despite tens of thousands of people gathered together for this important moment of witness, our United Church of Christ congregations and denominational partners all managed to find each other as the marchers gathered and we walked together," said the Rev. Diane Weible, North California Nevada Conference Minister. "As a Conference Minister it was powerful to see our faith communities come together to Rise Up for Climate Justice, which is tied in to so many other justice issues. When we walk together and act together, we can make a difference—this is only the beginning."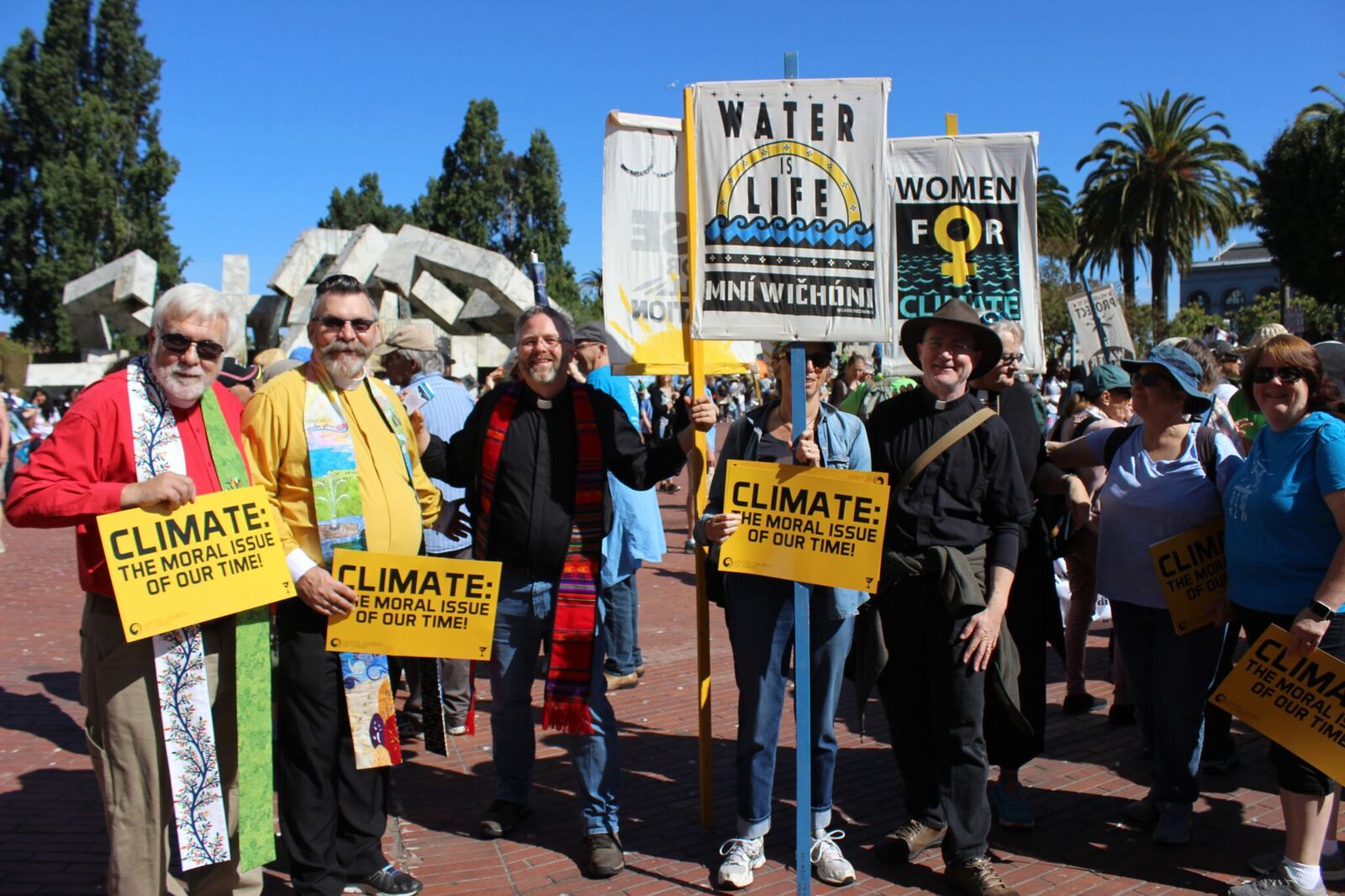 A number of UCC churches in Northern California are already putting their faith in action around environmental justice. Niles Discovery Church has partnered with 350.org, an international environmental organization addressing climate change, for more than a decade and was once involved in forming a protest line along what will become Fremont's San Francisco Bay coastline because of rising sea levels.
First Congregational Church Sonoma (FCCS) is one of less than a dozen nationally that has been recognized as UCC "Creation Justice" Church. The Church was an early founder of the Sonoma County Climate Coalition, sponsoring all of the environmental groups in the Sonoma Valley who meet monthly at FCCS to plan joint projects; for example, this week the coalition is gathering to sponsor a Candidates' Night for the Sonoma City Council where the questions center on environment, transportation, energy, and fossil fuels.
FCCS moderator Elizabeth Gringo was one of a dozen from the congregation praying with her feet at the Rise for Climate on Saturday. "We march in solidarity with those who care about the global movement for a clean climate and a just world," she said. "We have the solutions. We must have the foresight and fortitude to pursue them."
Spencer, with the support of the Northern California Nevada Conference, printed and distributed 300 signs and shared them in a prayer service just before the demonstration. "It was fun to see the concentration of the signs at the interfaith service as we lined up," he said, "and then to see them dissipate into the crowd as the march went along."
The march happened just days before world leaders, researchers and activists arrive in San Francisco for the Global Climate Action Summit, organized by the United Nations and California Governor Jerry Brown. The gathering September 12-14 aims to accelerate national environmental action plans to prevent dangerous climate change, in an effort to achieve the goals of the historic Paris climate agreement.
"I believe when we march for justice we march as followers of Jesus and we march as a living expression of the body of Christ," said the Rev. Brooks Berndt, UCC minister of environmental justice. "I was especially struck by how marchers connected with one another. At one point, I was marching with a seminary professor, a pastor, and a med school student. The med school student had come to the march alone but wanted to be part of the UCC contingent as soon as she learned that we were there. Strangers became friends as we found a common purpose through our faith."
---
Related News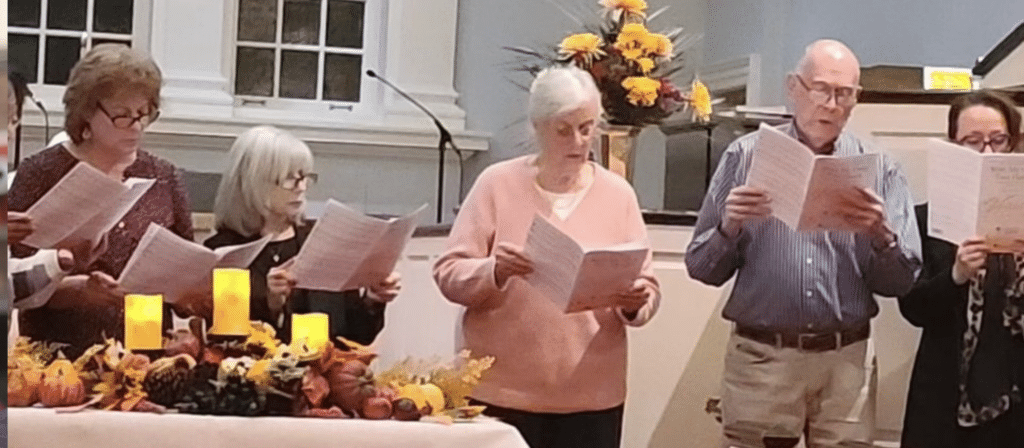 Many United Church of Christ congregations across the country participated in interfaith...
Read More