UCC active in DC and at UN as climate action week continues
Supporting young climate-justice activists, United Church of Christ representatives led and were active in interfaith events in New York City and Washington, D.C. – and issued calls for action – during a Week of Climate Action. The week started with a worldwide Climate Strike on Friday, Sept. 20, and continues through Friday, Sept. 27.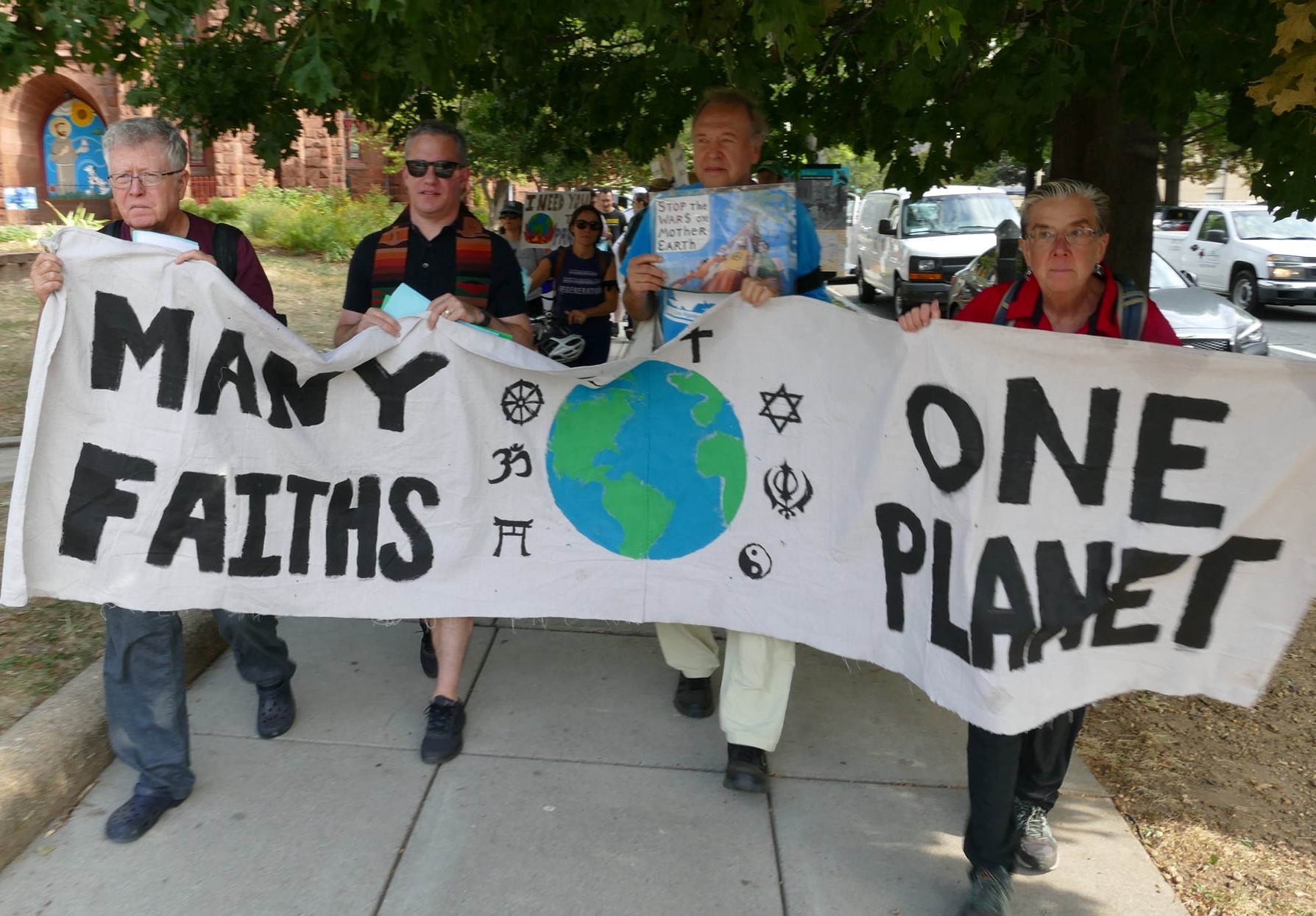 While a coalition of Shut Down DC demonstrators blocked traffic in the nation's capital Monday, Sept. 23, resulting in a number of arrests, the UCC had a prominent role in a separate "Religious Procession of Repentance and Hope for our Global Climate Emergency."
Featuring a "Many Faiths, One Planet" banner and pausing at lobbyists' offices as well as places of worship, the procession included speeches, songs, drumming, prayers and demands for action. On its route were office buildings of the Independent Petroleum Association, Coalition for Clean Coal, Wind Energy Association, American Fuel and Petroleum Manufacturers and Conoco Phillips. Participants were Buddhists, Catholics, Episcopalians, Hindus, Humanists, Presbyterians, Quakers and UCC members, including staffers from the D.C. office of Justice and Local Church Ministries.
Solidarity with those hit hardest
One speaker was UCC Justice and Peace Policy Fellow Madison Mayhew, a co-organizer of the procession. She spoke of the "intersectionality" of climate justice. She called for solidarity with those who are affected most by climate change, contribute to it the least and have the fewest resources to survive it – among them, indigenous people, people with disabilities and people of color.
"We know environmental racism is real," Mayhew said. "Studies have shown people of color are more likely to live near toxic waste and breathe polluted air. As people of faith we believe in the inherent dignity and worth of all people, and we call for solutions that are holistic and just, providing protections for our most vulnerable neighbors so that all people may thrive."
Another speaker was Sandy Sorensen, director of the UCC D.C. office. "Women and children are on the front lines of climate change," she said. "Women and children are on the front lines of conflict … of economic injustice … of inaccessible healthcare … of climate change … and that's why we are here, and that's why our voices matter, and that's why we must keep on persisting in this movement."
The office also released a UCC-wide Action Alert, urging members to contact legislators and demand action towards a clean energy economy.
'Change the narrative,' teens urge people of faith

In New York City, teenagers' voices were at the center of an interfaith consultation Tuesday, Sept. 24, the day after a major Climate Action Summit at the United Nations. Before turning to action plans, the participants in "Climate Emergency: Faith-based Organizations Raising Ambition – Leaving No One Behind" heard from two New Yorkers, Xiye Bastida and Olivia Wohlgemuth, both 17 and leaders of regular youth actions on climate.
The world's elected officials "just aren't getting it," Wohlgemuth told the gathering. "They are not understanding the urgency of the situation." Calling climate action "intergenerational and intersectional," she urged religious leaders to "use your privilege to raise voices on behalf of those most affected."
 "We need to change the narrative," Bastida said. "The climate crisis is not all about straws and light bulbs. That's what they want us to talk about. It's about how low-income communities and communities of color are the most affected and how children are the most affected."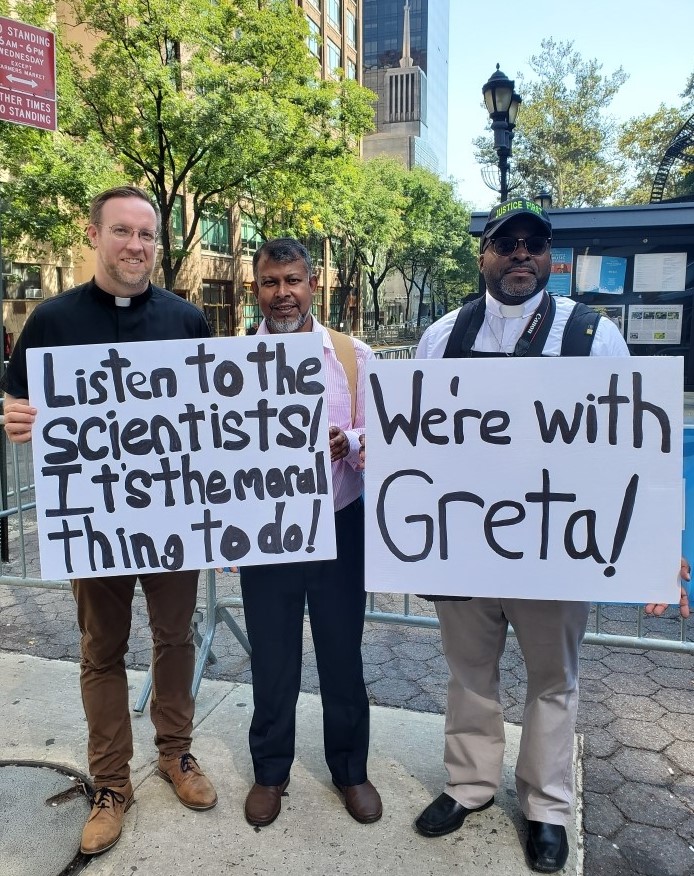 'Faith for Forests' sign-on urged
One specific action highlighted at the consultation was a Faith for Forests declaration, described as "a global call to action to all faith-based organizations, networks and places of worship around the world to join the movement to end destruction of the planet's rainforests and advocate for climate justice."
"Indigenous rights and the protection of forests often go hand in hand," said the Rev. Brooks Berndt, UCC minister for environmental justice, who attended the consultation. "More than 80 percent of global biodiversity is on indigenous lands, even though indigenous peoples make up less than 5 percent of the world's population." UCC Justice and Local Church Ministries signed the declaration Sept. 25. Berndt said he would encourage UCC people and congregations to do so, too.
Also representing the UCC at the New York consultation at the Episcopal Church Center were Pam Arifian, who staffs the Northeast Regional Environmental Justice Center of the UCC Connecticut Conference, and the Rev. Michael Malcom, pastor of Rush Memorial Congregational UCC, Atlanta, and executive director of Alabama Interfaith Power and Light.
During the Sept. 23 U.N. summit, Berndt and Malcom held signs near the U.N., followed the Climate Action Network International's analysis of speeches and heard young and indigenous leaders speak at an "Our Village: Climate Action by the People" event at a Manhattan theater. They were joined for part of the day by Foezeulla Talukder, head of the Climate Change Program of the Christian Commission for Development in Bangladesh, a UCC global mission partner.
"This week," Berndt said, "the moral center of the climate movement was found in the voices of youth as well as indigenous leaders from every generation."
---
Related News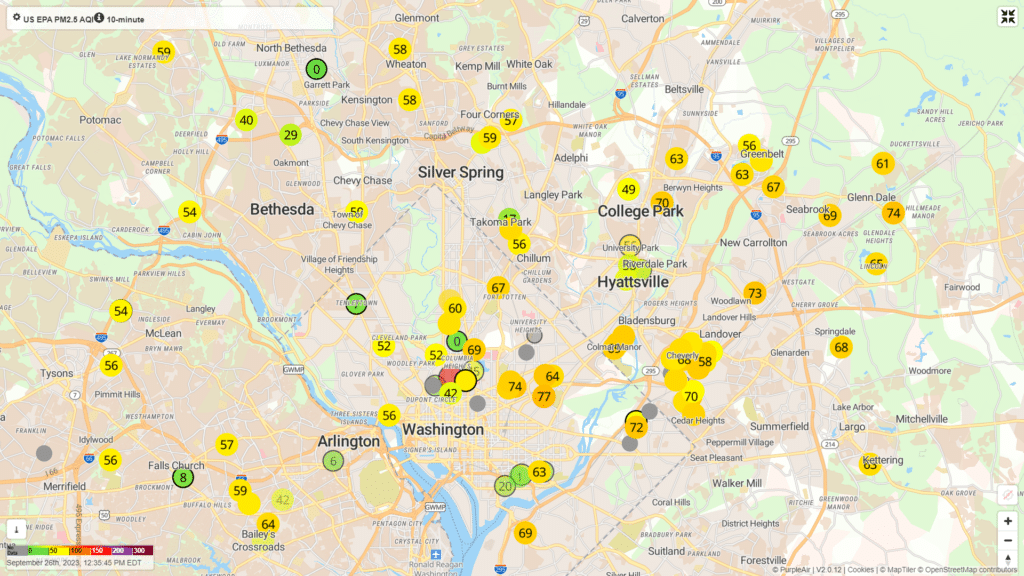 This summer, the United States experienced some of the worst days for wildfire pollution in...
Read More