UCC well-represented at virtual inaugural prayer breakfast
It's a tradition dating back to the first inauguration of President George Washington.
In 2021 at the Presidential Inaugural Prayer Service, the United Church of Christ was represented well.
The Thursday service at Washington National Cathedral had to be held virtually this year because of the pandemic. Yet the 10 a.m. event, a day after Biden's inauguration, was richly spiritual, with faith leaders from many traditions.
"The National Prayer Service is an important tradition for our nation and for President Biden, who has always been a man guided deeply by his faith," said Presidential Inaugural Committee CEO and Delaware State University President Tony Allen.
"The program (today) honors the role of faith in our country, and provides a moment to reflect on the unprecedented challenges we face, as we enter this new American chapter of healing to beat the pandemic, build back our economy better, and unify our country."
The service, which went well over an hour, offered prayers, readings, blessings, and hymns from 34 interfaith leaders.
For those who govern
The opening prayer, offered by the Very Rev. Randolph Marshall Hollerith, dean of cathedral, was followed by the national anthem, sung by Patti LaBelle.
In her call to prayer in the Jewish tradition, Rabbi Sharon Brous, senior rabbi, IKAR, Los Angeles, asked God for strength to "leave behind the fallacy of profit over people." She stressed the recognition of an "invisible web of humanity" that cares for one another. Healing, protecting each other, though racial equality, abolishing white supremacy and telling the truth … "together we rise."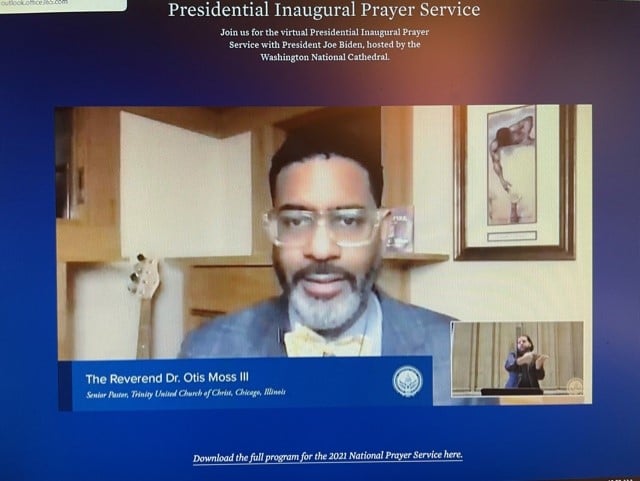 Rev. Otis Moss III, senior pastor of Trinity UCC, Chicago, was one of four voices offering prayers for those who govern.
"O Lord God, bless all who dedicate themselves to governing in our land and upholding our democracy. Enable us to be a people at peace among ourselves and a blessing to other nations of the earth. May we serve you faithfully in our generation. Amen."
'A sense of your abiding presence'
In a call to prayer in the Muslim tradition, Imam Azhar Subedar of the Islamic Association of Collin County, Plano, Tex., prayed for unity, for peace and civility for all. "Guide us, inspire us, use us as your tools of mercy and righteousness."
The UCC's Barbara Satin, faith work director at the National LGBTQ Task Force in Minneapolis, was one of six offering prayers for those who serve.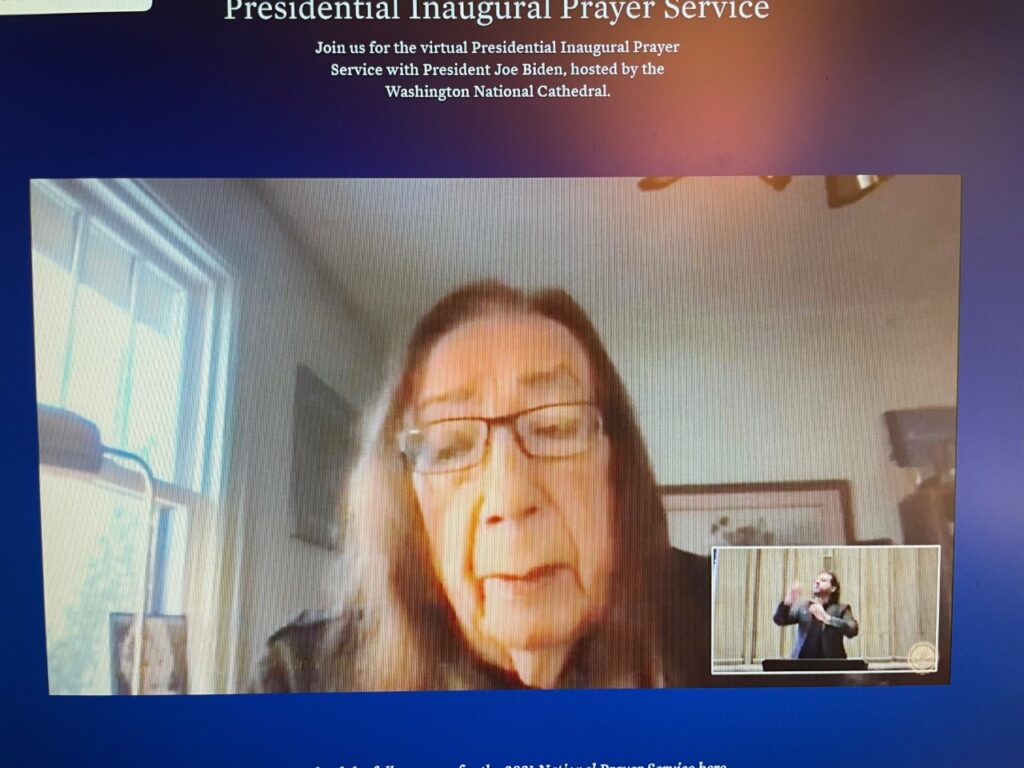 "We commend to your gracious care and keeping all the men and women of our armed services at home and abroad. Grant them a sense of your abiding presence: strengthen them in every trial and temptation, defend them in places of danger and peril, sustain them in their courage and dedication. …Give us grace to do your will in all that we undertake."
For the homeless and the worker
In his call to prayer in the Christian tradition, the Rev. Frederick David, executive Vice President of Union Theological Seminary, offered a prayer for President Biden, Vice President Harris and their families, for the homeless, the refugees and those on the margins, the nation and the world.
The Rev. Yvette Flunder, presiding bishop of the Fellowship of Affirming Ministries, UCC, Oakland, Calif., was one of seven leaders sharing prayers for the people of the nation.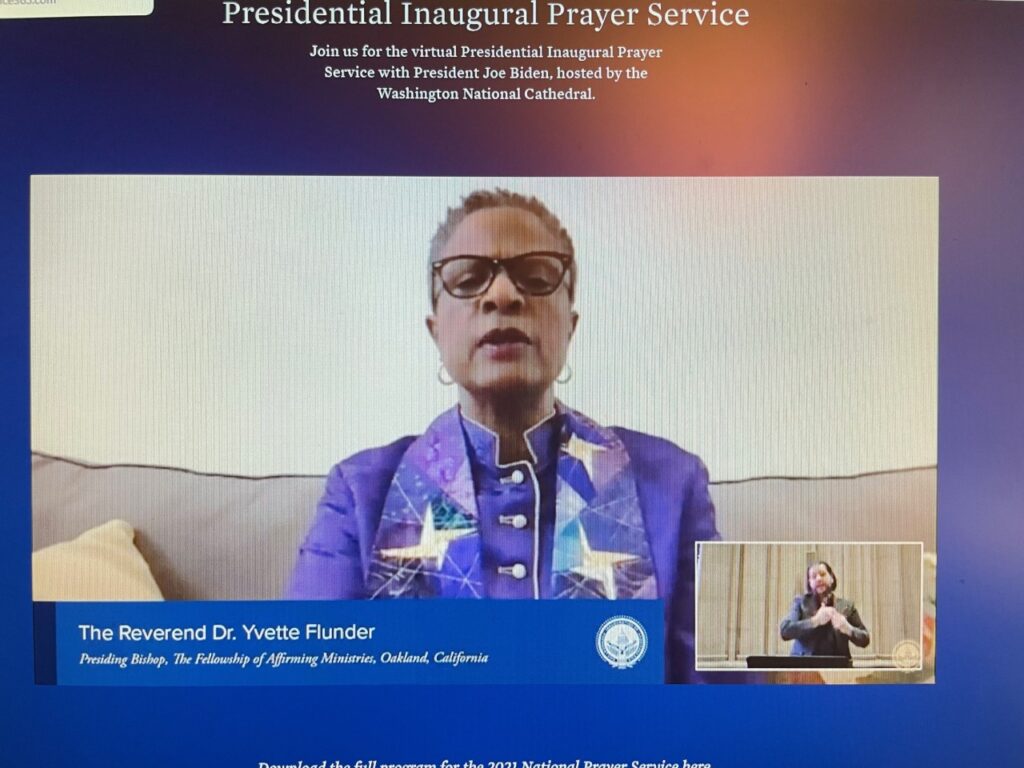 "Hear our prayers for all who do the tedious, dirty and dangerous work which is necessary to sustain our life; bless those who work the fields and grant that all who depend upon their service may remember them with thankful hearts. Bless all whose lives who are closely linked with ours."
'The trouble is real'
The homily was delivered by the Rev. William Barber II, president of Repairers of the Breach and co-chair of the Poor People's Campaign. The North Carolina preacher spoke about Isaiah 58, saying that the way out of the rubble of a past life is to build anew. "The text this morning is from Isaiah, but we are in a jam, the trouble is real and we are in this mess together as a nation.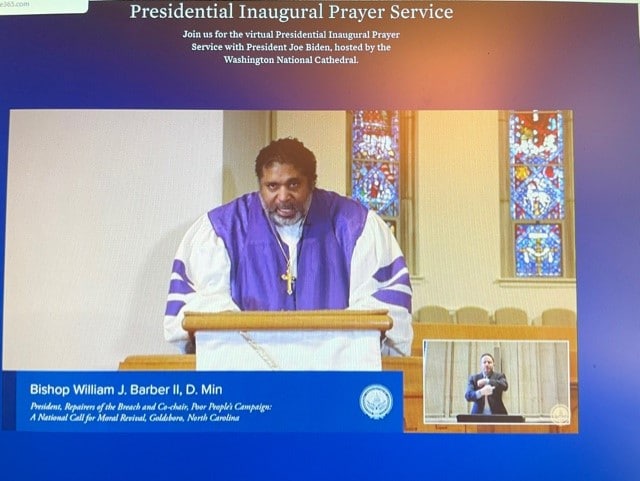 "FDR said the test of our progress is not whether we add more, but whether we provide enough to those who have too little. … We should not ask how much will it cost the government to address inequality, but how much it has it cost us not to," he said. "The prophet gives the nation God's clear way out of the jam. Choose to name the policy sin and repair the breach.
"The breach is to say 'one nation under God, indivisible, with liberty and justice for all' with our lips, while we see the rich and the poor living in two very different Americas."
Barber spoke about lifting up the poor, the sick, the marginalized. He called on President Biden and Vice-President Harris, saying that they know the breach of poverty, the breach of racism, the breach of a broken heart. He said that until together we make sure there is love and racial justice, health care justice, economic justice, environmental justice, our country will still be troubled.
"These are breaches that must be addressed and repairing the breaches will bring revival. If we make the choice, there is hope in the mourning. … If we, the people, with God's help, repair the breach, revival and renewal will come."
For 'all lost to COVID-19'
The Rev. Jacqui Lewis, senior minister, Middle Collegiate Church in New York City, offered a prayer of remembrance.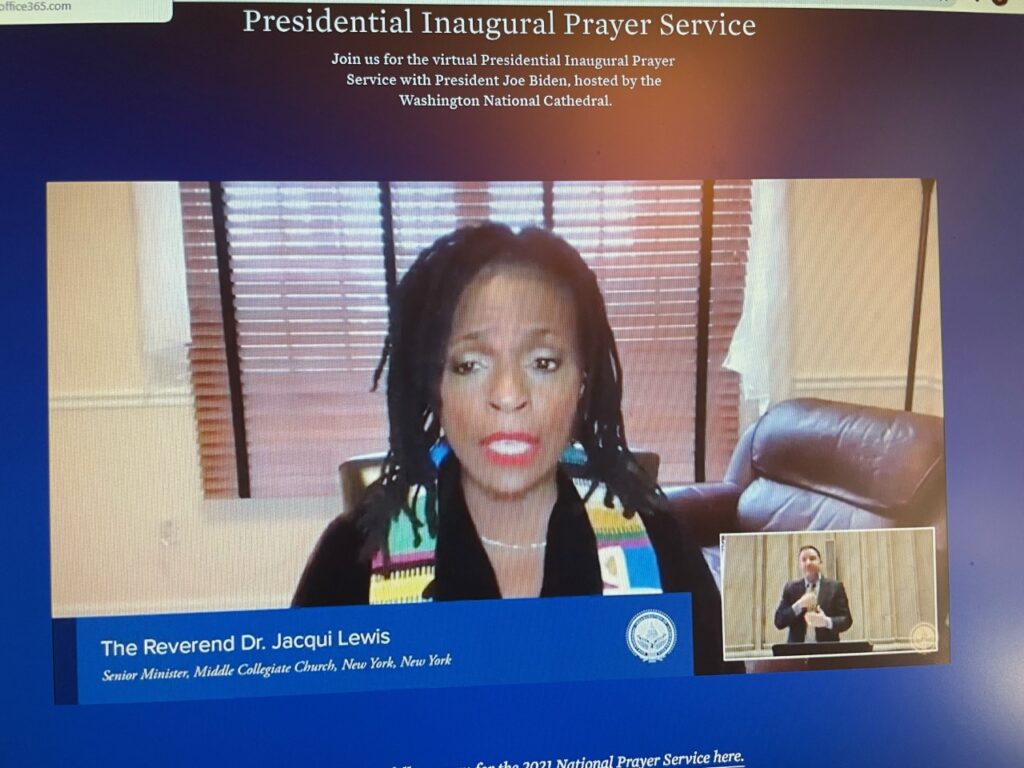 "With reverence and affection, O ever-living God, we remember before you all lost to COVID-19 in our nation. We thank you for the gift of their lives among us as family and friends. Comfort us now in our grief and keep us in union with them through our faith and love towards you. We entrust them to your care as we pause in the silence to remember and honor them."
The program concluded after a prayer for the nation, a rendition of "America the Beautiful" by Josh Groban and a final blessing by the Most Rev. Michael Curry, presiding bishop and primate of the Episcopal Church.
"Go forth into the world in peace. Be strong and of good courage," he said. "Hold fast to that which is good, render to no one evil for evil, love the Lord your God, love your neighbor, love yourself. God love you, God bless, and may God hold us all in those almighty hands of love."
The prayer service, which was streamed at bideninaugural.org/watch, can be viewed in its entirety here.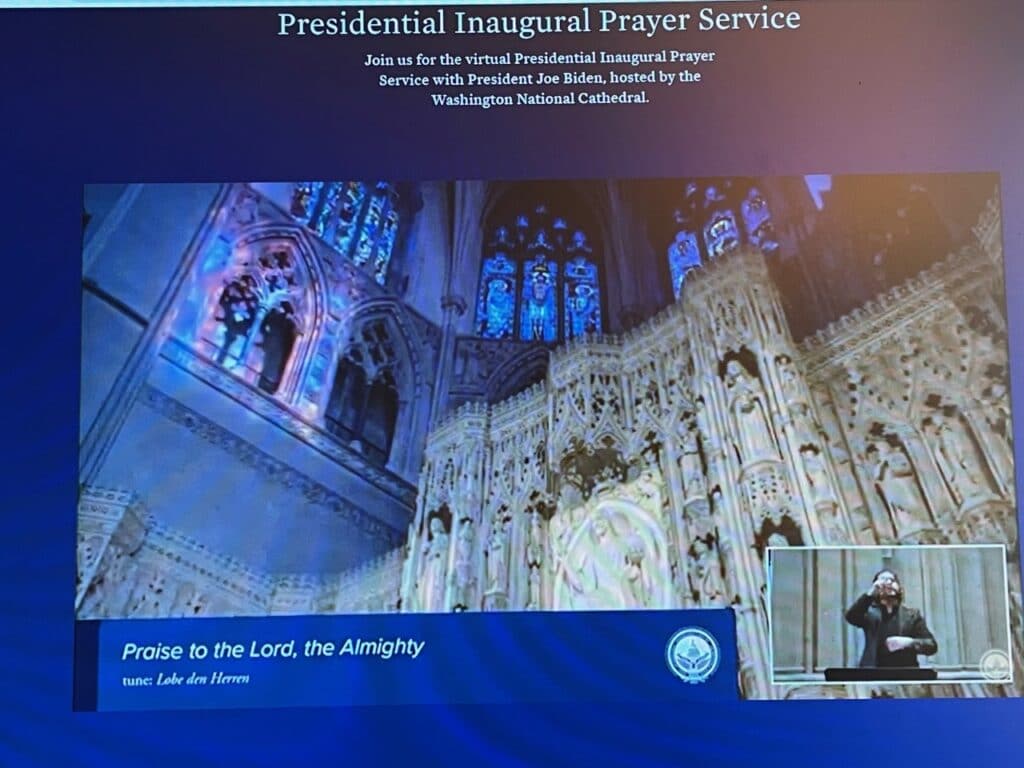 ---
Related News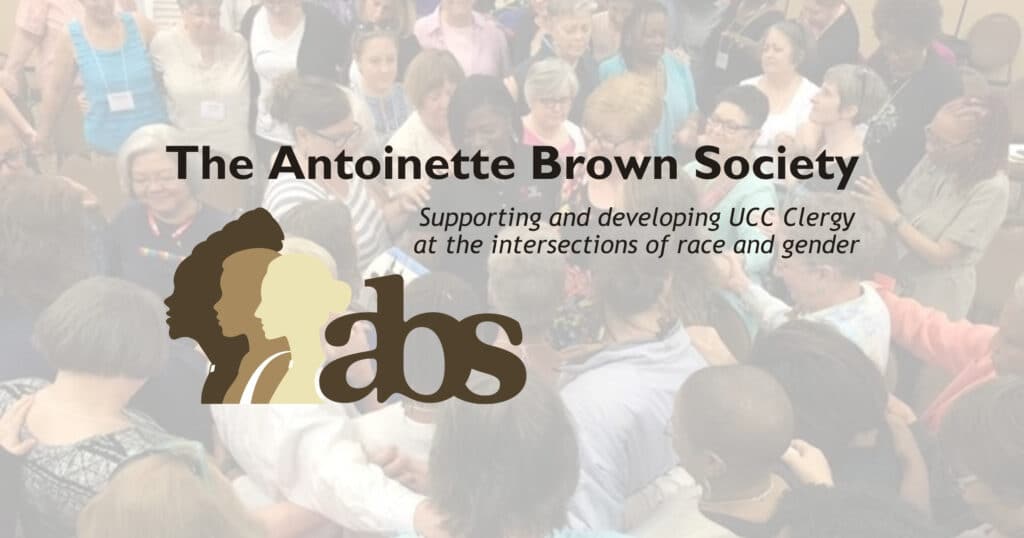 As Women's History Month wraps up, the Antoinette Brown Society is offering a limited-time...
Read More