UCC president, other faith leaders meet with Treasury Secretary Yellen on global pandemic response
United Church of Christ General Minister and President John Dorhauer joined other religious leaders in a meeting March 16 with Treasury Secretary Janet Yellen to discuss the COVID-19 response in developing countries. The high-level roundtable discussion focused on a number of issues – debt policies, emergency reserve funds, climate change, Puerto Rico relief, and tax proposals to prevent future crises.

The meeting, organized by Jubilee USA, a nonprofit group that advocates for debt relief for developing countries, brought together leaders from the Catholic, Methodist, Lutheran and UCC traditions, as well as the Union for Reform Judaism, Puerto Rico's Catholic Church and the Puerto Rico Evangelical Bible Society. The Rev. John Dorhauer represented the UCC, with the Revs. Sekinah Hamlin and Michael Neuroth joining the discussion as observers.
The purpose was "to discuss a global debt crisis that has been exacerbated by the pandemic, the weight of which is disproportionately placed on impoverished and developing countries," Dorhauer said.
'Favor the poor'
"Our commitments to and reputation for supporting global justice, sustainable development and economic practices that favor the poor were important for this administration to hear and know about," he continued. "We share those with a number of interfaith partners who were also present for this discussion. I am grateful we were invited into this, and pray that it helps this administration see the value in relieving debt around the world following this pandemic."
Concerned about developing countries being left out of crisis response, the group conversation focused on ways to increase resources to help those nations contain the COVID-19 pandemic. Permanent debt restructuring and climate decisions were also discussed.
"Aid for low-income countries, debt relief and the need for new development processes to confront the pandemic and meet climate goals are necessary to continue addressing the history of colonialism, racism and wealth-stripping through ecological devastation that we are called to repair," said Hamlin, UCC minister for economic justice. "We are encouraged by strategies that help repair the breaches and provide long-term solutions in order to create a just economy."
'Another hopeful sign'
What's unique about the historic meeting, said Jubilee Executive Director Eric LeCompte, is "the major religious institutions are coming together to solve the current pandemic crisis and prevent future crises." The World Bank estimates the pandemic will push as many as 150 million people into extreme poverty.
LeCompte said the meeting reflected Yellen's focus on the global nature of the pandemic, and her willingness to engage with a range of U.S. leaders find solutions.
"The meeting between faith leaders and Secretary Yellen was another hopeful sign that the Biden administration is eager to hear from the faith community on the issues we care about most," said Neuroth, who serves as the UCC policy advocate for international issues.
"I am grateful for Jubilee USA's leadership and partnership in moving forward a policy agenda that reflects the biblical vision of jubilee," he continued. "Together we must continue to push world governments to address the plight of global debt, the impact of the COVID-19 pandemic, and the challenge climate change poses on the global economy — interlocking issues that must be transformed if we are to on day achieve our vision of a 'Just World for All.'"
---
Related News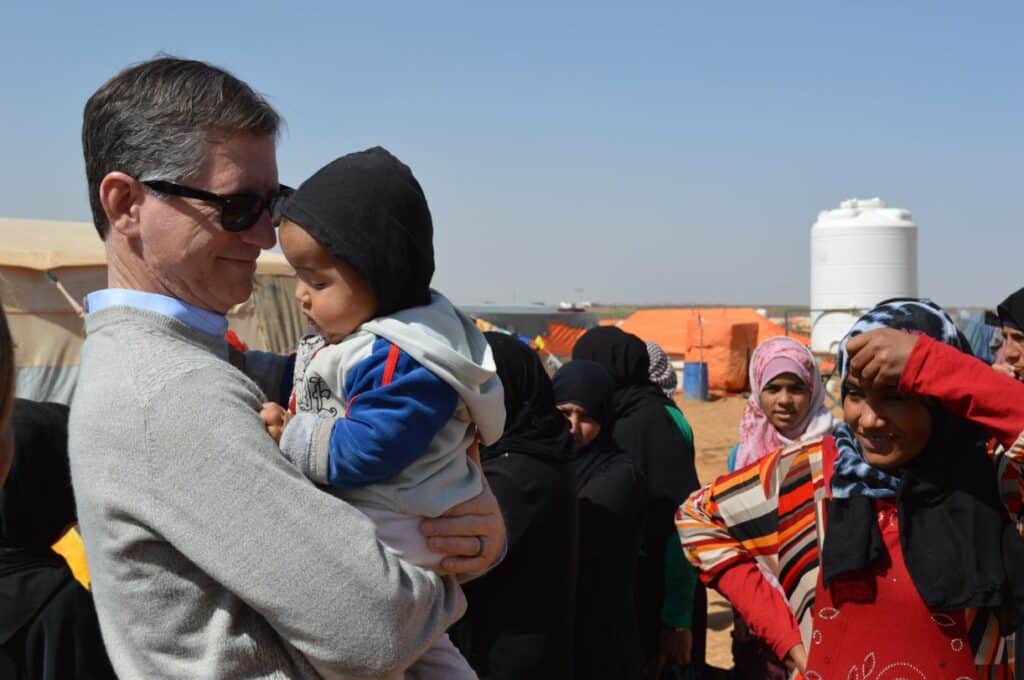 General Minister and President-elect John Dorhauer celebrates his new call with his wife Mimi...
Read More