UCC pledges to match donations to UNICEF End the Pandemic campaign during World Immunization Week
If you live in the United States and you want a COVID-19 vaccine, you can get one. Three quarters of the country — more than 257 million Americans — have received at least one dose of the vaccine. Some 219 million people here are completely vaccinated and almost 100 million are boosted.
That's not the case in a lot of other places around the world.
In low-income countries, like those in Africa, vaccinations lag behind. Africa has the slowest vaccination rate of any continent, with just 20.3 percent of the population receiving at least one dose.
"The COVID-19 pandemic continues to highlight the magnitude of disparities in the global community," said the Rev. Karen Georgia Thompson, an associate general minister of the United Church of Christ. "Among the many challenges is the disparity in vaccine access. While richer countries have been able to access vaccines and are able to effectively reduce the threat and spread of the virus, poorer countries and vulnerable populations are still behind in accessing vaccines. For these reasons, the UCC joined the UNICEF Interfaith Movement to End the Pandemic."
UNICEF – the United Nations Children's Fund — is working to lead equitable distribution of the COVID-19 vaccine, with the goal of distributing 4 billion doses in 2022. UNICEF was tapped by COVAX, the worldwide vaccine initiative, to focus on 144 primarily low- and middle-income countries. As of March 30, 2022, 1.4 billion COVID-19 vaccine doses had been delivered around the globe.
The UCC is partnering with UNICEF USA in the interfaith movement to End the Pandemic. During World Immunization Week, April 25-30, the UCC will match donations given to this campaign up to $50,000. All money raised in the UNICEF campaign will go towards getting the vaccine into the arms of people around the world. It will also support UNICEF's efforts in the development of rapid diagnostics and treatments and helping countries strengthen their health systems.
"It is important for the UCC to be an advocate in assuring vaccine access and availability for all," said Thompson, who heads Wider Church Ministries and Operations. "This is a justice issue among us. Partnering with UNICEF, we join this global campaign to raise awareness and get vaccines into countries and communities to save lives. The campaign is consistent with our commitment to seek a just world for all."
She encouraged people to donate here.
---
Content on ucc.org is copyrighted by the National Setting of the United Church of Christ and may be only shared according to the guidelines outlined here.
---
Related News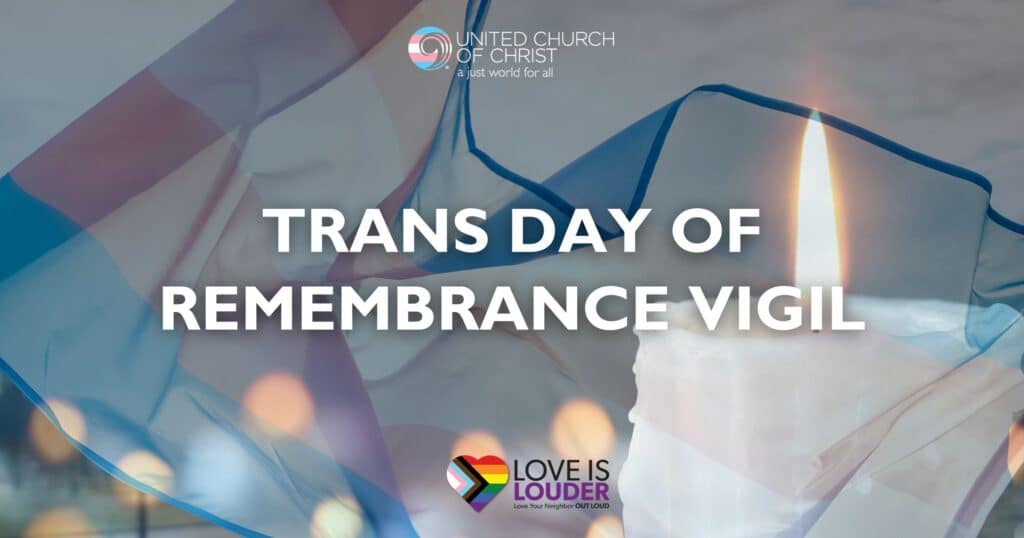 To mark Transgender Day of Remembrance (TDOR), the United Church of Christ hosted a vigil...
Read More