UCC National Setting named a regional 'Top Workplace'
It's not a best kept secret anymore. The national ministries of the United Church of Christ are a very good place to work. In fact, the Church House was just named as a Top Workplace in Northern Ohio by the region's daily newspaper, The Plain Dealer.
"The evaluation for the Top Workplaces program is based solely on feedback from an employee survey that UCC employees completed in February of this year," said Alisa Lewis, director of human resources. "The survey was conducted by Energage, a third party company that studies organizations and measures the drivers of engaged cultures as part of an Employer Recognition Program. Employees nominate their employer. Energage then follows up with a request for direct feedback from the entire workforce."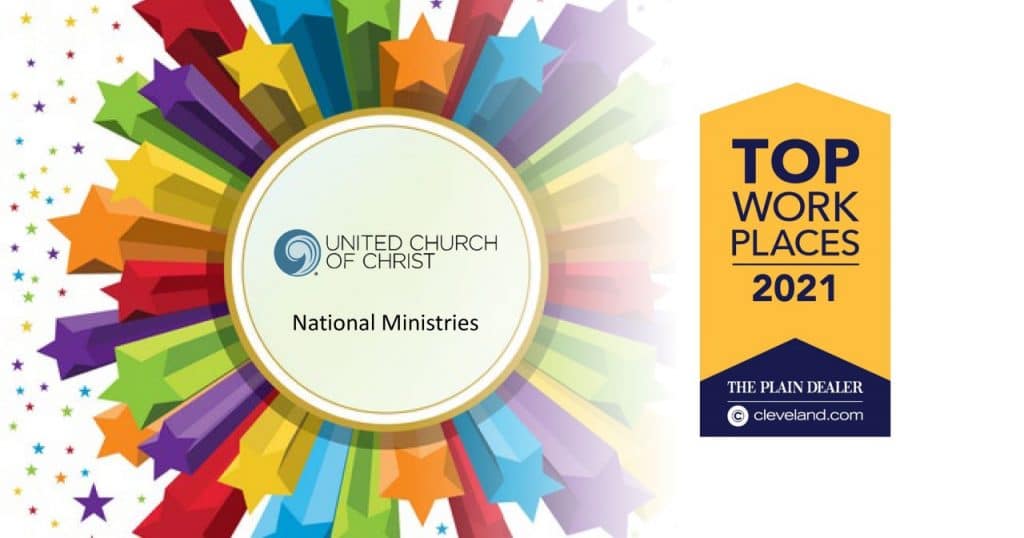 UCC staffers were asked a number of questions about the workplace culture. Their answers were compared against survey data from other like organizations nationwide. After the results were compared, employers were ranked. Those that scored high enough were named as a Top Workplace.
"To meet the Top Workplaces standard, employees must believe in where the organization is headed, how it will get there, and the feeling that everyone is in this together," Lewis said.
Staff members were asked about basics, including pay, benefits, job flexibility and workplace expectations. Employees were very happy with the benefits offered by the UCC. Fair pay and workplace flexibility also scored well.
Align, perform, connect, coach
The survey also covered a company's direction and values, confidence in leadership, coaching and connection. In just about all areas, the staff noted the UCC national ministries are going in the right direction, with strong values that participants align with. Staff members said they feel appreciated for their work. The survey also indicated that supervisors and team leaders listen to concerns and create an environment in which employees can do their jobs well.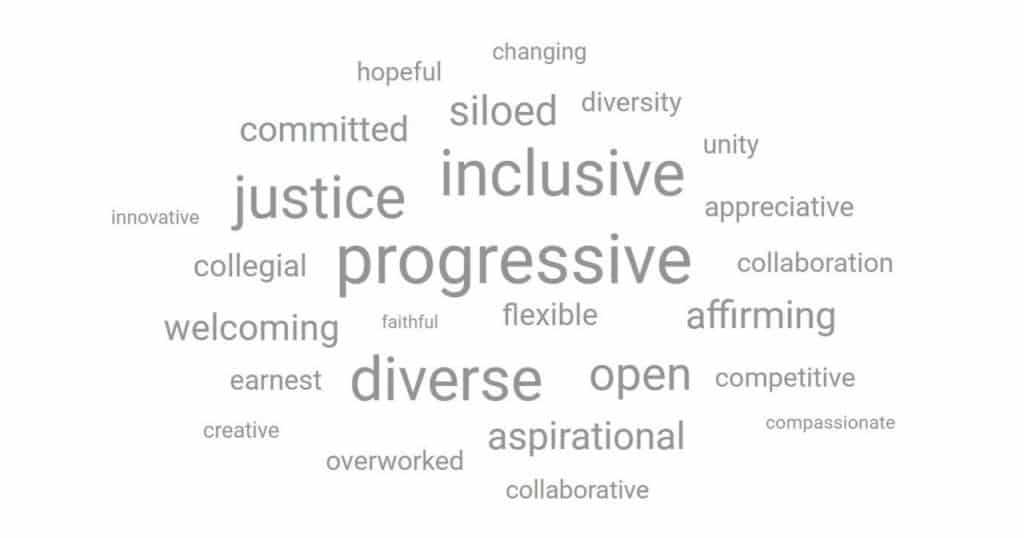 "I have the pleasure of working in the National Setting with some of the most talented and creative people around," said the Rev. John Dorhauer, general minister and president. "I watch the way they operate. I see how they respect each other. I witness every day the hard work and effort they contribute. I note their love and devotion to making sure everything we do benefits our churches and our authorized ministers.
"To be able to work alongside this entire staff is an honor and a joy. This recognition as a Top Workplace by an objective, third-party organization is an affirmation of their excellence. I am so proud of our staff — and of an HR department that focuses on their care, their education, their compensation and their value to our mission."
Lessons from past surveys
Dorhauer said he and the two associate general ministers — the Rev. Traci Blackmon and the Rev. Karen Georgia Thompson — took to heart the results of the same survey in 2019. The UCC did not earn recognition that year. The officers, he said, were intentional about addressing the issues "where the staff felt we could do better."
"The United Church of Christ is a workplace that values the commitment of its staff and as a result has made the reciprocal commitment to ensure the safety of the staff and an environment which will encourage the staff to flourish," said Thompson. "This means, as an employer, we want to make sure each employee lives into being the best they desire for themselves personally and professionally."
UCC employees were enthused to learn about the award when it was announced at an all-staff meeting June 18. Blackmon told the staff that they were to be congratulated.
"Sometimes we are so encumbered by details that we miss the big picture," she said. "The saying is: we can't see the forest for the trees. But the reverse is also often true. Sometimes we don't see the trees for the forest. Sometimes we focus on the big picture and miss those who make the big picture possible. Our staff is the trees. Each of you contributes to what makes this a great place to work. And I'm grateful to work with all of you."
'Ability to work together'
"I started working for the UCC national office in a temporary position in 1987," said Marie Tyson, director of sales and distribution. "That temporary position turned into over 33 years with UCC Resources. During my years here I've worked with some of the best people in leadership – intelligent, creative and respectful people who have such a great passion for the UCC. Working with hundreds of coworkers and local church folk has made this a fabulous journey."
"Even in a short time on staff, I have experienced how welcoming the staff members are," said the Rev. Mark Pettis. He started as the UCC ecumenical and interfaith relations manager in February. "Given the circumstances of the pandemic, and working from home, it is has been quite meaningful to me that so many have reached out to connect. The work we do is so dependent on our ability to work together, and that priority is evident. Based on those experiences, I am not surprised that the National Setting of the UCC has been honored as a top workplace."
On Sunday, June 27, the national ministries were featured in print editions of The Plain Dealer and on its related website, Cleveland.com. Both are based in Cleveland.
Here are some numbers from the UCC survey:
Ninety one of 117 employees responded to the February survey.
They made a total of 297 comments.
175 companies were selected as a Top Workplace from a total of 250 surveyed
Nationwide, 21 other organizations with 50 to 200 employees were compared to the UCC in the Non-Profit Religion category
"This recognition means that the National Ministries is an employer of choice where you have voice, where your voice matters, and where you are heard and valued," Lewis told the staff. "We are so pleased that you are pleased, and we will continue to build on our people-centered culture."
Care amid pandemics
The Rev. Sarah Lund, UCC minister for disabilities and mental health justice, said the national setting leadership set the tone for excellence.
"During the last two years, we on the national staff navigated together how to fulfill our mission during multiple pandemics of COVID-19, racism and political unrest," Lund said. "To receive this award, especially now, says a lot about our care ethic. At a time when physical, emotional, mental and spiritual health were at heightened risk from these pandemics, leaders in the national setting created an environment that intentionally and proactively cared for our whole selves and well-being.
"We prayed for one another's families, pets, churches, and for the world. I am grateful for the deep care and Christlike love we have for one another. The national setting of the UCC is one of the best places I've ever worked."
---
Related News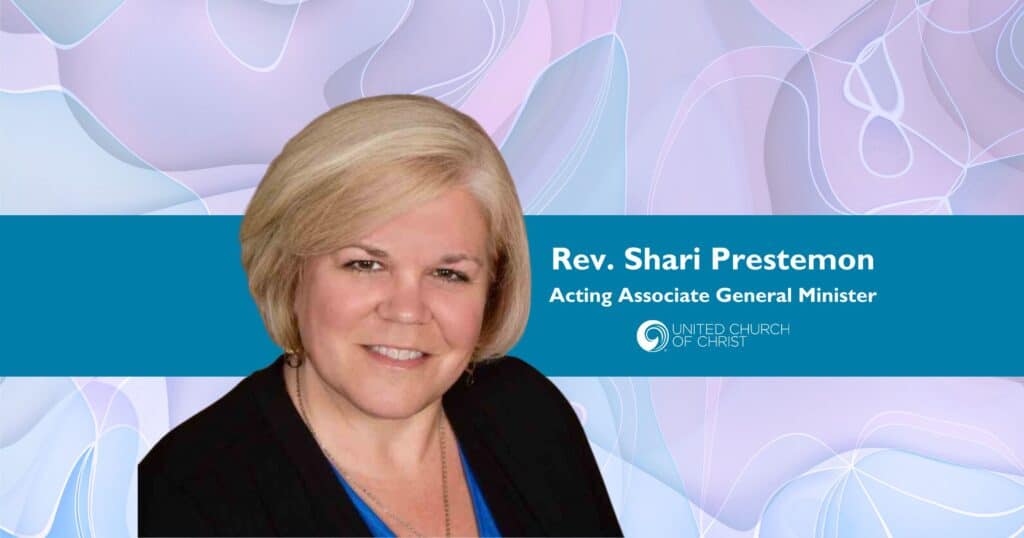 A new United Church of Christ national leader has been called. The UCC Board voted in a...
Read More