UCC GMP offers prayer, call to end gun violence after mass shootings in Maine
A series of mass shootings Wednesday night, Oct. 25 in Lewiston, Maine, claimed the lives of multiple victims. How many are dead or injured is still uncertain as of the morning of Thursday, Oct. 26. The Rev. Karen Georgia Thompson, the General Minister and President of the United Church of Christ, is offering a statement on this tragedy and a prayer for all those affected by it, as has Maine Conference Minister the Rev. Marisa Laviola. To join the UCC's call to end gun violence, please visit here.
Answer me when I call, O God of my right!
You gave me room when I was in distress.
Be gracious to me, and hear my prayer.

Psalm 4:1
Yesterday evening, residents of Lewiston, Maine, became the most recent victims and witnesses of mass gun violence in the country. The United Church of Christ mourns with those in Maine who were affected — the families of the victims and the community as a whole — and we offer our sincere condolences. We offer our support for the Maine Conference of the UCC and its members, too.
We believe the life of each person is invaluable in the eyes of our loving God. We pray that the families and community are consoled even as they mourn; that our distress and fears of insecurity be relieved; and that the elected leaders in our nation be guided to act and identify gun safety as an urgent priority.
We acknowledge a weariness in our cry for gun violence to be addressed to preserve the dignity of life in the United States where more than 500 mass shootings were recorded so far in 2023. Attending to better mental health systems and stricter limitations on access to weapons can and should go hand-in-hand. We continue to advocate for both issues to see change to these patterns of violence among us.
As our attention is drawn to Lewiston, we offer our embrace of love for the victims, families, and community. We fervently pray this tragic event will be a catalyst for change.
God of love and God of compassion, your people are in distress. We rely on your presence and care to sustain those who are in pain and in a state of fear. We pray for your care for the people of Lewiston, Maine, as they mourn the loss of loved ones. We pray for peace and comfort for the community. And, we pray for all whose lives are disrupted by inadequate mental health care and the scourge of gun violence. You are the God, the creator, the giver of life. Your Christ came so that we may enjoy abundant life. Your Holy Spirit breathes life into our very beings. You surely weep when life is abruptly interrupted or ended. We come to you with this petition: that you sustain us, that you are gracious unto us in such times of distress, and that you guide us as we seek to live in a way that reflects your will for a life of justice for all people and creation. Answer us in this call and hear our prayers O God. Amen.
The Rev. Karen Georgia A. Thompson
General Minister and President
---
Content on ucc.org is copyrighted by the National Setting of the United Church of Christ and may be only shared according to the guidelines outlined here.
---
Related News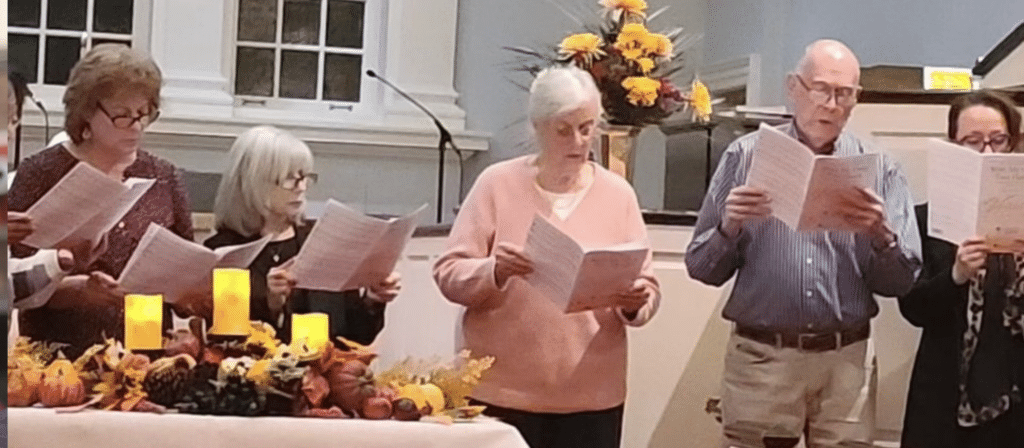 Many United Church of Christ congregations across the country participated in interfaith...
Read More