UCC calls for support of workers and their families beyond Labor Day
For many families, Labor Day is a time to mark the transition from summer to fall. Celebrations often include smoke-filled cookouts, backyard games and family gatherings. But the holiday first recognized the fight by organized labor for fair working conditions.
To honor this tradition, the United Church of Christ is focusing on workers and their rights. And this fall, UCC leaders are asking congregations to participate in this cultural shift, too.
"Unfortunately, our economic system and cultural values often do not align with the dignity and worth that God gives all of creation," said Rev. Sekinah Hamlin, UCC minister for economic justice. "For workers, it looks like not having a livable wage, inadequate health insurance, poor work conditions, wage theft, insurmountable debt from education to help in earning a higher wage, lack of paid family and medical leave, and barriers to collective bargaining and union participation, among other things.
"The UCC Economic Justice Ministry this September and October is supplying many opportunities for our churches to be educated and join in advocacy to re-create a world that values all workers and their families."
Hamlin highlighted several ways that local congregations can promote workers' rights.
Justice for farm workers
On Oct. 3, the UCC will host a webinar about ongoing labor issues involving the agricultural industry. The online event will address farmworker justice with the Florida-based Coalition of Immokalee Workers. Members will share updates on the Fair Food Program and the Wendy's Boycott, which is an effort to persuade the company, headquartered in Ohio, to join.
In addition to workers from the coalition, panelists include the Rev. Bernice Powell Jackson, pastor of First United Church of Tampa, Fla.; UCC Florida Conference Minister the Rev. John Vertigan; and Florida Council of Churches Executive Director the Rev. Russell Meyer. Hamlin will present the panelists along with Vertigan's and Meyer's Ohio counterparts: UCC Heartland Conference Minister the Rev. Dave Long-Higgins and Ohio Council of Churches Executive Director the Rev. Jack Sullivan Jr.
"We're committed to justice for all God's people," Long-Higgins said. "And this is an opportunity to support them."
People can register for the webinar here.
Solidarity with striking coal miners
Hamlin has been working with the Interreligious Network for Worker Solidarity and the Alabama Poor People's Campaign to raise awareness around Warrior Met strike. The coal miners in Alabama have been on strike for more than a year. She's asking churches and congregations to stand with them through this statement of support. Hamlin said the Warrior Met strike is the longest in state history and that labor unions and faith leaders will continue to push for more visibility and solidarity for the coal miners as the strike continues.
Labor in the Pulpit
The UCC also is partnering with the AFL-CIO, United Mine Workers of America and other unions to offer education on workers' rights and justice issues. Through the Labor in the Pulpit program, local union members are invited to participating churches to speak to congregations.
Church members hear testimony directly from workers about their experiences, struggles and hopes. Most importantly, they can learn how to support these laborers in their own communities.
To schedule a visit from a labor union member, church leaders can use this form.
Other opportunities
In addition, churches and their members can support workers' rights in a few other ways:
Prayers Are Protest: Following in a longstanding civil rights tradition, the UCC is asking for prayers for workers and their families. To share a prayer, fill out this form. The UCC will use collected prayers in advocacy efforts for the conditions and concerns of workers.
Harvest for Justice: Through the UCC's partnership with the National Farm Worker Ministry, Labor Day begins the Harvest for Justice educational season. The program offers resources for churches to learn and share information. This year's focus is on child labor in the agriculture industry.
As the seasons change, Hamlin hopes local congregations keep in mind the struggles and issues facing workers and their families.
"As a member of the sandwich generation that supplies care for young children and parents, I understand the importance of not only celebrating workers but advocating so that all workers can have paid leave to care for their loved ones and rest, just as God did on the seventh day," Hamlin said.
---
Content on ucc.org is copyrighted by the National Setting of the United Church of Christ and may be only shared according to the guidelines outlined here.
---
Related News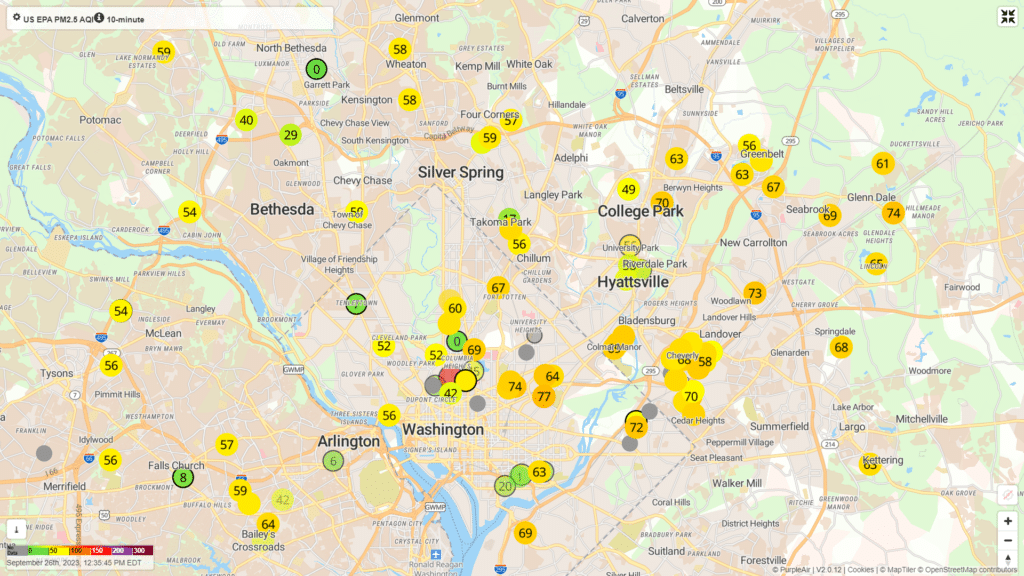 This summer, the United States experienced some of the worst days for wildfire pollution in...
Read More