UCC bells, candles, hymns, prayers mark inauguration eve
Church bells, candlelight, hymns and prayers marked the eve of the presidential transfer of power in Washington, D.C., and held the hope of a new day for the United States of America.
The national setting of the United Church of Christ welcomed more than a thousand people to a virtual worship service of hope and renewal Tuesday afternoon. Broadcast on Zoom and on YouTube, the Jan. 19 gathering began with a welcome from the Rev. Traci Blackmon, associate general minister. She started the service "built and framed on hope" with a quote from the Rev. Martin Luther King, Jr., whom she called "the greatest prophet God sent for the 20th century."
"Hatred paralyzes hope," she quoted King as saying. "Love releases it. Hatred confuses life. Love harmonizes it. Hatred darkens life. Love illuminates it."
'Feminine energy'
As he offered the opening prayer, the Rev. John Dorhauer, UCC general minister and president, expressed joy at the diversity of the group gathered in the virtual space from around the country. He appealed to the Holy Spirit for an end to the divisions of racism, political boundaries and lies. He called for a return to civility and decency, "hopeful that new horizons of hope beckon us into times of healing for a broken nation."
The Rev. Chris Davies, UCC team leader for Faith Education, Innovation and Formation, spoke about how all people are interconnected, now and over generations. "Hear the word of the prophets," she said, "God uses all of us. Hear the words of the prophets. Not this or that. Not you or me. Not I but we. We were given the tools by our ancestors to carry faith from this generation to the next. Help us move from guilt and shame into action. … Let those with love believe."
Saying she is "not one of those 'because the Bible said so' kind of girls," the Rev. Jacqui Lewis, senior pastor of New York City's Middle Collegiate Church, spoke about growing up suspicious of what people attributed to the Bible. "I'm a show me where it is kind of girl." In her reflection, Lewis talked about seeing, in her life, how suffering produces hope. She shared a story of her mother's death from lung cancer and how her father, following her mother's dying wish, mothered her sister Wanda and "rewired her entire very existence." She related her mother's beautiful feminine spirit to the movement of women — calling out Kamala Harris and Stacey Abrams — sharing the spirit of God in the world today.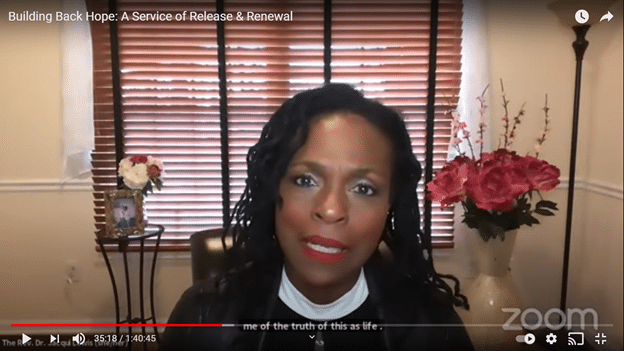 "That feminine energy is reshaping us," she said, "helping us become the people we are supposed to be. I am convinced that women are rebuilding hope. Men, your feminine energy is rebuilding hope. That feminine energy, making us new. There's hope there."
'Moral midnight'
The Rev. Otis Moss III, senior pastor of Trinity UCC, Chicago, who attributed his delighted participation in the service to the two women he called his big sisters "Bishop Traci and Apostle Jacqui," spoke about Luke, Chapter 11, as translated by Rev. Martin Luther King: "On this day I simply say it is midnight in America. … The light of our mythic dawn has been replaced by the darkened skies of America's refusal to face her history and to pull back the veil of social disfunction lurking under our democracy. It is midnight."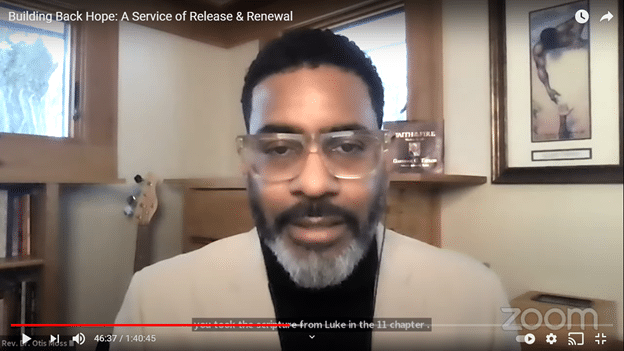 Moss preached about the ills that divide the nation — racial resentment, health care misery, mass incarceration, environmental denial, political corruption, white privilege and "toxic masculinity" as a "moral midnight."
"We have greater protections for inanimate objects than for children and youth seeking educational opportunity," he said. "It must be midnight.
"When Dr. King first used this text … he said it speaks so much to our current situation as a nation that here is a person at the darkest hour of midnight, knocking upon the door of someone who has privilege, but they are unwilling to let them in.
"We have lost our ability to root ourself in our spirituality, in our refusal to see the stamp of the divine in every person who operates in this republic," Moss said.
Call to repentance
He pointed to the story of Robert Smalls, an enslaved African in the antebellum South who took over a Confederate ship and turned it over to the Union army, ensuring his family's freedom and "bringing light in the middle of darkness."
He chastised churches who have "gone radio silent," saying, "it is midnight anytime you have the faith community that refuses to see its call to liberate God's people."
In the call for repentance, he said, "we need to recognize that there are people who are knocking at the door of the church — not looking for doctrine, but simply looking for people who are deeply loving and can express the love of God, not only in their communication, but in the embodiment of their existence."
Moss said though it is midnight, people of faith can still bring a new day, "if they can hold on to love in one hand and to justice in the other hand, to see new possibilities rise in this nation. Will it be a new morning, or will we hang or head and mourn? It's our choice."
'Things we have to let go'
Author and activist Valarie Kaur said America is a nation in transition. She spoke about, as a woman of color, seeing people she loved victimized by white supremacy. Our country, she said, is at a crossroads, reckoning with darkness. "Will we birth a nation that has never been in the history of the world — a nation made up of other nations, that is truly multi-racial, multi-cultural, multi-faith … a nation where we all belong … or will we descend into a type of civil war … a power struggle with those who want to return America to a past where only a certain class of white people hold dominion, no matter who is in the White House? That is the question before us."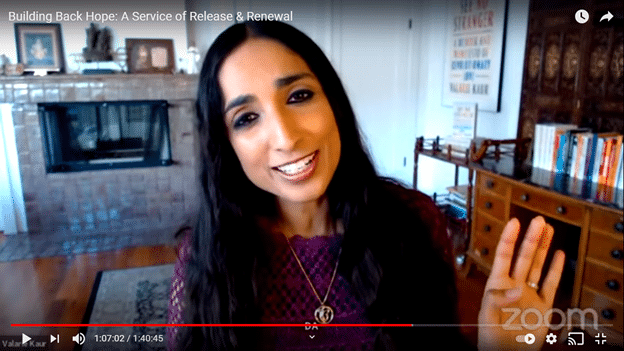 As the service drew to a close, the Rev. Karen Georgia Thompson, associate general minister, drew the gathering together in prayer. "Something new is on the horizon and we are part of that something new. It requires for us to think about things we have to let go to what into what comes after midnight."
Later Tuesday evening, Old South Church in Boston was one of countless faith communities taking part in the first national COVID-19 memorial. As part of the inauguration ceremonies, the 400,000 Americans lost to the pandemic were remembered by President-elect Joe Biden and Vice-President elect Kamala Harris and people across the country. At 5:30 p.m. ET, 400 columns of light illuminated the Lincoln Memorial Reflecting Pool to symbolize that loss. Buildings in cities and towns nationwide joined in local time, as church bells rang out in that national moment of unity and remembrance.
Candles against darkness
"This event marks the first time since the beginning of the pandemic that our nation, as one, will name and mourn the terrible toll this disease has wrought: untold grief, isolated suffering, too much death and dying," said the Rev. Nancy Taylor, senior minister. "Across three-and-a-half centuries, Old South Church in Boston has tolled its bell on occasions of national mourning and pealed the bell at times of great celebration. We continue this tradition of using our 'outdoor voice' this evening, to give voice to our mourning."
MIT mathematician David Vogan rang Old South's 2,000-pound bell, which hangs from a wooden wheel in the church's 246-foot-tall Italianate bell tower. On Facebook, UCC'ers posted pictures of candles in their windows, on their porches — lights shining against the darkness, in love and in hope.
---
Related News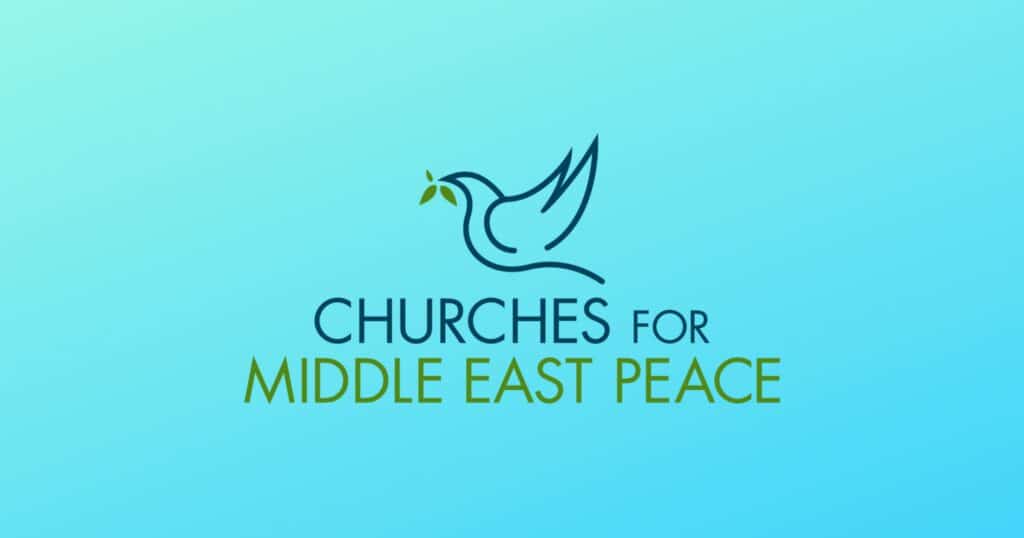 The following statement was issued Dec. 2 by Churches for Middle East Peace (CMEP), of which...
Read More