Two United Church of Christ national officers elected Monday morning in Milwaukee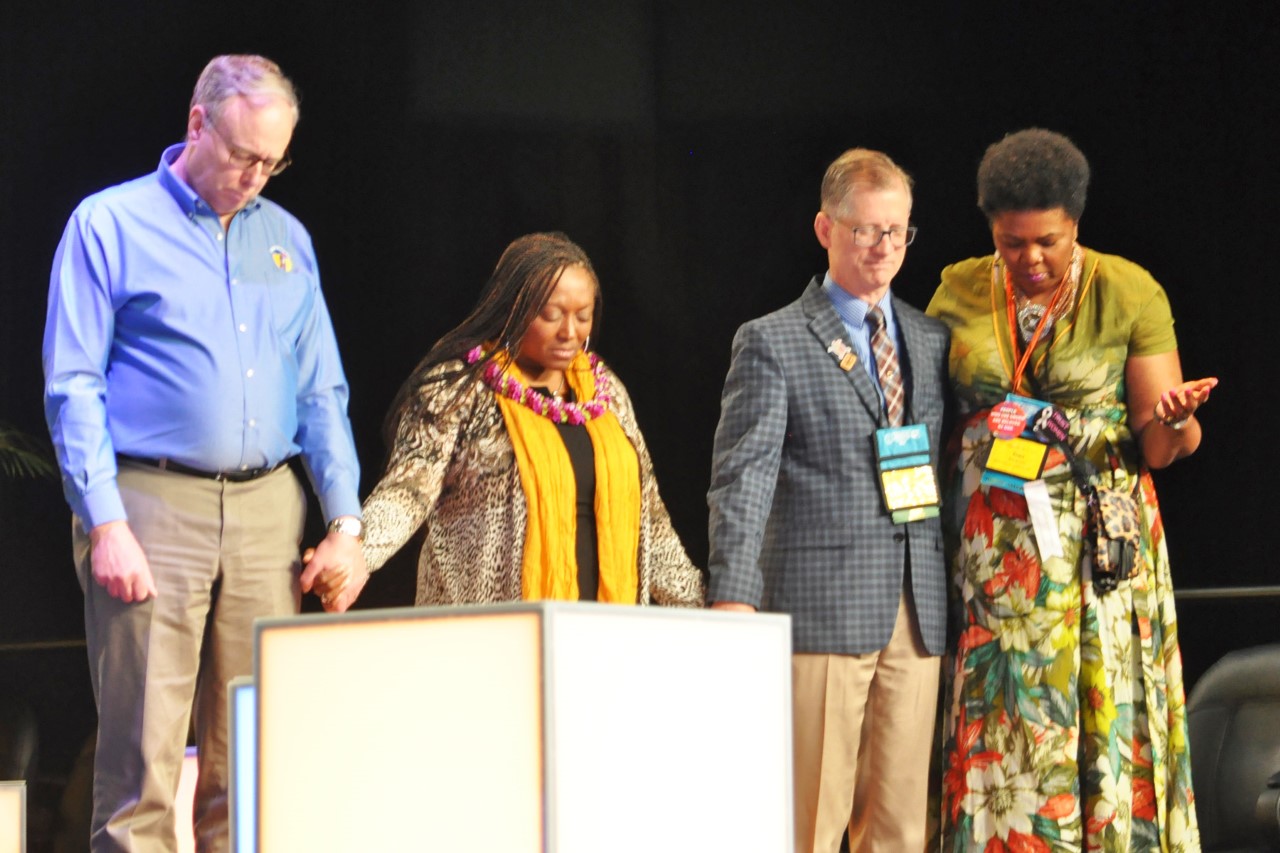 The United Church of Christ reelected its General Minister and President and elected a new Associate General Minister on Monday, June 24, at its General Synod in Milwaukee.
The nomination of the Rev. Karen Georgia Thompson to be Associate General Minister of Global Engagement received overwhelming support from the delegates, going forward without discussion. She will serve in that position for a four-year term, which begins August 1.
The Rev. John C. Dorhauer, General Minister and President, received significant support on the floor. He also faced statements in opposition to his election. The lengthy debate centered on the issue of returning a white cisgender male to leadership of the denomination. "Three women have spoken powerfully from that pulpit," said Andrew Reuther of the South Central Conference. "An ally to women would step aside so that they may lead," said Sophia Heilman of the Montana-Northern Wyoming Conference. "An ally to people of color would step aside so that they may lead."
Chris Watson of the New York Conference disagreed. While she believed that it was time for a woman, or a person of color, or an LGBTQ person to lead, she felt other guidance as well. "John Dorhauer has the Holy Spirit," she declared.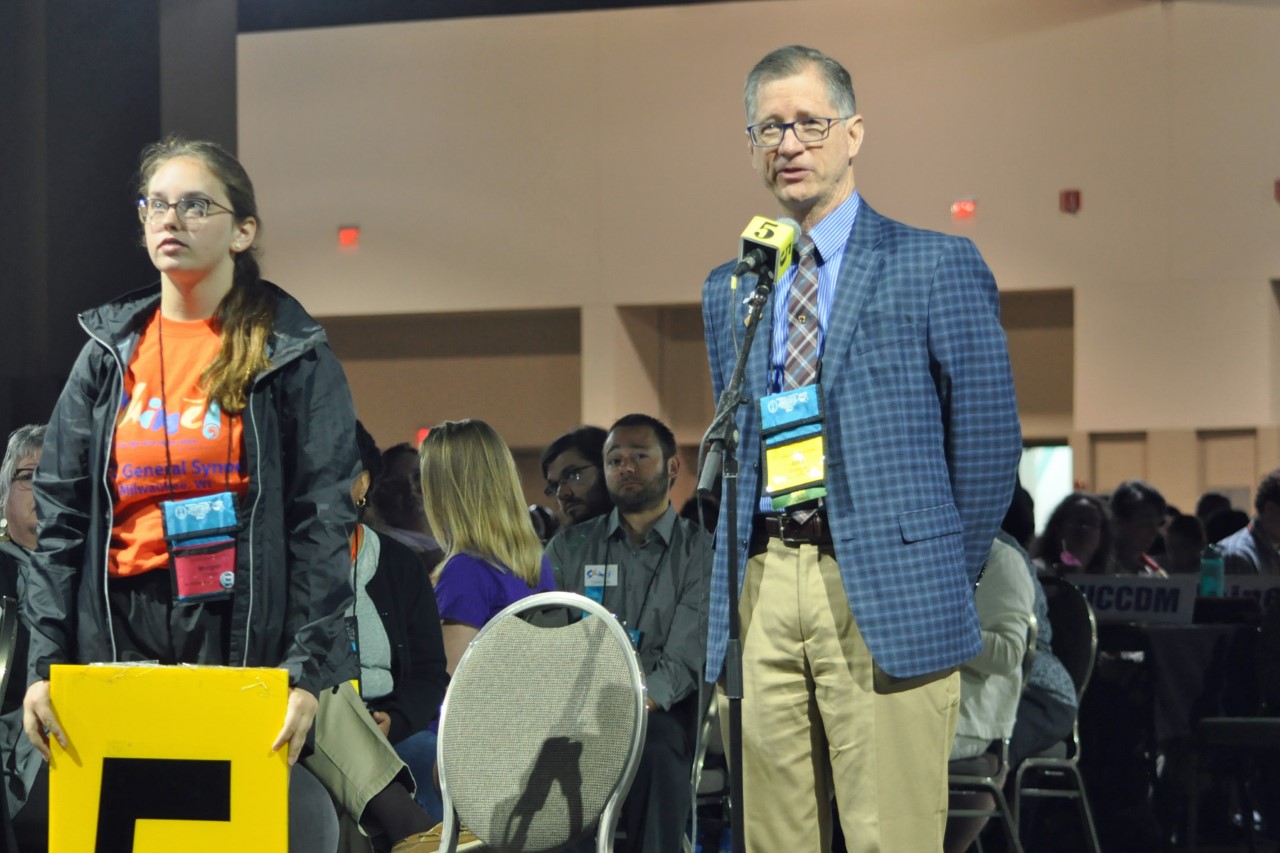 Nearly all of those who spoke in opposition simultaneously declared their own affection for Rev. Dorhauer and his leadership, yet believed it vitally important to put their concerns on the record. Most also said they believed he would be elected, as he was with a thirty-vote margin above the required 60% majority.
The vote itself was carefully reviewed by the recorders and general counsel at the request of the Synod moderator because of concerns over the performance of the wireless electronic voting devices. Delegates reported that they were not receiving the expected feedback indicating their votes had been counted, and indeed the total vote count did not equal the number of devices issued. Moderator Norman Williams reported, however, that even if all the "missing" votes had been opposed, the 60% threshold would still have been reached. The final numbers were 447 in favor, 210 opposed, with 38 abstentions.
Before the vote was taken, Dorhauer, prompted by a request from delegate Joanna D'Agostino, senior pastor of Lakewood Congregational Church, UCC, Lakewood, Ohio, took the microphone to pledge that he would not be seeking a third term.
"I am grateful for the opportunity to serve another four years and to lead this denomination," Dorhauer later said in a brief interview following the vote. "I am fully committed to the mission and will seek to do all I can to inspire and empower the members of this denomination in partnership with the Holy Spirit to fulfill that mission.
"I deeply appreciate the voices that shared their concerns about my leadership and the extension of the term to another white cisgender male."
The Rev. Eric S. Anderson is pastor of Church of the Holy Cross UCC in Hilo, Hawai'i.
(This story was updated with the vote count after publication)
---
Related News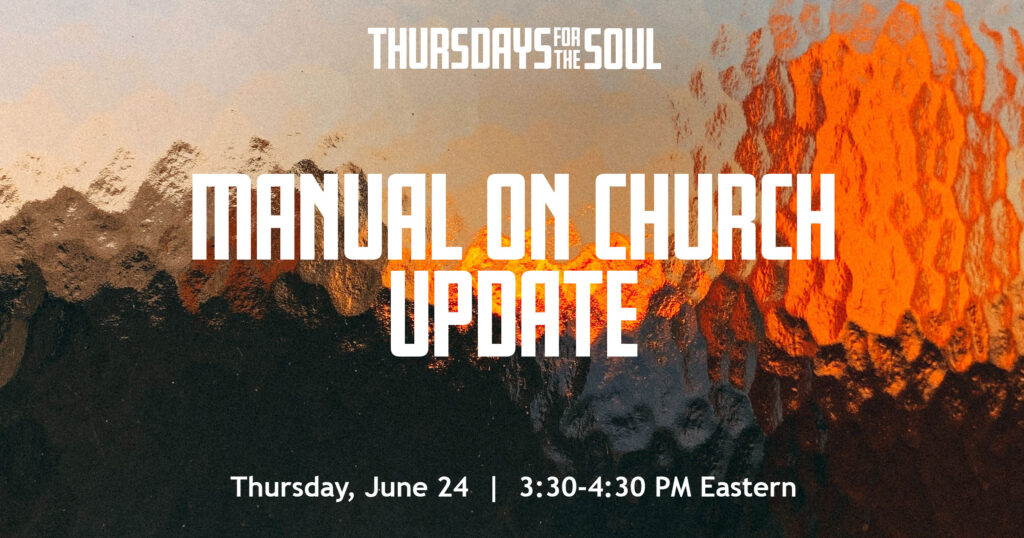 It will be a guide for local churches. And it will be a little different from anything ever...
Read More