Two attorneys who successfully argued SCOTUS marriage equality case are UCC
Marriage-equality supporters throughout the United States continue to revel in the U.S. Supreme Court's June decision that legalized gay marriage in all 50 states. But before the victory came the oral arguments, delivered by teams of lawyers and legal experts representing not just the case plaintiffs, but members of the LGBTQ community everywhere. On the 10th anniversary of the United Church of Christ becoming the first mainline denomination to affirm marriage rights for all, it's serendipitous that two of the lawyers involved with the Supreme Court hearing, Douglas Hallward-Driemeier and Mary Bonauto, belong to the UCC, the church where God is still speaking.
"I was thrilled, but not all that surprised, when I learned that two of the lawyers arguing the marriage equality cases are members of UCC churches," said the Rev. Mike Schuenemeyer, UCC executive for health and wholeness advocacy. "Time and again when I research an LGBT concern, I find UCC people in the middle of it, providing key leadership for justice and equality."
There were four cases from each of the four states in the Sixth Circuit Court of Appeals (Ohio, Michigan, Kentucky and Tennessee), which were consolidated before the Supreme Court as Obergefell v. Hodges. Hallward-Driemeier, a member of Westmoreland Congregational UCC in Bethesda, Md., was involved with the case out of Tennessee, Tanco v. Haslam, representing couples who were married in their home states before moving to Tennessee. On behalf of plaintiffs in all four states who had been married outside their home states, he also argued that a state could not deny recognition of the marriage of a same-sex couple who had been lawfully married in another state. Hallward-Driemeier was asked to be a part of the case by a former colleague and law school friend, who was a core member of the Tanco legal team and also a representative from the National Center for Lesbian Rights.
"It was a total thrill, but at the same time a huge responsibility," Hallward-Driemeier said of his involvement. "As I went into court that day, I felt the weight of the hopes of hundreds of thousands of couples and millions of individuals and all their family and friends. But, when in the courtroom, it also occurred to me that there were all of those people standing with me, and sending their prayers up for me. And that was a huge reassurance and relief." 
Since the Supreme Court decision was announced, Hallward-Driemeier has received countless letters of congratulations – one unknown person even sent him a Superman T-shirt, which he says, "was so kind, even if undeserved." He says this experience and the chance to help the United States become a more just society has been the highlight of his career, and is what drew him to want to practice law in the first place. 
"Being in the court to hear the decision announced was a very emotional experience," Hallward-Driemeier said. "All around us, people were softly crying at the significance of this decision and what it means for the dignity of LGBT individuals and the validation that their lives and their loves matter.
"I am thrilled for all the couples who have been able to marry, or whose marriages are now respected as equal under the law," he added. "But I am even more thrilled for the youth, current and future, who will not need to suffer the kinds of discrimination that previous generations have."
Bonauto, a member of Woodfords Congregational Church UCC in Portland, Maine, was one of three attorneys arguing on behalf of the plaintiffs from Michigan and Kentucky about whether the Constitution requires states to allow same-sex couples to marry. Bonauto was part of the legal team in the 2013 Michigan case, DeBoer v. Snyder, on the issue of child outcomes when children are raised by same-sex parents. Her team won that case, but the Sixth Circuit Court of Appeals reversed the decision, setting up the Supreme Court review.
Since the June ruling, Bonauto has been focused on ensuring full equality for all LGBTQ people in the U.S., such as creating affirming and supportive schools, safety and access to healthcare for transgender people, and dignity in old age, which is why Schuenemeyer says she is "truly recognized as a rock star in the LGBTQ community."
"I was elated and relieved knowing that so many families who have been denied marriage equality and have been scarred by that experience would now be treated equally, stand taller in their communities, and have the social and legal protections marriage provides," Bonauto said. "For me, it represented decades of work. It was thrilling to finally be before the final legal arbiter on the question. It was intense, and that is par for the course." 
"Mary and Douglas did the whole LGBTQ community proud when they argued before the Supreme Court," Schuenemeyer said. "And their connection to the UCC is yet another reminder of why I love this church and the amazingly gifted leaders God has provided."
---
Related News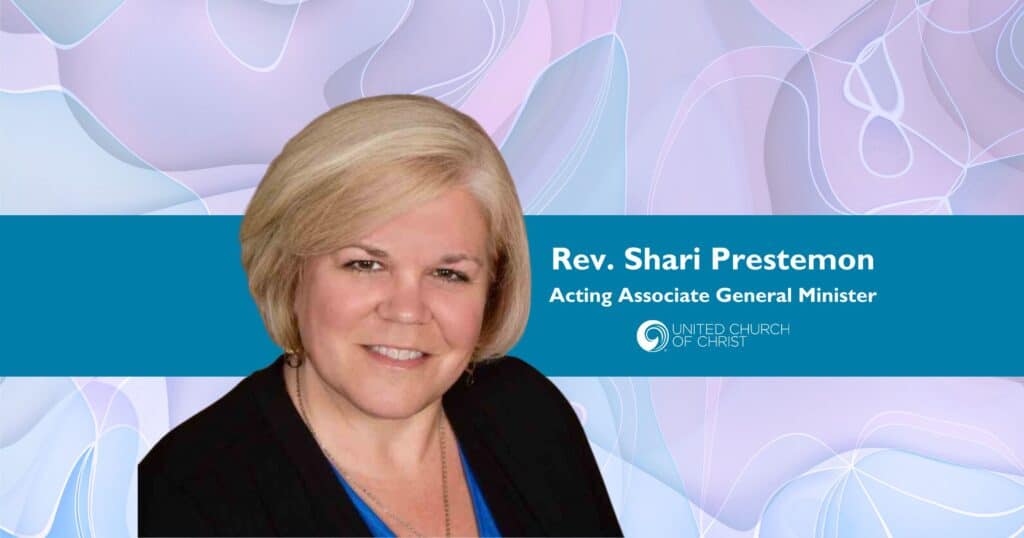 A new United Church of Christ national leader has been called. The UCC Board voted in a...
Read More