Two ministries name recipient of new one-year fellowship
Former Council for Health and Human Service Ministries Scholar Essence Ellis has been named the first-ever recipient of the CHHSM and Justice and Local Church Ministries United Church of Christ Fellowship. The program was created by CHHSM and JLCM to prepare the fellow to become a leader working at the intersections of theology, public health, racial justice, gender justice, and other liberative frameworks.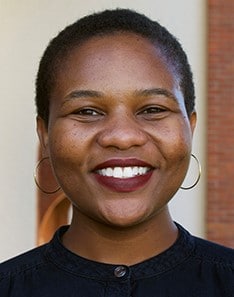 "Because the fellowship involves structured participation in various aspects of both CHHSM and Justice and Local Church Ministries, I'm hoping to develop stronger social-emotional skills to help with future community and ministry work," said Ellis, who recently graduated with an M.Div. degree from UCC-related Yale Divinity School in New Haven, Conn.
The fellowship program includes opportunities for Ellis to engage in meaningful work with and receive mentoring from both ministries. It consists of intentional involvement in the organizational life of CHHSM; advocacy work with Justice and Witness Ministries; community-facing program development focused on reproductive justice, anti-racism, and creating equitable outcomes for minority communities; theological reflection; professional development; and teaching experiences in UCC-related leadership formation settings. The fellow will attend JLCM, CHHSM, and other UCC-related meetings and events.
'Justice and health equity'
"We are excited to launch this Fellowship Program and for the generous support provided by the Rev. Traci Blackmon, associate general minister for JLCM," said Michael J. Readinger, president and CEO of CHHSM. "Without JLCM's support, this important collaboration wouldn't exist. This is the beginning of what we hope is an ever-expanding partnership of collaborative programs in justice and health equity."
The program draws wisdom and connections from across the national setting of the UCC, conferences and associations, local UCC churches, CHHSM member organizations, and JLCM staff and programs in order to support Ellis' development and experience of community within the wider church. The end result is a program whose broad engagement and collaborations with multiple settings of the UCC will prepare Ellis — and future fellows — for a career in such fields as ordained ministry, health and human services, advocacy, faith-based organizations, and academic environments.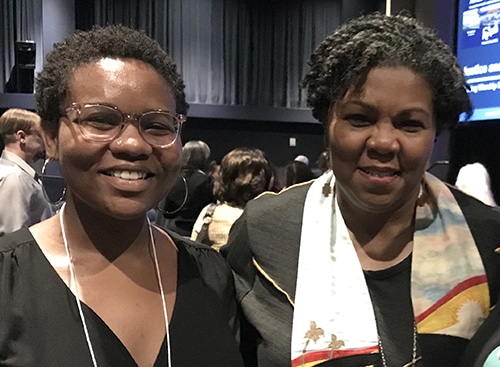 "CHHSM organizations are on the ground, day to day, empowering the most marginalized in our society, from working with at-risk youth to providing accessible and affordable senior housing," said Sandy Sorensen, director of JLCM's advocacy office in Washington, D.C., and a diakonal minister and graduate of CHHSM's Nollau Leadership Institute. "It is the voices and experiences of the most marginalized that are at the heart of justice advocacy. So the possibilities for partnership between CHHSM and the justice advocacy work of the UCC seemed like a natural — and exciting — fit. The fellowship grows out of this connection."
JLCM's Blackmon agreed. "In many ways the ministries of CHHSM are a witness to justice enfleshed among us today," she added.
Legislative focus
One of Ellis' tasks will be an advocacy project that focuses on national legislation work in collaboration with an active reproductive justice partner of JLCM. Other advocacy work will include experience learning about the connection between state legislation and policy on the national level.
"The one-year fellowship created through the partnership between Justice and Local Church Ministries and CHHSM is a powerful example of creative, intersectional collaboration among ministries of the UCC," Sorensen said. "It is a critical opportunity for recognizing and nurturing new innovative leaders in the church. Essence Ellis is one of those new, innovative, powerful leaders."
Part of the fellowship is structured to allow the fellow to work remotely, thus enabling them to deepen connections with a community already important to them. In Ellis' case, that will mean work with CHHSM members in the Chicago area.
Ellis also will create and facilitate workshops for the Nollau Leadership Institute, and participate in program and curriculum development for CHHSM's Racism as a Public Health Crisis Leadership Program.
'Work at the intersections'
"I am really pleased that Essence Ellis is able to continue with CHHSM for another year in the fellowship we have created in partnership with Justice and Local Church Ministries," said the Rev. George Graham, CHHSM's vice president. "There is a great deal of energy at CHHSM for work at the intersection of theology, public health, and racial equity, and Essence is uniquely suited for this work. We are really looking forward to having her on board in this capacity."
Additionally, Ellis will provide a lecture on advocacy in action for such UCC settings as Eden Theological Seminary's Master of Arts in Professional Studies program, and will participate in facilitator training for the UCC/Unitarian Universalist Association's Our Whole Lives program. OWL helps participants make informed and responsible decisions about their relationships, health and behavior in the context of their faith.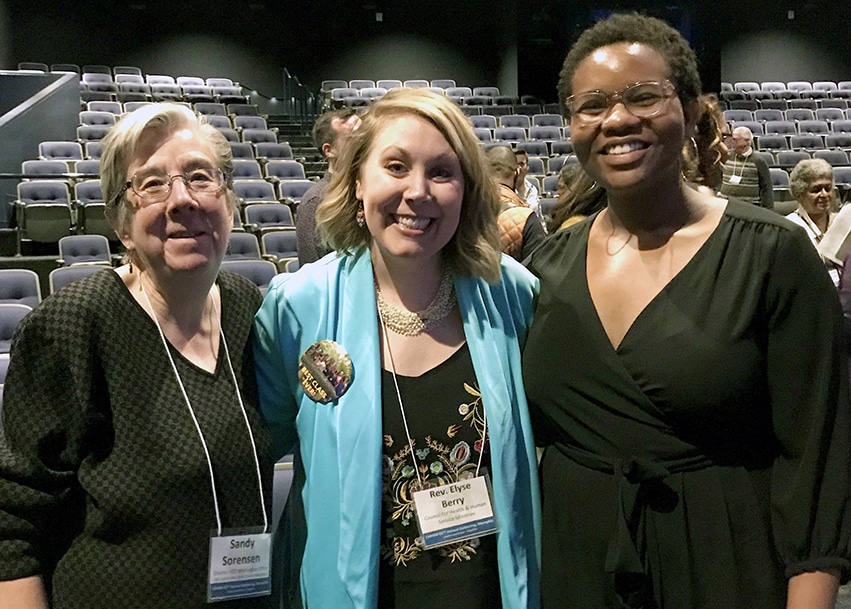 "I am so very excited to work with Essence at the intersection of public policy advocacy and CHHSM ministries. She brings so many gifts and deep passion to this work," said Sorensen. "I personally look forward to digging deeper into the intersectionality of issues working with Essence."
Ellis said that she is looking forward to working closely with JLCM and CHHSM. "So many aspects of all our lives intersect, and it's amazing to be working with an organization … that recognizes that," she said. "I'm looking forward to learning from different leaders in both ministries as I work alongside them. If anything, the nature of the fellowship will prepare me for whatever I decide to do."
Retreats, writing, preaching
In addition to her other duties, Ellis will create and provide education and retreat offerings on reproductive justice and other women's issues from racial, gender and health equity perspectives to UCC national staff, CHHSM member organizations, and other interested UCC groups. She will be able to meet with and be mentored by both JLCM and CHHSM staff and other UCC justice staff members, as well as the UCC's Council for Racial and Ethnic Ministries.
CHHSM and COREM are bringing the "Declaring and Responding to Racism as a Public Health Crisis" resolution to this summer's UCC General Synod. COREM also had input into the "Reason to Have Hope: A Public Health Response To Racism" curriculum created by CHHSM at the request of the General Synod committee responsible for resolutions.
During her fellowship, Ellis will author articles that speak to the intersections of issues, racism as a public health crisis, and theology. Additionally, she will preach at least one sermon in a local congregation on those intersections.
New partnership
Throughout the fellowship year, stories charting the progress of the fellowship will appear in CHHSM's Diakonie e-news, JLCM's JPANet, and be pitched to UCC News. At the conclusion of the year, CHHSM and JLCM will present a report detailing the outcomes of the fellowship to the CHHSM Board of Directors and JLCM leadership.
"The value of this fellowship is immeasurable, and is groundbreaking territory, where we are able to partner with other UCC ministries to address more justice and equity issues than ever before," said Readinger. "We hope this fellowship becomes an ongoing program as we continue to uncover additional areas of innovative justice and advocacy work."
Sorensen concurred, and added, "I believe this partnership will help us identify new, energizing ways to be church in these times."
Barb Powell is the communication consultant for the Council for Health and Human Services Ministries.
---
Related News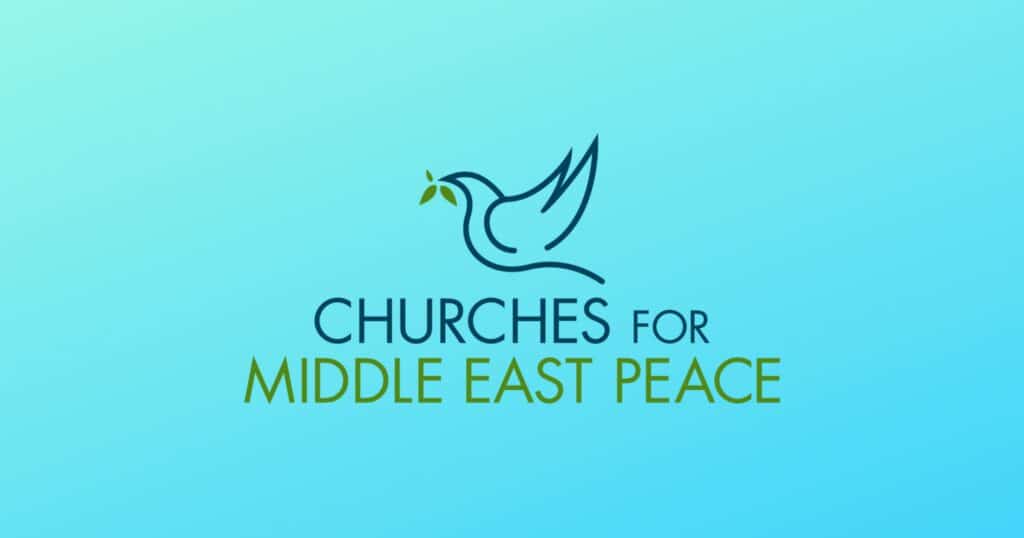 The following statement was issued Dec. 2 by Churches for Middle East Peace (CMEP), of which...
Read More