Syrian refugee resettlement a global and UCC issue
When the Rev. Mary Schaller Blaufuss headed to South America to meet with Global Ministries partners in Argentina and Paraguay about sustainable development and disaster ministries in late August, she didn't expect to be wading into issues about refugee resettlement – but that's exactly what happened.
"We as the UCC are part of networks around the world responding to the global refugee crisis – sometimes connected in ways we don't even know," said Blaufuss, the team leader for UCC Global Sharing of Resources. "It became very apparent to me that we are part of a global world refugee and migration crisis that the world needs to figure out how to act on."
"I expected to learn inspiring stories and meet amazing people doing amazing things in development and land rights justice," Blaufuss continued. "What I did not expect was the close connection that jumped out with another part of my ministry – with refugees – particularly in this time of the resettlement of Syrian refugees."
© Magnus Aronson/WCC
In Paraguay, during a meeting with the Christian Church (Disciples of Christ) Board of Directors and International College in Asuncion, Blaufuss got into a discussion about Syrian refugees and resettlement efforts with Mario Costa, the executive director of Churches Committee for Emergency Aid (CIPAE). After he asked about what was happening with Syrian refugees in the United States, he shared that Syrian refugees are being accepted for resettlement by the Paraguayan government and they (CIPAE) are thoroughly involved in their welcoming and resettlement.
In Argentina, while Global Ministries partners, including the Argentine Commission for Refugees and Migrants (CAREF), told a similar story of their government accepting Syrian refugees, the government is not really making good use of church networks already in place to offer legal assistance, food, and shelter assistance as part of the resettlement process.  Gabriela Liguori, executive coordinator of CAREF said there is advocacy work being done so that once future Syrian refugees are allowed into Argentina, they can get the support needed to help them be welcome.
International Rescue Committee, P Biro 
Though the discussion of refugees wasn't on the agenda in either visit, Blaufuss said it came up "because of the expertise and experience of churches working together in ways that systemically address people's greatest needs, our respective governments look to us for practical ways to welcome Syrian people who have been driven from their homes by violence. This is what we do."
While there is movement on the refugee issue here at home – this week the United States reached its goal of accepting 10,000 refugees for resettlement in 2016, and the United Nations will be delving into the situation with the U.N. Global Summit on Refugees and Migration on Sept. 19, Blaufuss said "the time for U.S. churches to be very involved in welcoming Syrian refugees is upon us."
"We live in the midst of a defining moment of world history in which people are being forcibly displaced from their homes in numbers greater than we have experienced since the forcible movement of people around the world before and after World War II.  Numbers, and even images, can seem abstract," said Blaufuss.  "But when we know that Mario in Paraguay and Gabriela in Argentina and Mary in the USA are part of the networks welcoming these refugees, it all seems much more human-and possible.  Coming face to face with the connections we already have and the expertise and commitment already at work, gives me hope that the world can indeed figure this out for the good of all."
To give a boost to the visibility of our extravagant welcome, the UCC, noting that many of our congregations are already opening hearts and communities to refugees, is holding a scholarship contest, asking youth around the denomination to send in a video that shows awareness of the response to the Syrian refugee crisis and highlights their local congregation or community's plan of action. The contest runs from Oct. 1 through Nov.11. Three scholarships will be awarded to the young filmmakers, and their work will be shared on UCC.org during the month of December, as part of the Our Stillspeaking Voice multimedia initiative. More information can be found on the video contest webpage.
---
Related News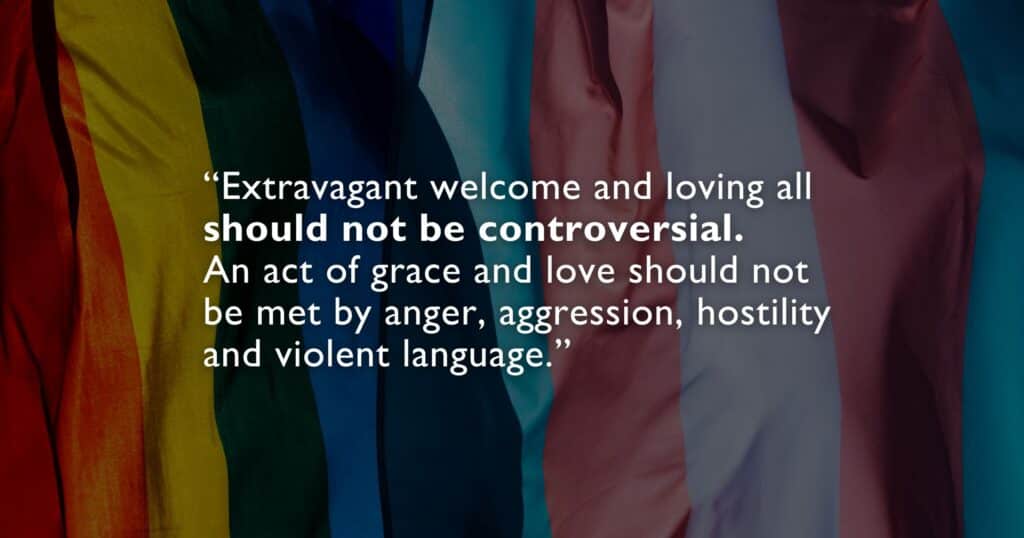 The United Church of Christ National Officers and the Conference Minister of the South Central...
Read More