Synod is asked to affirm commitment to transgender, nonbinary dignity amid legislative attacks
The 2023 General Synod of the United Church of Christ will consider 17 resolutions and several bylaw changes when it meets June 30-July 4 in Indianapolis. This is the first in a series of articles about them. Full texts of each of the proposed resolutions are available at the General Synod website.
When the state of Alabama passed a law to criminalize the provision of gender-affirming healthcare to youth in April 2022, punishable as a felony with prison time, it was the first of its kind.
The Rev. Paul Eknes-Tucker, pastor of Pilgrim Church UCC in Birmingham, Ala., joined a group of parents and medical providers in the state to file a lawsuit against it, and a judge blocked its enforcement while the case proceeds.
"This dangerous law is an unthinkable infringement on parental rights and the freedom of pastors and other faith leaders to counsel their own parishioners. This law is destructive not only to families in Alabama, but to the freedoms and values Alabamians hold dear," Eknes-Tucker said, describing his stake in the case in a press release from the Human Rights Campaign.
The law is one in an unprecedented wave of anti-LGBTQ legislation, with more than 150 bills proposed in the last year that would restrict the rights of transgender people.
It's amid this flurry of U.S. state legislative actions that General Synod of the United Church of Christ is being asked to actively affirm the dignity of transgender and nonbinary people.
'Pay attention and engage'
"What sparked this was the bills coming up against youth and children, but it really is a comprehensive resolution," said the Rev. Kim Wood, Conference minister of the Southeast Conference, one of the Conferences proposing the resolution.
"There have been so many oppressive acts — not just from this time, but for a long time — and we felt that since the UCC has clearly made a statement that we stand with, stand for, accompany and value people who are transgender and nonbinary, that we needed to go a step further. We really needed to pay attention to what is happening now and engage in it."
The resolution comes from the geographical area where many of these bills have originated — the Southern United States. It was submitted by the Florida Conference and the Southeast Conference, which includes the states of Alabama, Georgia, Mississippi, South Carolina, Tennessee and northwestern Florida. Contributing writers also come from the Cathedral of Hope in Dallas, Texas. Writers consulted with Carmarion Anderson-Harvey, the Alabama state director for Project One America with the Human Rights Campaign and a trans woman of color, which "brought broader perspective" of responses happening elsewhere and responsiveness to the language used, Wood said.
Wood said that the Southern region might seem like an "unexpected place" for such a resolution to emerge, given historic and current controversy in the area. "There have been some volatile times down here, so I think for us to offer this call is a real statement to how important this work is."
'Bring commitments to the forefront'
The resolution of witness is also one of reaffirmation. It invites the UCC to actively engage in its commitment to being an open and affirming denomination and to recognizing in the present moment that all people are created in the image of God. It builds on a 2003 resolution passed by General Synod affirming the ministry and rights of transgender people.
"We wanted to make sure that we were not just repeating something that had already been done on the floor, though we wanted to call attention to those resolutions that General Synod had passed before so we could bring those decisions back to the forefront and remind us all of what we committed to," Wood said.
The proposed resolution adds a focus on meeting the needs of trans and nonbinary youth and seeking to protect equitable rights for all trans and nonbinary people while they are being actively threatened. It cites high rates of harassment experienced by gender expansive students and points to studies that show the harm of excluding trans people from sports teams consistent with their gender identity.
It also notes higher rates of violence and death experienced by trans and nonbinary youth and adults compared with peers, with disproportionately high amounts for transgender women of color.
'Advocate and empower'
The resolution calls for response and action.
Some of what it resolves includes promoting equitable laws for transgender and nonbinary people, committing to "lift up our religious text" and stand in solidarity against the harm done, and addressing ways to "develop gender-affirming space and inclusion in all aspects of the United Church of Christ."
It names that it is the UCC's responsibility as a Christian denomination to "advocate for and empower" transgender and nonbinary people who "God is already working through to enrich the whole life of the body of Christ."
'Where rubber meets the road'
This proposed resolution is seen as another UCC response to the current political climate. Another, most recently, was a statement from leaders across the denomination affirming the value of trans youth lives.
"As we were engaged in this, it was really important to us to draw the wider Synod and denomination to the touchpoints of places where we have been in acknowledging people who are transgender and nonbinary and supporting, caring for, including and engaging them, to where we are now," Wood said. "Now it's a full political scale in huge ways and this place where the rubber meets the road, and all that we've talked about being – it's here.
"Can we engage in those ways that we've called ourselves to?"
---
Content on ucc.org is copyrighted by the National Setting of the United Church of Christ and may be only shared according to the guidelines outlined here.
---
Related News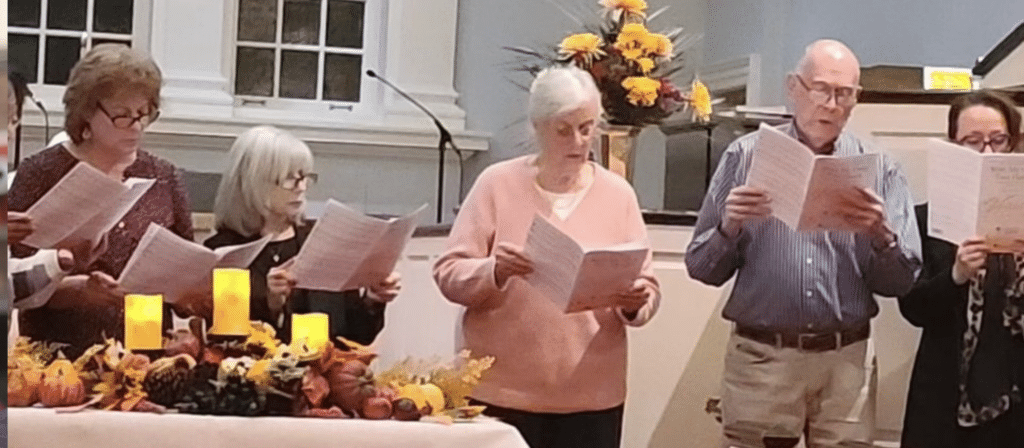 Many United Church of Christ congregations across the country participated in interfaith...
Read More