Synod hands-on youth program will explore root causes of homelessness
Every two years, United Church of Christ youth from all around the country get to participate in special events at the denomination's national gathering.
This summer, from June 30 to July 4, General Synod 34 in Indianapolis will have a particular focus for younger attendees, one that organizers hope they'll carry with them after Synod when they return to their neighborhoods.
The Rev. Trayce Potter, who heads youth and young adult engagement for the UCC's Faith INFO team, explained that many youth events — while fun and memorable — don't always impart kids with key takeaways around important issues relevant to their own lives.
"The problem with a lot of our youth events is, you go to the city, you have this great three, four-day experience, then you leave, and there's nothing left," she said. "So we began to look at issues that were relevant to Indianapolis that could live on after Synod. And homelessness was one that we felt — no matter where our children were from — it was something that affected them."
Systemic issues
For this program, the UCC is partnering with the Northeast Ohio Coalition for the Homeless (NEOCH), an advocacy and outreach group serving the area near the UCC's national headquarters in Cleveland.
---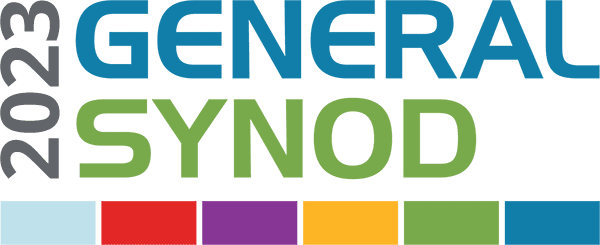 The United Church of Christ's 34th General Synod will be held June 30-July 4 in Indianapolis. For registration, programming, information and more, visit generalsynod.org.
---
NEOCH's goal is to "eradicate the root causes of homelessness," according to its mission statement. Gaining insight into these systemic issues would be particularly valuable to youth attending Synod, Potter believes.
"In thinking about some of the networks we've already established, we reached out to the Northeast Ohio Coalition for the homeless to see if they've done programs with young people, and since they had they were able to tailor a four-day program where youth will do some of that background of 'Let's explore the systems that create and perpetuate homelessness,'" she said.
Hands-on experience
Besides learning about the causes of homelessness, the kids also will get to have a more hands-on experience.
"They'll have the opportunity to go out into downtown Indianapolis and do something called a 'resource mapping challenge,'" Potter said. "This is an opportunity for them to say, 'OK, if I'm a homeless individual, how do I secure food for today? If I don't have identification, where do I need to go to be able to produce something that says who I am so that I can have housing for tonight?' So it really just puts them in in the mindset and lived experience of homeless individuals."
She added that plans are pending for Synod youth to partner with Wheeler Mission Ministries, which operates several homeless shelters in downtown Indianapolis.
Another part of the programming will include workshops with the UCC's national ministries for mental health, disabilities and harm reduction. The intention is to upend assumptions that all people who are homeless have substance abuse or mental health issues.
"We're looking at the intersections between those topics and homelessness," Potter said. "There's a lot of stigma and stereotypes for people who are housing insecure."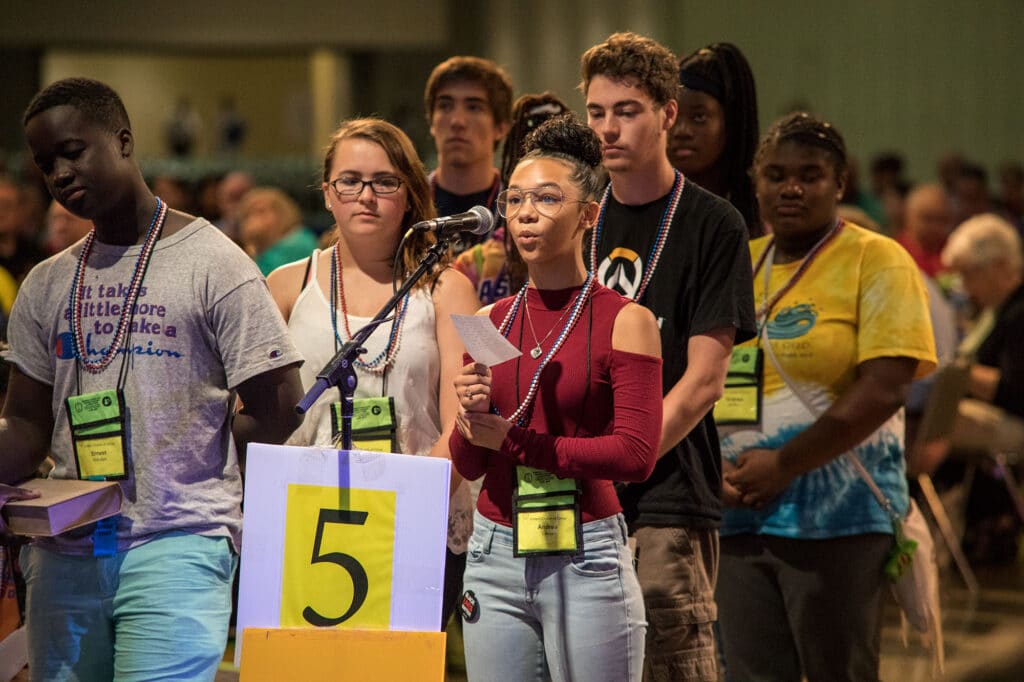 Meet the Officers
Other highlights from the youth program include meet-and-greets with the three UCC Officers, an immersive program on the resolution committee process and a financial literacy session hosted by the Cornerstone Fund.
"One of the things that our young people love is time with our elected Officers," said Potter.
The young folks will spend time with the Rev. John Dorhauer during his final Synod as General Minister and President of the UCC; Associate General Minister the Rev. Karen Georgia Thompson, whose nomination as the next GMP will be decided by Synod; and Associate General Minister of Justice and Local Church Ministries the Rev. Traci Blackmon. Potter noted that these sessions will afford the kids an opportunity "to ask all the questions they want to know, whether it's church related or not."
And, to get a taste of real Synod business, youth also will get to mirror the resolution writing and committee process. The Rev. Kelly Gallagher, associate conference minister for the Minnesota Conference, will be on hand to help them.
"They will pick a couple of the resolutions and work it through the entire process that the General Senate will go through," Potter said, adding that what they learn and conclude in their own deliberations will be shared with the wider church.
Free zoo outing
Amid all this depth of programming, organizers have been careful not to extend it too far.
"We've been intentional about not overprogramming our youth so that they still have downtime," Potter said. "We want to make sure they can get to some of the other things that are happening. So we've tried our best not to schedule youth activities during any worship services and most of the plenary sessions, so that they understand what's happening in the life of the church."
For the final day of Synod, which falls on the Fourth of July, any youth groups interested can score free tickets to the Indianapolis Zoo.
"There is a sign-up that will be emailed to everyone to indicate how many tickets they need," Potter said. "We've confirmed that the zoo will be open that day, and they can just spend the morning exploring that."
Potter herself won't be able to attend Synod, so the programming will be led by the Rev. Kevin Brown, associate conference minister for faith formation for the Minnesota Conference, and Jenn Ringgold, who leads youth ministries for the Michigan Conference.
For any questions about the program up until Synod, email Potter at generalsynodyouth@ucc.org. To see the schedule of activities, daily themes and more, visit the Youth at Synod page on the General Synod website.
Registration for youth (ages 13-18) is discounted at $160 from the regular cost of $275 and is available here. For kids 6-12 years old, registration is $55, while children 5 and under are free. Programming and childcare will be provided through the hosting Indiana-Kentucky Conference.
---
Content on ucc.org is copyrighted by the National Setting of the United Church of Christ and may be only shared according to the guidelines outlined here.
---
Related News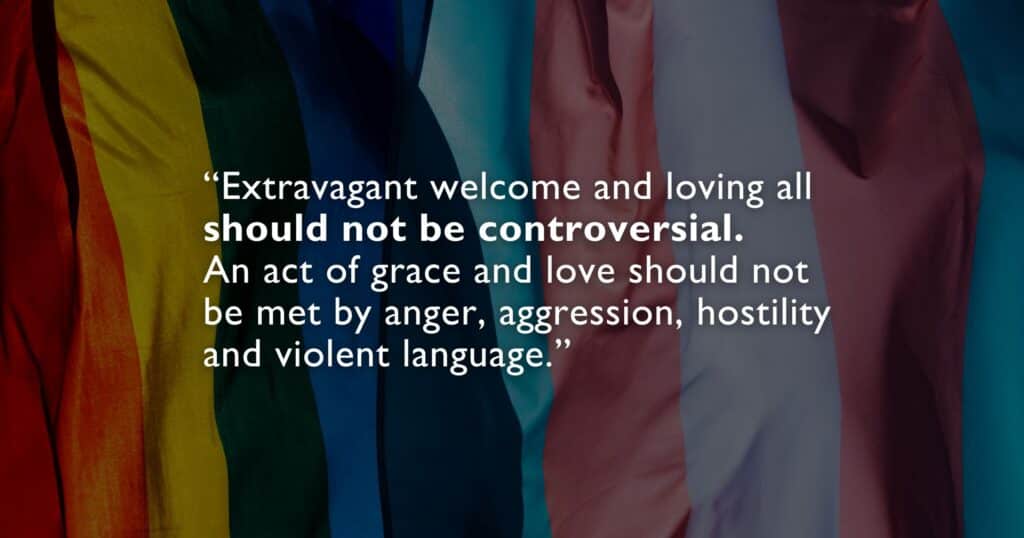 The United Church of Christ National Officers and the Conference Minister of the South Central...
Read More