Strengthen the Church grants create a faith home for seekers in Texas, California communities
Two United Church of Christ congregations in two very different communities have something in common: each is a faith home to people who thought they'd never find one again.
Ministerio Latino UCC in eclectic Oakland, Calif., offers a special welcome to LGBTQ people rejected by their Latinx churches of origin – some of them recent arrivals in immigrant caravans.
Touchstone Community Church in conservative Boerne, Tex., is a new oasis of affirmation in a religious landscape of more than 50 other churches that keep LGBTQ people on the margins.
Ministerio and Touchstone have one other thing in common. They can do what they do because of grants made possible by Strengthen the Church, one of the UCC's Special Mission Offerings. Many congregations will receive the Strengthen the Church offering on Pentecost Sunday, May 31.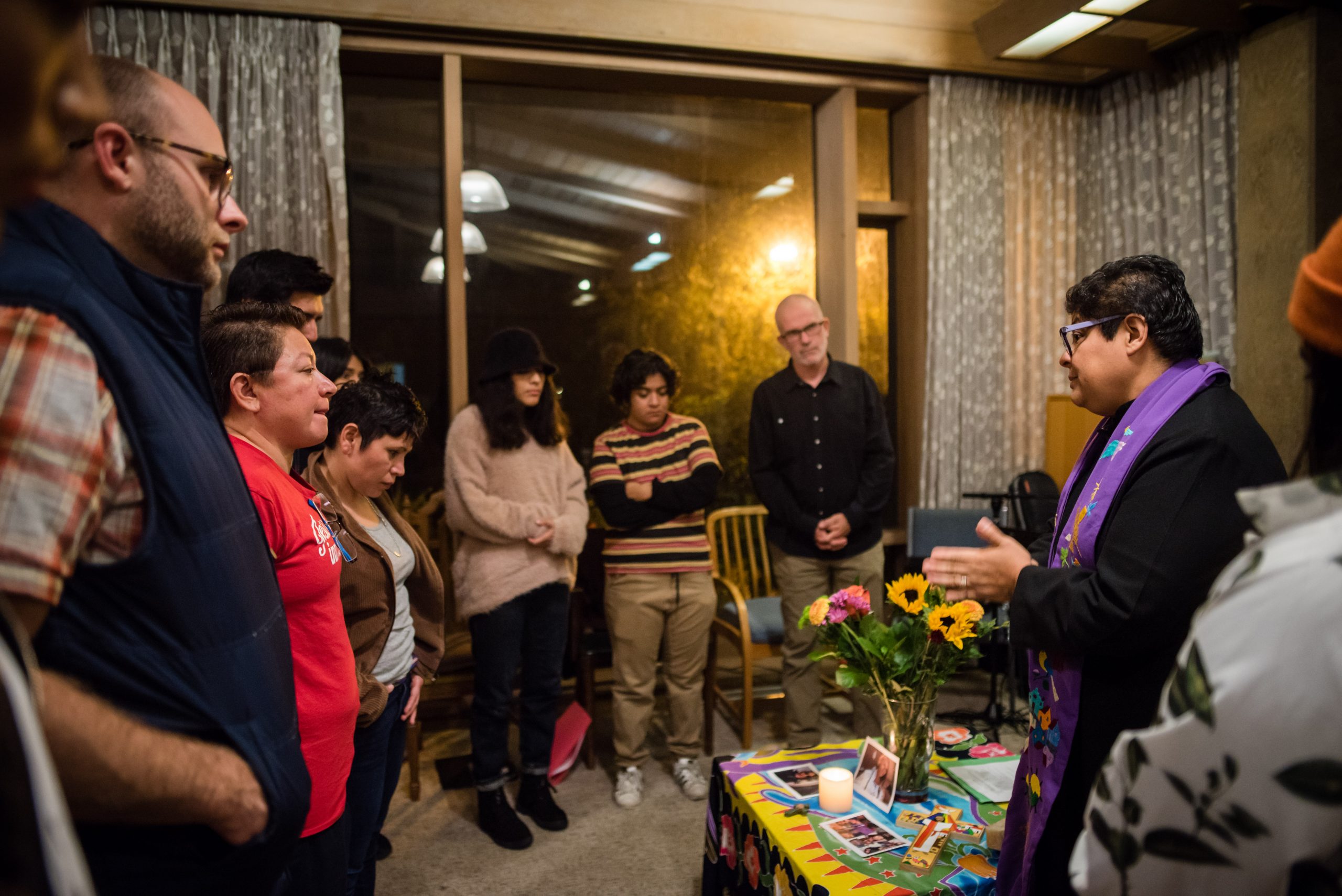 The offering "funds ministry that allows us to benefit from best practices, insights and innovations across the life of the UCC," said the Rev. Traci Blackmon, associate general minister for justice and local church ministries, in a message to churches. "Because of your support, new churches emerge, congregations are revitalized, and leadership skills are enhanced."
Latinx lesbian could actually be ordained
The Rev. Rhina Ramos believes Ministerio Latino never would have emerged without the support and affirmation she found in the UCC.
"I never thought this would happen, but many of our people are young, 25 to 35, bilingual and bicultural," said Ramos, who started the ministry in 2011. "We continue to attract people whose parents brought them up as Christians, but who then found themselves unwelcome and left the church. They found us, and now they can embrace their faith and their queerness."
That journey is familiar to Ramos (seen at right, in first picture). She grew up Catholic in El Salvador, then joined a conservative Baptist church when her family immigrated to the United States – a tradition she had to part with when she came out as a lesbian. With a background as a labor lawyer, she was thinking about graduate studies in writing when someone pointed her toward seminary. She wound up with a scholarship to UCC-related Pacific School of Religion, loved it, and learned that, in the UCC, something was possible that she couldn't have imagined before: a Latinx lesbian actually could become an ordained minister.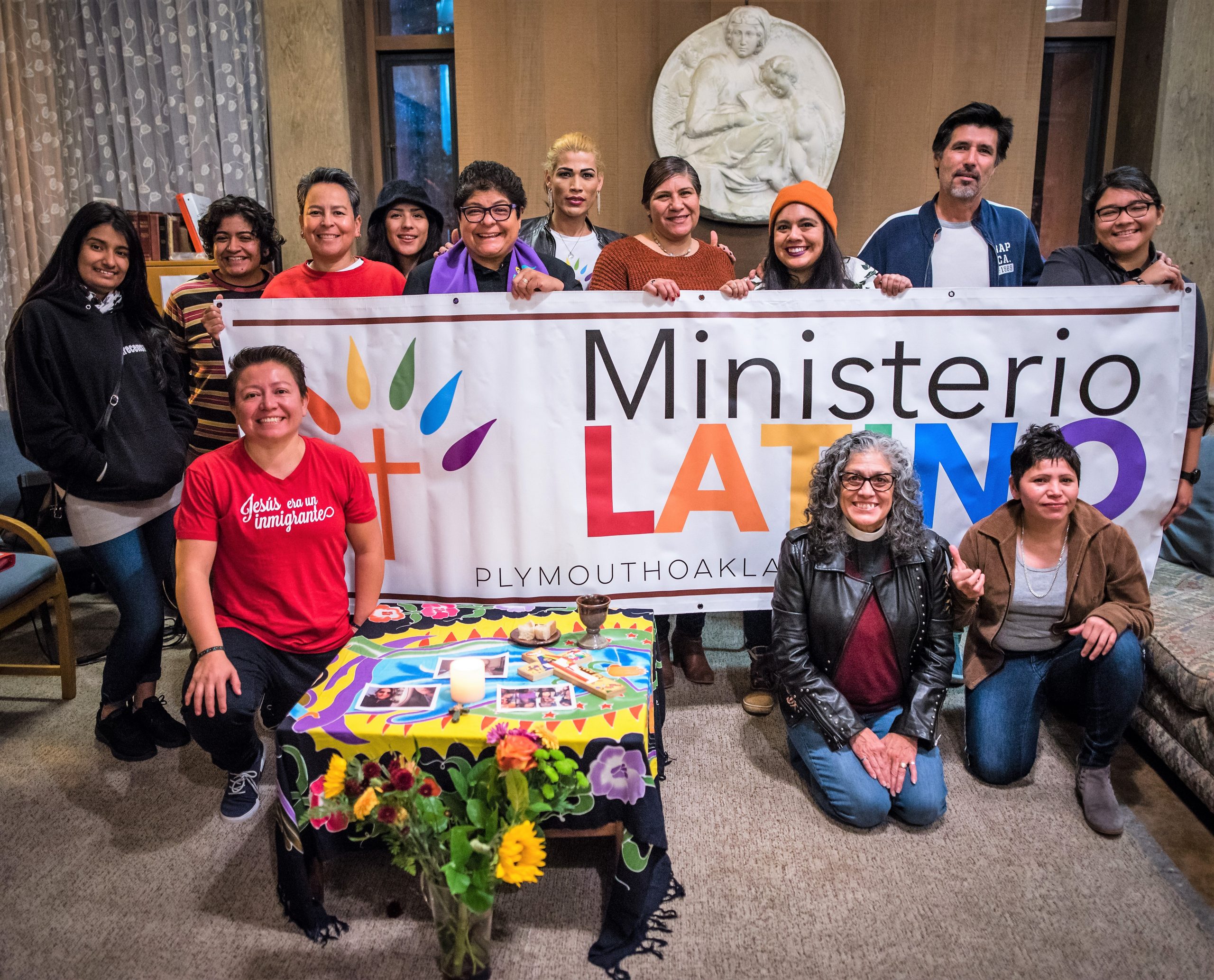 Out of seminary, she went to work in nonprofit management. But eventually, encouraged by the church she had joined, Oakland's Plymouth UCC, she started Ministerio Latino, worshiping in Spanish on the third Friday evening of every month in Plymouth's Fireside Room. Called to be its pastor, she was ordained in 2012.
'Queer people are at the center … speaking Spanish'
Ministerio draws 10 to 15 people each time it meets – lesbian, gay, bisexual, transgender and other queer people who may be U.S. citizens, green-card holders, asylum seekers or undocumented, Ramos said. Most of them have never seen anything like it. "Queer people are at the center," Ramos said. "Queer people are meeting and speaking Spanish. Their pastor is a lesbian."
The congregation applied for Strengthen the Church support in 2018 and received a $20,000 grant in 2019, renewed for 2020. "The grant supports me as a full-time pastor and allows me to do outreach, community building, pastoral care and spiritual healing," Ramos said. "This has allowed us to grow."
Last year, Ministerio added an outreach meeting in a coffee shop the first Saturday of each month, near public transportation. "It's just an hour – like Bible study, but not exactly," Ramos said. "Sometimes we use a poem and talk about that. We've done a Latinx-mix dancing class. Next time, we will do meditation."
Like most congregations, Ministerio has suspended in-person gatherings for the COVID-19 pandemic – but moving online hasn't been all bad. "We have actually had more asylum seekers and more immigrants," Ramos said. "Now, because the meetings are happening on Zoom, people are connecting from everywhere. For our last meeting we had 28 people online – even one from Chicago."
When they do get back together in person, they'll continue the kind of public outreach that makes Minsterio unique among Bay Area Latinx churches. It was the only Latinx church marching with a banner in last year's Trans March in San Francisco. That public witness is an example of what Strengthen the Church funding has made possible, Ramos said. "Without this support I would continue to serve this community on volunteer basis and not have time to dedicate myself to all aspects of caring for a congregation."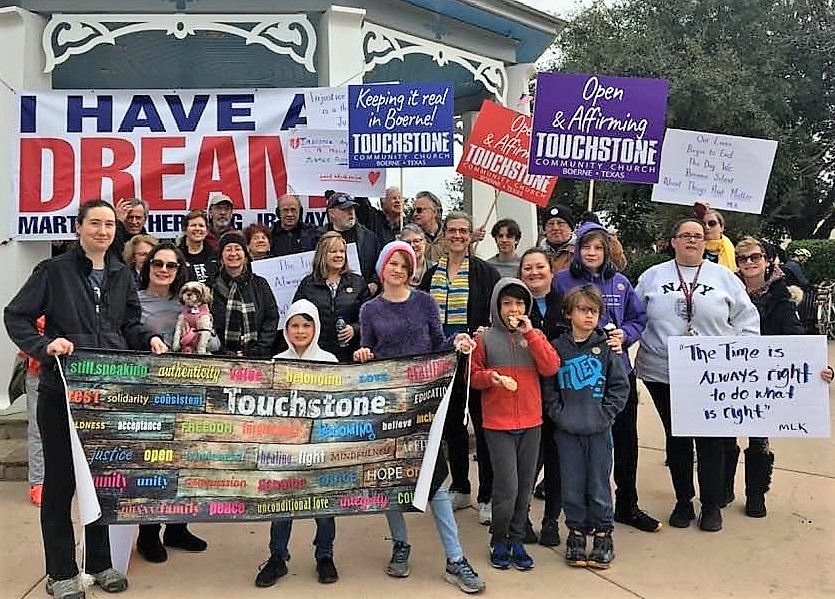 'A place of healing and restoration'
Like Ramos, Kerry Kirtley and the Rev. Billie Watts found their way to the UCC from a church that wouldn't offer the wide openness they sought. Boerne (pronounced "bernie"), population 17,000, is a half-hour northwest of San Antonio, and while it "would not be known for its diversity," Kirtley said, it is not a place where hate rallies would take place, either. When it comes to LGBTQ folks, its 50-plus churches "will pray for and welcome people on the margins to some extent, but are pretty conditional in doing so," Kirtley said. She was a deacon and Watts was a minister in a Methodist church there.
Kirtley and Watts both had raised gay sons years ago. In recent years they began to advocate openness and affirmation in church and community. They started a PFLAG chapter and organized Boerne's first Pride Walk, which drew an unexpected 250 people in 2018. They encountered some resistance in their congregation, and when the General Conference of the United Methodist Church voted in 2019 to tighten its denomination-wide ban on same-sex marriage and gay and lesbian clergy, "it was over," Kirtley said.
"God did not call me to fight an institution, although she may have called others for her sake to do so," she said. "God called me to make a home, a safe place of love and nurture where the weary and discarded or rejected traveler could rest their head in peace and love. I needed that place as well for my torn heart." Kirtley and Watts both wound up at Bethany Congregational UCC in San Antonio. "I had actually searched for a UCC years earlier for my family but there was not one present in my town or near enough for a woman raising seven children and all that demanded," Kirtley said. Now she found Bethany to be "a place of healing and restoration."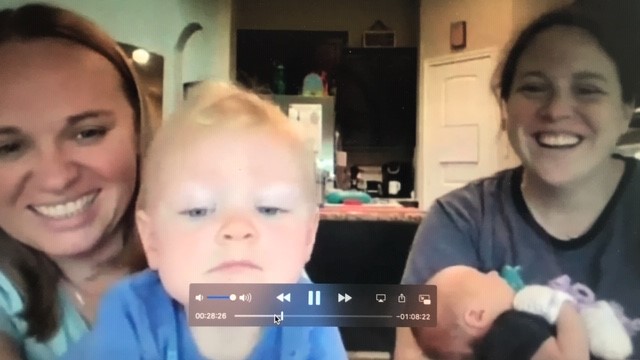 Coffee and kinship
Back in Boerne, when some 75 people showed up for a celebratory worship service after the 2019 Pride Walk, Kirtley and Watts became convinced the town could use a UCC of its own.
After conferring with the South Central Conference, "we opened as a UCC Church in Formation and grew into a UCC congregation end of 2019," Kirtley said. As a member in discernment working toward UCC ordination, she co-pastors the church with Watts, who transferred her ministerial standing to the UCC.
A $40,000 Strengthen the Church grant, which Touchstone matched by raising another $40,000, allows the congregation to, among other things, rent the community room of a senior center, where – before the interruption of the current pandemic – Kinship Coffee Time would start at 10 a.m. Sundays, followed by worship at 10:30. "We have used our Kinship time for service opportunities such as making lunches for Interfaith Welcome Coalition Bus ministry for the immigrants in San Antonio," Kirtley said. "We made signs for the Boerne MLK Walk in January. We also have a children's area and youth table with resources to help them grow in faith."
"We have not had a baptism yet, but look forward to that day," Kirtley said – and there may be one coming soon. Worshiping by video conference recently because of the pandemic, the congregation said hello to Ellis. He is the newborn son of members Erika and Genna, who are also parents to Ezra, age 2 (the family is pictured here). "Sixty-five hearts on our WebEx that morning for worship melted," Kirtley said. "We cannot wait to meet Ellis in person."
In an interview for a Strengthen the Church video (right), Watts described the importance of the grant for Touchstone and its community. "Since we found a welcome in the United Church of Christ, we wanted to build a home for people in our area who had no place to go," she says. "Through the work of the grant, we have been able to build that house of faith."
(Photos of Ministerio Latino UCC by Brooke Anderson.)
---
Related News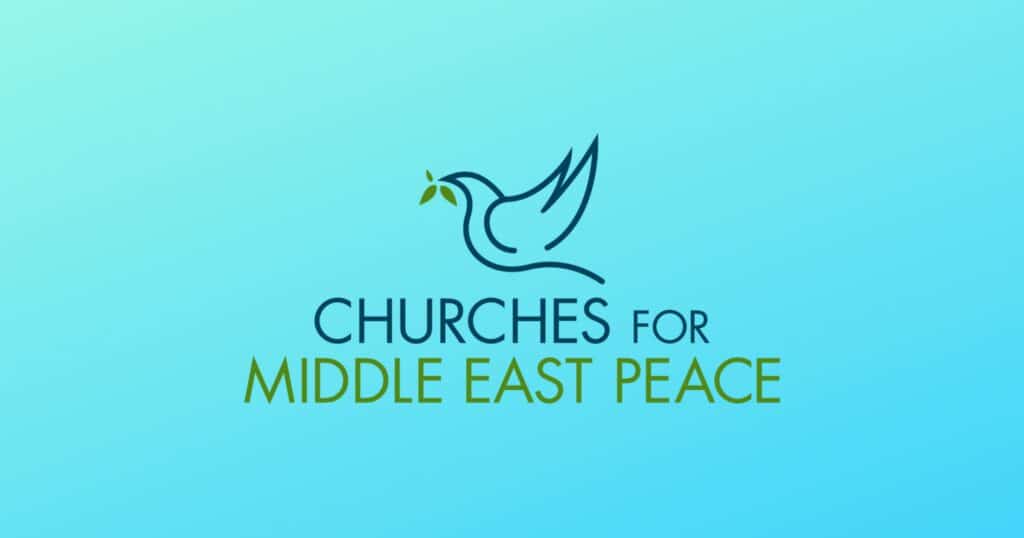 The following statement was issued Dec. 2 by Churches for Middle East Peace (CMEP), of which...
Read More