Still Speaking 2.0 updates the UCC identity campaign with edgy messages on social media
God is Still Speaking, the identity campaign that branded the United Church of Christ in a distinctive way and helped define its progressive voice in the faith community, is getting an upgrade/refresh in 2016. In fact, the UCC launched the pilot phase of Still Speaking 2.0 on Dec. 1 in anticipation of a full rollout after the first of the year.
"We are asking what the new edge is for the United Church of Christ," said the Rev. John C. Dorhauer, UCC general minister and president. "It is clear that the brand still works, but we are all using the same language that we have used for 10 years. In addition, the edge 10 years ago was clearly built around commitments to ONA and marriage equality." But since the world has changed and marriage equality is the law of the land, Dorhauer says the UCC is working to identify what now sets it apart. "So, what's our new edge? What will new commitments call us to? What does a refreshing of the brand identity of being a still speaking church look like in 2016? That is what we are testing."
The test involves a media toolkit for churches, created in partnership with the 31 Lengths advertising firm, owned and operated by Michael Jordan, the same marketing executive who helped develop the original Stillspeaking campaign. This project, Still Speaking 2.0, is being tried out in seven UCC Conferences –– each of which agreed to help fund the initiative.
"We needed a refresh!" said the Rev. Michael Denton, conference minister of the Pacific Northwest Conference, one of the groups involved in the pilot. "The ongoing identity pieces have been great but the timing is right for a large, denomination-wide identity campaign again."
The Rev. John Deckenback, conference minister of the Central Atlantic Conference, is looking forward to seeing this one unfold. He pointed out that the original identity campaign, which had origins in the Central Atlantic Conference, still resonates across the denomination, and that he believes this one will, too. "I still wear my Stillspeaking comma and the distinctive red/black banners adorn many of our churches," he said. "I like [the toolkit's] flexibility and that it intentionally seeks collaboration from local churches."
While the first Stillspeaking campaign centered around national advertising, banners, billboards and TV commercials, the 2.0 version will rely on partnerships with those local UCC churches for its success. The seven conferences –– Central Atlantic, Connecticut, Iowa, Massachusetts, Minnesota, Pacific Northwest, and Southwest –– and their congregations are already using the first 16 social media graphics, or postcards, created to share on social media outlets and on websites. Users can gauge the interest in the messages, and provide feedback on how the messages are being received and shared.
"The toolkit is a smart idea," said Denton. "The last campaign's focus on more traditional media was important, but we were on the cutting edge of viral campaigns then. It makes all the sense in the world that we solely focus on inviting our churches and church members to participate in this campaign as promoters of these materials."
I'm thrilled to see it," said the Rev. Shari Prestemon, conference minister of the Minnesota Conference United Church of Christ, another pilot participant. "The Stillspeaking campaign 10 years ago infused the United Church of Christ at every level with fresh life and enthusiasm, and I expect this will have a similar affect. It gives us a way to lift up and celebrate our unique voice and embrace our identity as a Stillspeaking Church."
The images, which help brand the UCC as a place of extravagant welcome, will also deal with new themes identified by key leaders of the denomination –– issues that could be new edges, like climate change, immigration or interfaith religion. "The postcards are witty, clever, cheeky, sometimes a bit edgy," said Dorhauer. "The idea is to have fun, to be playful, and to utilize both the partnerships we have and value with our local churches AND the access we all have with social media to tell the world who we are."
"I got a good chuckle out of several of the postcards and tried to imagine how creative folks will utilize them, said Deckenback. "I suspect they will be around for quite a while, just like the banners."
"Not all of them will resonate with everyone, and I expect reactions will be diverse," said Prestemon. "But they will create conversation."
Denton thinks so, too. "This campaign welcomes a conversation," he said. "It's sometimes hard for UCC folks to talk about their faith in a world where religious extremism and religiously justified bigotry grab so many headlines. This campaign gives us the opportunity to have a Good News conversation deeply rooted in the radical love of a liberating Christ."
The United Church of Christ has ordered six social media toolkits, which will be delivered every two months to local congregations through their Conference offices throughout 2016.
"It gives our congregations options," said Prestemon. "They have choices about which images and messages they utilize and how they do that. And the fact that every congregation has direct access to the toolkit is wonderful!"
"What I most love about this method is that it gives every single member of the United Church of Christ agency," said Dorhauer. "We are not doing this to or for our members –– we are doing it with and through them. They don't just get to stand on the sidelines and watch this unfold –– they get to do act, and react, as their viewing audiences weigh in on and respond to their posts."
"It offers a way for all of us to claim who we are as a progressive denomination," Prestemon said, "and invites others to consider that we might be just the kind of church they're looking for."
---
Related News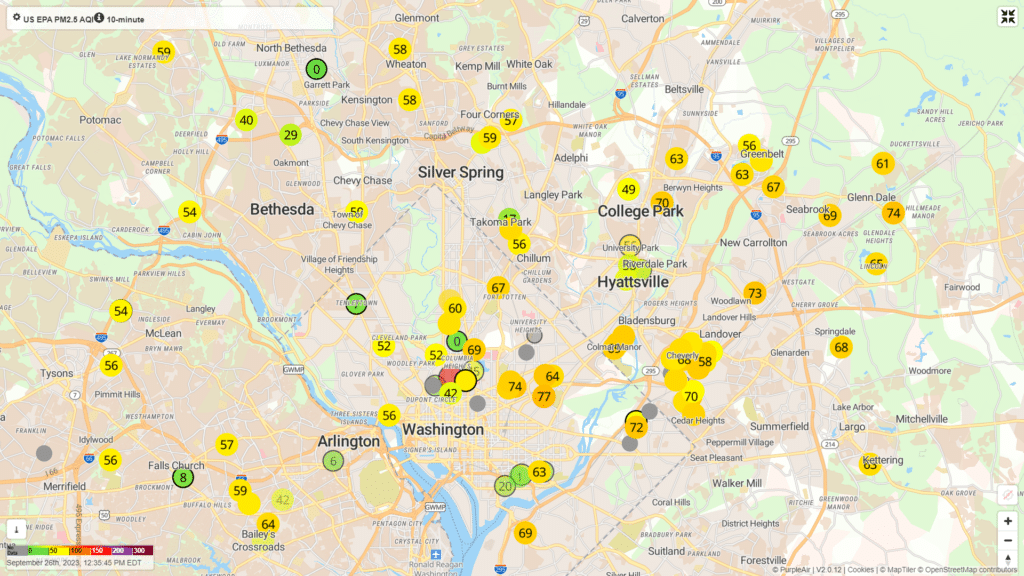 This summer, the United States experienced some of the worst days for wildfire pollution in...
Read More