Southern California clergy respond in partnership to El Cajon shooting
Mourners and activists hold a candlelight vigil during a rally in El Cajon.
Photo
by Bill Wechter/Getty Images
A sister was left sitting weeping on the curb in El Cajon, Calif., Tuesday afternoon, after her brother, an unarmed black man, was shot and killed by police when he pointed an electronic cigarette in their direction. Several United Church of Christ clergy and staff, part of a group of local leaders, were present at the police department briefing Wednesday morning, Sept. 28, looking for answers as to why Alfred Okwera Olango died at the hands of an officer in that San Diego suburb.
"El Cajon is only about five miles from me. This is my community. I wanted to be there," said the Rev. Mary Sue Brookshire, pastor of Pioneer Ocean View UCC. '"I am worried that in our nation, we are missing the message of the #blacklivesmatter movement. After one of these shootings, which are becoming far too common, we sift through the details to find out if it can be 'justified' or not. But there is a much larger message that we are missing. One of the men at the press conference Wednesday said, 'I am armed right now. I am armed with the melanin in my skin. When police see me, they see someone armed and dangerous. '"
Brookshire, who pastors one of six San Diego UCC Partnership congregations, was joined by colleagues the Rev. Darryl Kistler of Kensington Community Church, the Rev. Scott Landis of Mission Hills UCC, and Anna Runion of Pilgrim UCC at the police headquarters for the briefing.
"We have been engaged in the work of racial justice as a Partnership for several years.  It started for us after Michael Brown," Brookshire said. "It has mobilized us, as a partnership. After the shooting of Michael Brown, we held a vigil and we prayed. But we knew it was not enough. We knew that prayer was an important response, but we also knew our prayers needed to have feet. We began planning to bring our churches together for another series of Sacred Conversations on Race, and that led to other events focused on racial justice that continue today."
The relationship between the Partnership churches, which also include Christian Fellowship Congregational Church, UCC La Mesa and University City United Church, goes back over 30 years, with an initial goal of being "a way and a place for churches of diverse racial, ethnic and cultural memberships to come together to promote understanding through shared activities. "
Runion was one of about 250 people who gathered at a vigil Wednesday night calling for justice for Olango, who was shot and killed by police responding to a call about a man who, according to the police report, was "not acting like himself."
A woman who told authorities she was his sister called 911 for help for Olango, saying that he had mental challenges and was acting erratically, walking in traffic. Two officers confronted the 38-year-old man, and when police say he did not comply with repeated instructions to show them his hands, one of them readied a stun gun to subdue him. As Olango pulled the silver-tubed smoking device from his pocket and pointed it at the other responding officer, he shot Olango, and his partner fired the Taser.
The Rev. Felix Villanueva, Conference Minister of the UCC in Southern California and Nevada, used to live three miles from where the shooting occurred. He sent out a pastoral response to the tragedy to the churches of the conference, expressing concern that "police shootings of unarmed men of color are more common these days," and "I see people frustrated with the system and with authority."
Villanueva addresses the need for people of faith to do more to become peacemakers and work for accountability.
"Engage your local government, police departments, and our community in a dialogue about perceptions, authority, and diversity," Villanueva writes. "Demand that your local government hold cultural sensitivity training for their police force and that they establish educational events for the community on how to engage authority in appropriate ways. We all need to sit at the table, share our concerns, and create venues for peace to grow."
On Saturday, the religious community will come together to build that space for peace to grow, with a 10 a.m. liturgy at a plaza in El Cajon. The Rev. J. Lee Hill Jr. will be speaking and the family of Alfred Olango will be there. The San Diego Partnership UCC pastors are encouraging clergy from all across the conference to attend the Oct. 1 service and march.
El Cajon, Calif., Charlotte, N.C., Tulsa, Okla. – three cities, three Black American men killed by police in the last two weeks.
On Sept. 20, 43-year-old Keith Lamont Scott was fatally shot by police in Charlotte, North Carolina. Investigators said Scott was holding a handgun. On Sept. 16, police in Tulsa, Oklahoma, shot and killed an unarmed 40-year-old, Terence Crutcher. The officer who shot Crutcher is charged in his death and will make her first court appearance today.
As she listened to the police briefing in El Cajon, Brookshire said, "I kept thinking about 1 Corinthians: 'we are all members of one body, and when one member suffers, we all suffer.' And our body is broken. It is bleeding.'"
---
Related News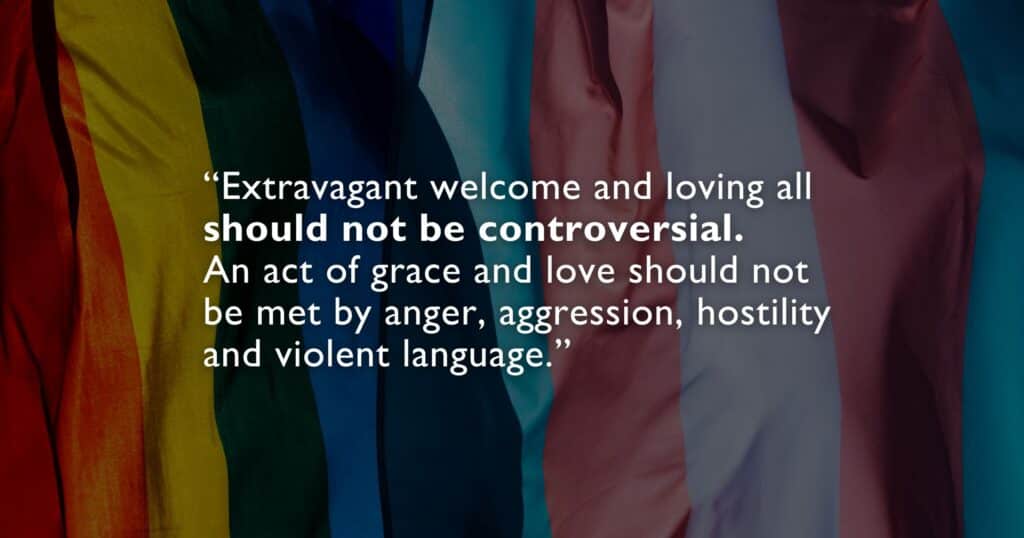 The United Church of Christ National Officers and the Conference Minister of the South Central...
Read More