'Rise Up Hagerstown' to offer a new start
A Maryland new church start is starting something new, in an effort to change lives of men and women in its community.
Veritas United Church of Christ is teaming up with a local trades organization in a non-profit called 'Rise Up Hagerstown' to allow people who have been incarcerated, survived an abusive relationship or struggle with addiction find a new skill and a new way. The organization plans to offer scholarships to the local trade school in Hagerstown that will cover classes, books and supplies.
"Rise Up Hagerstown is an exciting new venture for us that is building up steam," said Church Administrator/President, Michael Jones, who is also treasurer of Rise Up Hagerstown. "This vision of Veritas UCC has come to fruition after many long years of dreaming. Veritas loaned the new organization the start-up costs to apply and receive its nonprofit status, initial website hosting and domain fees, for which we would like to have just forgiven, but as a small church we couldn't afford to do that."
A small church that formed just eight years ago, Veritas was looking for a more affordable place to worship and a way to work for justice in Hagerstown, a community that is home to three prisons.
"We heard about Associated Builders and Contractors (ABC)," said the Rev. Rob Apgar-Taylor, founding pastor of Veritas UCC, of the non-profit trade school. "We met the president of ABC and we began worshiping in their building. We had thought about what kind of revitalization project God had in store for us."
Veritas at first envisioned running a restaurant offering ex-offenders an opportunity to find new skills. in 2015, Apgar-Taylor reached out to the people behind EDWINS Leadership & Restaurant Institute in Cleveland. The organization has a national reputation for giving formerly incarcerated men and women a second chance with training for a career in the culinary and hospitality industry.
"We had spoken with the people from EDWINS restaurant about a program called Catalyst Kitchens, a great program training people in the restaurant industry. But it was a huge undertaking for us," Apgar-Taylor continued. "Amos McCoy of ABC asked if we would consider working together on this project. It became so clear that God's hand was in our meeting each other."
Rise Up Hagerstown (RiseUp) formed on June 4, 2018, and received 501c3 status shortly after. The organization, working to raise $50,000 this year to fund several scholarships, has currently received two grants of $10,000 and another $2,000 in donations. Apgar-Taylor, who now serves Grace UCC in Frederick as well as leading RiseUp as president/project manager, said the fundraising effort continues.
"We have applied for a $2,000 from a local Rotary club and should hear about that soon," he said. "We sent a letter to the Kettering Family Foundation, and will hear soon if they request a formal grant application. They award $20,000! We are looking for any and all sources of grants and awards from local people to service clubs, churches and foundations. If we raise $50,000 a year, we will be able to offer 12 scholarships. If we get more, great! If less, that's still a huge success. At this point we have enough to offer 4 or 5 scholarships for the 2019-20 academic year. We anticipate raising all 50,000."
In addition to fundraising, the non-profit has to develop a process to recruit potential students, and a way to take applications and award scholarships to future carpenters, plumbers, or electricians. But after being birthed by Veritas, it is on its way.
Jones noted that Veritas is now in a time of transition. In the process of changing its name to Connections UCC, the congregation recently moved its worship location from the rented space within the Associated Builders and Contractors building to a space within Zion United Church of Christ, to provide more of a church atmosphere for newcomers.
"The name change in process for Veritas is an effort to match our name up with our mission statement," Jones said, "to reinforce that message which has always been to provide a safe place for all to worship and to grow in their relationship with God and others. We believe that there are 4 connections, based on a merger of the Phoenix Affirmations along with the 3 Great Loves Campaign, which are God, Creation, Others, and Self. The last 3-months have been a journey of transition for us. A time of forming our own identity, new beginnings, and self-exploration."
Both Jones and Apgar-Taylor said the hope is RiseUp will offer a new identity, and a new beginning to scores of men and women in their community. If the organization can meet its goal of offering 12 scholarships annually, in five years it will have changed the lives of 60 people and their families. Apgar-Taylor is hoping, with collaboration from other UCC churches, that goal becomes attainable every year.
"I anticipate that Veritas and RiseUP will continue to have a close relationship in the future and I hope the relationship between RiseUP and the other UCC congregations will strengthen as well." Apgar-Taylor said. "I have received several emails, cards, etc, from local UCC folk saying how supportive they are."
---
Related News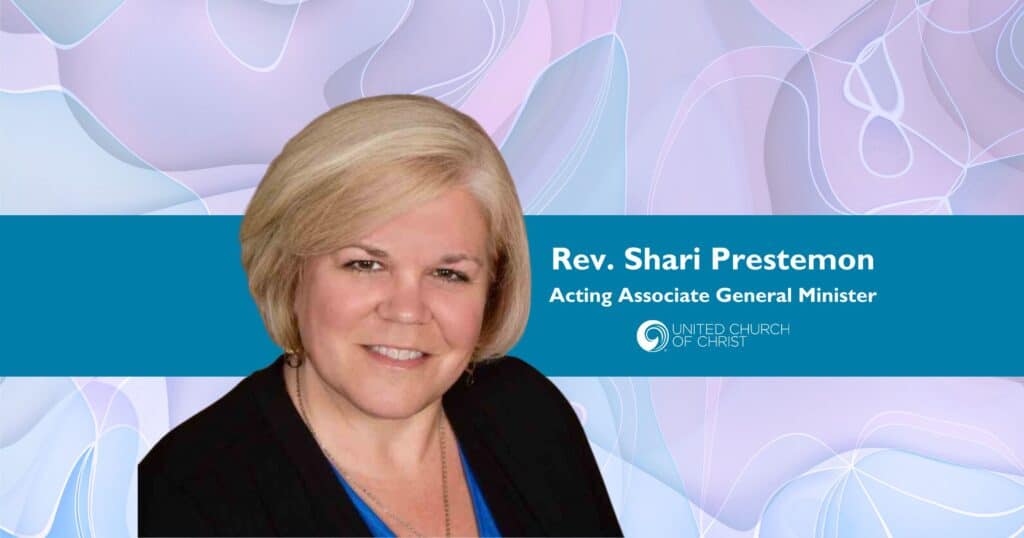 A new United Church of Christ national leader has been called. The UCC Board voted in a...
Read More