Rise in COVID cases changes plans for Conference annual meetings
With waning days of summer, there's a fall focus on annual meetings. This year, with a fourth wave of COVID-19, several United Church of Christ Conferences will be gathering online again in 2021.
The Heartland Conference, meeting the weekend of Sept. 24-25, made its decision on Aug. 20 to go completely virtual.
"We had planned all along for the meeting to be a hybrid format," said the Rev. David Long-Higgins, transitional Conference minister. "We recognized things can change and we wanted to build in the flexibility to go completely virtual. As the numbers rise and the designated COVID hospital beds fill up, the board decided unanimously that we should move this into a completely online experience. I think it's a good call.
"One of our planning committee members who was completely vaccinated has contracted COVID. He said that highlighted for him the rightness of the decision."
'Different energy'
After a planning meeting on Aug. 25, Long-Higgins said the team was working through "all kinds of nuances" to take the meeting completely online. "There's a different energy and expectation, but we are planning an equipping, encouraging and nourishing event."
The Conference scheduled the annual gathering in a brand new sanctuary at First Community Church UCC in Columbus, Ohio. Planners will still use the worship space to center the event and have contracted with a Chicago musical group, The Many, to help create it.
Long-Higgins said Associations, with their own separate meetings, are also moving completely online.
"We are demonstrating a consistent approach across the Conference and practicing a good arrangement for the health of everybody," he said, noting that Heartland delegates will vote virtually on his position as settled Conference minister. "I hoped for it to have a different feel. But it's larger than any one of us."
Grateful for early decision
Rev. Tyler Connolly, Central Pacific Conference minister, said the annual meeting there, Sept. 24 – Oct. 3, was always planned to be a virtual experience.
"Our board made the decision in early March that we would be meeting online this fall, so our planning team has been working with that assumption all along," Connolly said. "Now, with the rise of Delta and new state mandates in Oregon, the planning team is saying how thankful they are to the board for making that decision when they did."
The Northern Plains Conference had planned an in-person meeting for Oct. 2, but the Rev. Deborah Blood, transitional Conference minister, said that recently changed.
"Our Conference Council met on Aug. 28 and decided to have our annual meeting by Zoom again this year," she said. "They were unanimous in feeling that caution was called for, and they wanted to set an example of caring for the safety and health of our people. It's sad not to see one another in person, but our leaders know it's the right decision."
In the Kansas-Oklahoma Conference, most of the meeting will be online the weekend of Oct. 5-8. The exception, a hybrid gathering Friday evening, will celebrate the ministry and the retirement of Conference Minister Edith Guffey.
Dinner guests must be vaccinated
"They insisted on a dinner and evening retirement celebration," she said. "You will note the invitation clearly states 'if you are vaccinated.' This is consistent with the message I have been sending since the beginning of the pandemic about mask wearing and then vaccination. So it surely comes as no surprise to anyone that a retirement celebration that is supposed to be for me would note vaccinations are required.
"And by the time we gather, after dinner, we will be asking those who attend to wear masks as well. It is, after all, about caring for each other as the Body of Christ, which is about my faith, not my politics."
The Rev. Freeman Palmer, Central Atlantic Conference minister, said adjustments are still being made for its annual meeting Oct. 12-16 in Virginia's Shenandoah Valley.
"Our assumption when we began planning several months ago was that the meeting would be in-person — a hybrid meeting with an option to attend online," he said. The meeting will be held at the Hotel Madison in Harrisonburg, where it was scheduled last year, before the 2020 event went virtual because of COVID. "We are still planning to be there, but we will probably limit the amount of in-person attendance because of the Delta variant and the increase in cases. While this is a disappointing course of action, it is the wise and safe one."
Churches urge staying online
In the Florida Conference, the board decided to move the annual meeting from in-person to an online gathering. The decision came at the board's summer meeting on Aug. 7, after considering the surge of COVID cases and spiking hospitalizations in the state.
The annual meeting, slated for mid-October at The Community Church of Vero Beach, "was well into its planning stages," Conference Minister John Vertigan wrote in the "Celebrate Florida" newsletter on Aug. 18. He noted that workshops and a keynote speaker had been announced, catering contracts were in place, hotel rooms were reserved and the host church had a hospitality committee ready to assist.
But after Vertigan reached out to local church members to see what they thought of an in-person meeting, "counsel came back unanimously advising against such a plan," he wrote. "The business meeting of the Conference will take place Oct. 16, and other programming will be spread across the month according to a schedule still being formulated by Conference staff."
Virtual option important
The Illinois South Conference decided early on that most of its annual meeting, Oct. 13-16, would be virtual. "Originally we were planning one in-person event," said the Rev. Shana Johnson, Conference minister. "We were considering a celebration event which would be hybrid, allowing people to attend however they felt was right for them, be it in person or virtually. However, a couple of months ago, we decided it was wise to cancel this event and incorporate pieces of the celebration event in other ways."
"While some have expressed their disappointment and disagreement with our decision," Johnson said, "for the most part, we have heard positive feedback. Last year we had more first-time delegates and visitors to Annual Meeting than ever before. The main reason for the uptick in attendance was accessibility, which reminds us going forward in the years to come, a virtual option will always need to be a part of our planning."
The Rev. Gordon Rankin, New Hampshire Conference minister, said the decision to hold its Oct. 16 meeting virtually was also made long ago. "Because we use a conference center and not a church for our meeting, we had to make that decision last April before we put down our deposit," he said. "I will admit, I've said plenty of words of thanks this month that we made that decision."
The Michigan Conference is also holding a virtual annual gathering on Oct. 16, and has encouraged churches to bring as many participants as they wish, in addition to the three delegates per congregation.
Tech challenges
In the Maine Conference, meeting planners haven't decided on how the Oct. 23 gathering will be structured.
"As of right now, we are waiting until mid-September to make the call about moving to a virtual super-Saturday," said the Rev. Alexis Fuller-Wright, serving a designated term Maine's associate Conference minister. "Should we make that call, we will likely postpone our event due to the amount of infrastructure it would take to set up all the workshops virtually."
The Southern Conference, which traditionally met in late June before COVID-19, is following the protocols it established last year due to the pandemic. The Rev. Edward Davis, Conference minister, said the change to a virtual format and a decision to hold a joint annual meeting for the first time required some adjustments.
"The Conference decided that it would be practical to not have three gatherings, and, instead, have one day for all Associations and the Conference together," Davis said. Last October, the Conference met first on a Friday morning, with the Associations holding their meetings in the afternoon. The next day, Saturday, was the second day of the Conference annual meeting.
"The planning required putting together a tech team from around the Conference to work out the bugs and prepare trainings for the people on several occasions," he said. "All of this worked successfully well and we will do this again Nov. 5 and 6 this year."
Planned 'all along'
The Montana-Northern Wyoming Conference, slated to meet Nov. 18, will be holding a finance meeting and worship service via Zoom. The Rev. Marc Stewart, Conference minister, will just be returning from sabbatical. "Unfortunately, we are not yet past the online only format," said Jennifer Penfield, Conference administrator. "Everyone misses the days we collectively gathered across our Conference for annual meetings."
The Illinois Conference is also working on a totally online experience in November. "We have been planning to do our annual celebration virtually all along," said the Rev. Molly Carlson, Conference minister, noting the business meeting on Nov. 20 will be preceded by optional programming the week before.
---
Related News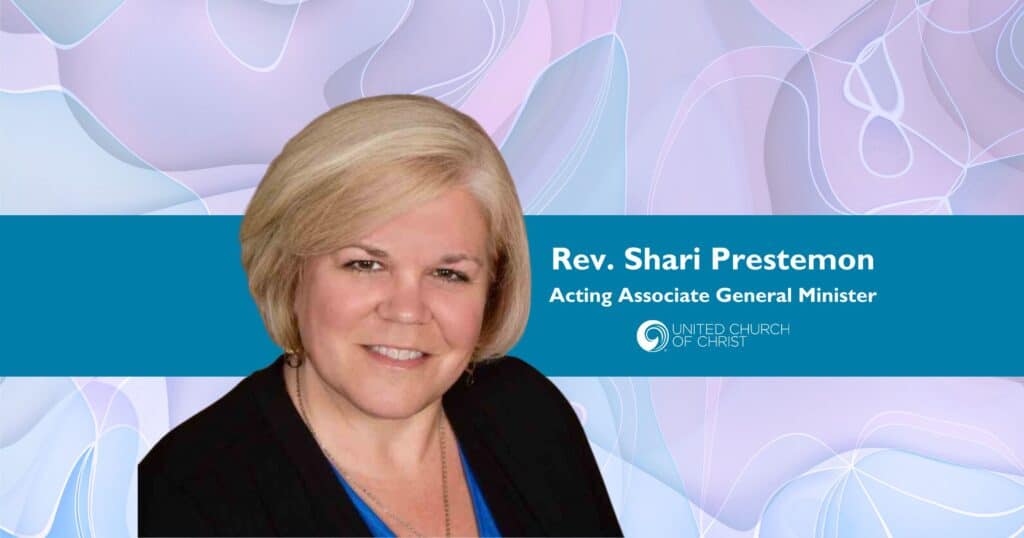 A new United Church of Christ national leader has been called. The UCC Board voted in a...
Read More