Report to the church from the United Church of Christ Board, May 2021
Yvette Wynn, chair of the United Church of Christ Board, has issued the following report on the board's recent meeting. She is a member of Community Church of the Pelhams, Pelham, N.Y., and an associate member of Holy Covenant UCC, Charlotte, N.C.
The United Church of Christ Board met by video conference on May 28 to receive actionable reports from committees. The actions taken are as follows:
The Nominating Committee, chaired by Ms. Inez Reid, reported the results of their rigorous selection process, which included several strong candidates, to nominate a UCCB leadership team for the 2021-2023 biennium. It is with excitement that we announce the election of the Rev. Cameron Barr as Chair and Julia Gaughan as Vice-Chair for the 2021-2023 biennium. Their biographical information can be viewed at these links: Cameron Barr and Julia Gaughan.
The Racial Equity RFP Review Committee, co-chaired by Ms. Yvette Wynn and the Rev. Traci Blackmon, reported the receipt of seven completed responses to the Request for Proposals (RFP) issued last fall. The UCCB approved the committee's recommendation of Culture Brokers, a racial equity consulting firm with a proven track record with such assessment tools. We are deeply appreciative for the work of this committee, which included representation from UCCB, staff, the Council of Conference Ministers, the Council for Racial and Ethnic Ministries, Disability Ministries, 20/30 Clergy, and former denominational leadership. A new committee with equally diverse representation will be formed to accompany this work moving forward. You can learn more about Culture Brokers here.
The board also received an update on General Synod. Registration is running smoothly and final preparations progressing. We thank all of our sponsors and are pleased to be on track to meet our sponsorship target!  To ensure the smooth operation of our very first virtual General Synod, a small contingent of vaccinated church leaders, production and support staff will be in the national offices 700 Prospect Ave., Cleveland, socially distant, following CDC recommendations during the event. To register and keep updated, please visit the General Synod website.
In addition, the chair updated the board on the General Synod Frequency committee's work, which includes hosting an "optional event" on July 13 for those registered for General Synod. Did you know that GS frequency was a resolution in GS 8 in 1977? Conversations about both the format and frequency of GS have continued to surface through the years because rising costs have outpaced National Setting budget to host GS; time commitment of national staff and other covenantal partners to plan and deliver GS at the level we have come to expect means that other areas of ministry may not be addressed with the same turnaround during the planning cycle. The pandemic and a virtual GS also open new possibilities about the way we gather and may create space to explore a new vision for Synod in the coming years. There is no vote before General Synod 33, which would be required for any frequency change. Please register for this event and join the conversation.
Finally, the board continues to engage in a conversation about options for 700 Prospect, home to the UCC National Setting, which have included sale, renovation and downtown Cleveland lease. I appointed a National Setting Office Space task force to look at our options very closely. This committee includes our current and immediate past General Minister and President, chief executives of our financial ministries, Conference ministers, UCCB directors, CFO and controller. The UCCB is committed to balancing our fiduciary responsibility with our theological and covenantal mandates as we discern the Spirit's guidance in this critical decision. The board will revisit this conversation at our July 1 meeting. 
If you have any questions for the UCCB or have an interest in serving, please contact Donyale Copeland, CopelanD@ucc.org.
Peace of Christ be with you all,
Yvette Wynn
     Chair
---
Related News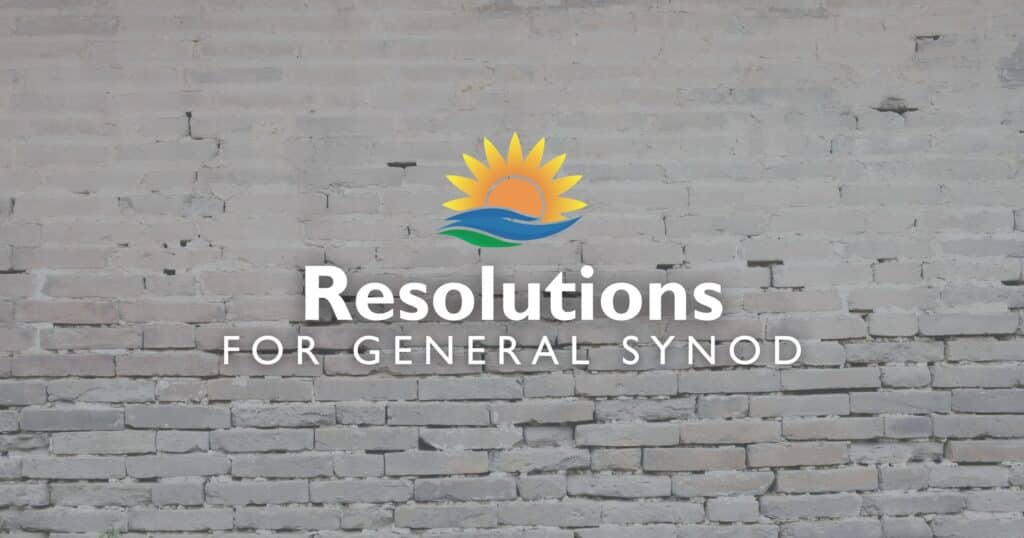 The 2023 General Synod of the United Church of Christ will consider 17 resolutions...
Read More