Report to the church from the United Church of Christ Board, March 2023
The Rev. Cameron Barr, chair of the United Church of Christ Board, has issued the following report on the board's recent meeting. He is senior pastor of United Church of Chapel Hill, a bilingual and multicultural UCC congregation in North Carolina.
To All United in Christ's Love:
March 3-5, the United Church of Christ Board met for our annual Spring meeting. It was the first time our board has met in person to conduct business since October 2019, so we approached our time together with attention to regathering as well as welcoming new voices into our midst. Despite meeting over Zoom in recent years, we have been working to build a strong culture on our board so that all of our members will be empowered as contributing partners in our work. In this meeting, we returned to conversation about practices of consensus building and how to listen through our differences in identity and lived experience. The Conference Ministers of the United Church of Christ joined us on Friday morning for worship and so that we could be in conversation with each other about the direction of our church in many settings.
Action on the search committee's recommendation to present Rev. Dr. Karen Georgia Thompson for consideration by General Synod was the most significant focus of our work this weekend. You can read more about Rev. Thompson and the call that we sense in her here. After hearing a detailed report from the search committee and engaging in sustained dialogue with Rev. Thompson throughout our weekend together, the board voted to affirm her nomination. As a body, we have full confidence in her call to lead, and we will offer her all of our support and care in the duties of her new position. In our polity, the General Synod is the final test of an officer's call to lead the church. We now entrust her call to the Holy Spirit's presence through the gathering of Synod delegates this summer.
Other business before the UCCB this spring included receiving the final board report of Rev. John Dorhauer as general minister and president. The board listened carefully as he described the many ways that he intends to work alongside Rev. Thompson as she steps into office. Rev. Dorhauer also offered a litany of thanksgivings to individuals who have been key partners in his eight years of service. Rev. Traci Blackmon delivered her regular report as Associate General Minister for Justice and Local Church Ministries. Rev. Blackmon lifted up significant accomplishments of her team, including revenue growth through The Pilgrim Press, impressive attendance in core programs such as Tuesdays for Nurture and Thursdays for the Soul, and grant funding through the Fetzer Institute for a new partnership at Eden Theological Seminary. Alongside former board chair Yvette Wynn, Rev. Blackmon has also led our Racial Equity Task Force, which delivered its final report to the UCCB this weekend after nearly two years of work and collaboration. The board gives thanks for Rev. Blackmon's leadership and recognizes the tremendous contributions she has made to the church's strategic priorities.
Finally, the UCCB heard from General Synod Moderator Bob Sandman on preparations for our biennial meeting in Indianapolis this summer and reviewed the resolutions that will come before the whole body of delegates. We also reflected on the personal financial commitments we plan to make toward the Join the Movement Campaign, the all-church initiative to support our shared work for racial justice. The whole board plans to participate, and we hope that you will join us as we make our way to General Synod.
We could not conclude this important meeting of the church's governance leadership without praying for the people of Ukraine and the displaced people touched by the war in Europe. We heard Rev. Thompson speak movingly of what she witnessed in a recent tour to bring our "critical presence" to church partners in the region.
The global experience Rev. Thompson brings and the faithful voice she brings to our mission partners around the world are among the key reasons we believe her spiritual leadership is needed for this time. Please pray for her and for all in leadership in the United Church of Christ as we continue to listen for the voice of Wisdom as we make our way to General Synod.
In faith, hope, and love,
The Rev. Cameron Barr, Chair
United Church of Christ Board
---
Content on ucc.org is copyrighted by the National Setting of the United Church of Christ and may be only shared according to the guidelines outlined here.
---
Related News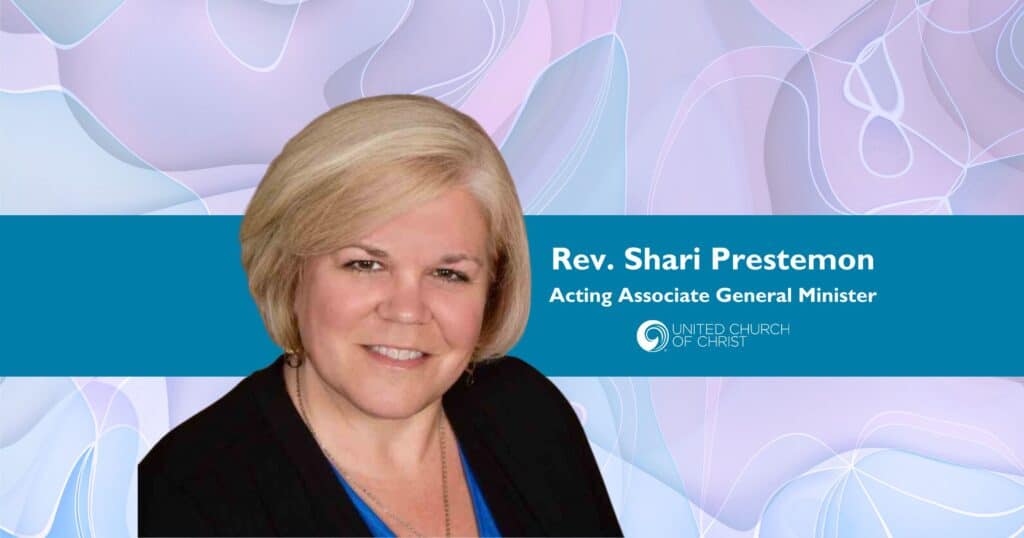 A new United Church of Christ national leader has been called. The UCC Board voted in a...
Read More